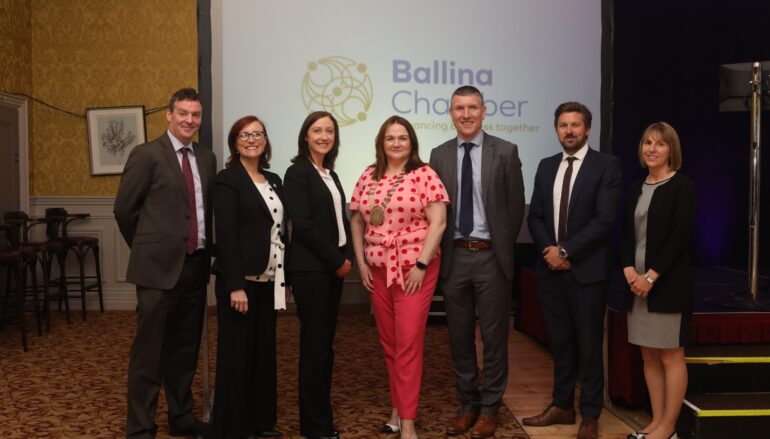 Ballina Business Showcase shines light on businessess appetite for networking.
Ballinas' Home to Mayo Festival weekend, kick started the weekend celebrations in North Mayo with a business showcase in the Great National Hotel Ballina, on Friday 27th May.
Welcoming thirty-five business exhibitors to the event, featuring guest speakers, panel discussions and Q&A session, and an outside broadcast with Mid-West Radio, this was the first and largest networking event the county has seen pre pandemic 2020.
Tracey Glacken President of Ballina Chamber stated;
"I am delighted with the response to our networking event both on the day and since. Since taking up the role of Chamber President, my core strategy was to support Ballina businesses resume business activities and get back to networking. The business community have been long enough staring at screens, and events such as the showcase give those the opportunity to ease themselves back into meeting fellow business colleagues from Ballina and around the county".
Tracey went on to thank the invited guest speakers James Kiernan from Chambers Ireland, Nicola Kennedy from Local Enterprise Office Mayo , Sean Farrell from SBCI, Allan Mulrooney from WDC and Maria Staunton from Innovation Hub at ATU for their contributions, and the businesses who joined the mornings event.
Ballina Chamber continues to plan further networking opportunities during 2022, with a calendar of events scheduled from September to December.  Chamber activities have concluded for the summer months, as the Chamber and Ballina community prepare for the 58th Ballina Salmon Festival in the town running from the 10th – 16th July, after a hiatus of three years due to the global pandemic.
Further information please go to www.ballinasalmonfestival.ie
Pictures taken by : Corinne Beattie
Related Articles
Read more from Blogs