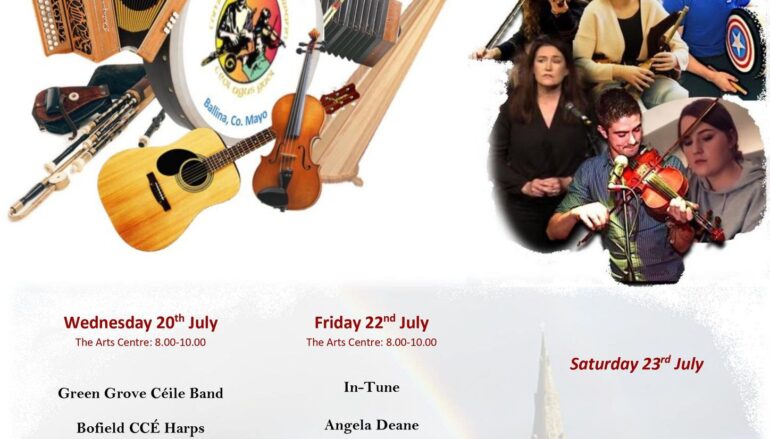 BALLINA TRADITIONAL IRISH MUSIC FESTIVAL BEGINS TODAY
The Best of Irish Traditional Music will feature in Ballina this week from July 20-24 as part of the north Mayo town's build-up to hosting the Connacht Fleadh in 2023.
Fleadh Cheoil Chonnachta Ballina is scheduled to take place from July 2 to July 9 next year as aprt of Ballina 2023 cleebrations and this week's Ballina Trad Fest is set to whet the appetite for next year's event.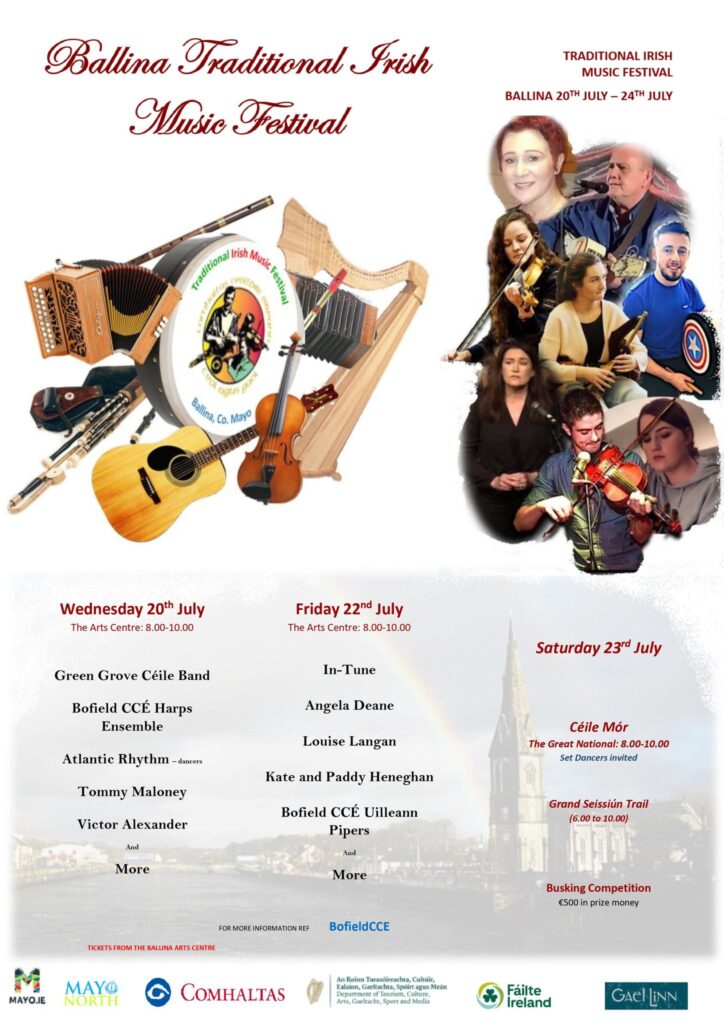 Tickets for concerts are available from the Ballina Arts Centre.Schedule includes:
WEDNESDAY, 20th July 2022:
Ballina Arts Centre, from 8.00pm-10.00pm
– Green Grove Céile Band
– Bofield CCÉ Harps
– Ensemble
– Atlantic Rhythm – dancers
– Tommy Maloney
– Victor Alexander
and more…
FRIDAY, 22nd July 2022:
Ballina Arts Centre, from 8:00pm – 10:00pm
– In-Tune
– Angela Deane
– Louise Langan
– Kate and Paddy Heneghan
– Bofield CCÉ Uilleann
Pipers
and more…
SATURDAY, 23rd July 2022
Great National Hotel Ballina, from 8:00pm – 10:00pm
– Céile Mór
(Set Dancers invited)
Also on Saturday the Grand Seissiún Trail will also take place from 6pm to 10pm while there will also be a busking competition with €500 in prize money.
Tickets for concerts are available from the Ballina Arts Centre.
(096) 73593
Related Articles
Read more from Uncategorised