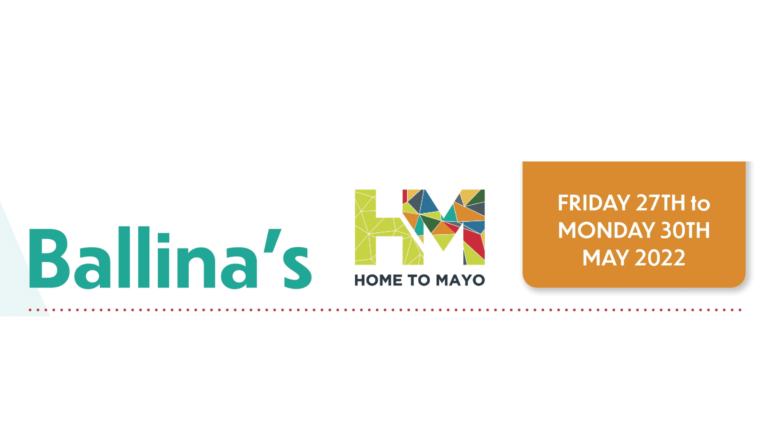 Ballina's Home to Mayo Festival weeknd programme announced!
Home to Mayo is part of the Global Irish Festival Series which is a joint initiative between Fáilte Ireland and the Department of Foreign Affairs.
Ballina's Home to Mayo Weekend Festival hosts a variety of family friendly events in Ballina from 27th to 30th May. 'Home is where the Heart is'
27th May 9am-11am
Ballina Business Showcase in association with Ballina Chamber.
Business Networking & Recruitment, Business Exhibitions, Mid-West Radio Outside Broadcast, Invited Panel Discussion, Open to the Public. Register by clicking on this link – Ballina Business Showcase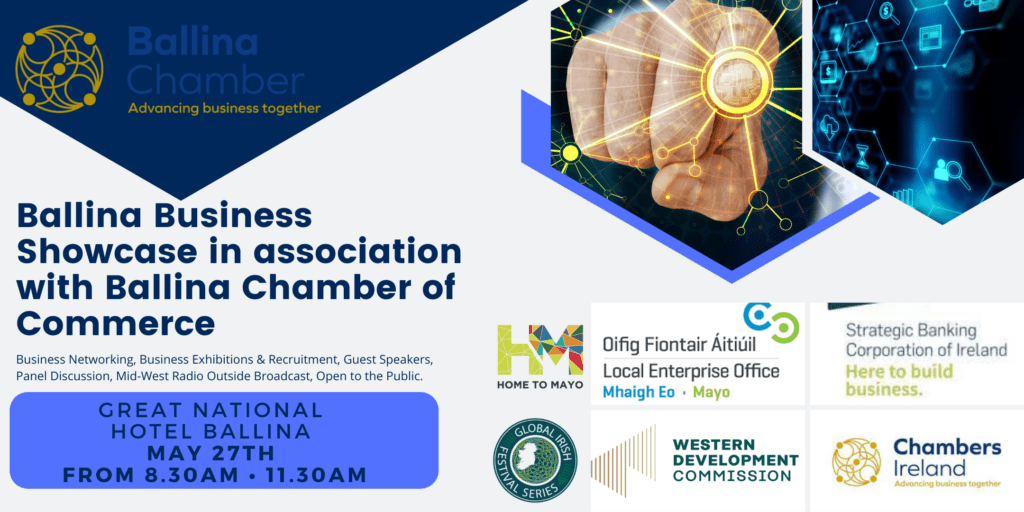 27th May 8pm
The Mournful Croon: A Celebration of Mayo Folk Song, at Ballina Arts Centre.Featuring the finest of Mayo's established and experienced singers of folk and traditional Irish songs. Admission: Free but booking essential. www.ballinaartscentre.com/
27th-28th May
Ballina Lions Club Charity Golf Classic at Ballina Golf Club, in association with Ballina Chamber & Mayo North Tourism, with proceeds going to the Foxford & District Alzheimer Trust. Tee Sheet in operation at Ballina Golf Club 096-21050 More info Ballina Lions Club
27th-28th May
Join Connacht Distillery for a Home to Mayo Guided Tour & tasting of their range of handcrafted spirits at the Distillery. Tours running 1pm and 3pm daily & enjoy a 10% discount on all tours booked over that weekend. Code for booking online HOME10 Click Connacht Distillery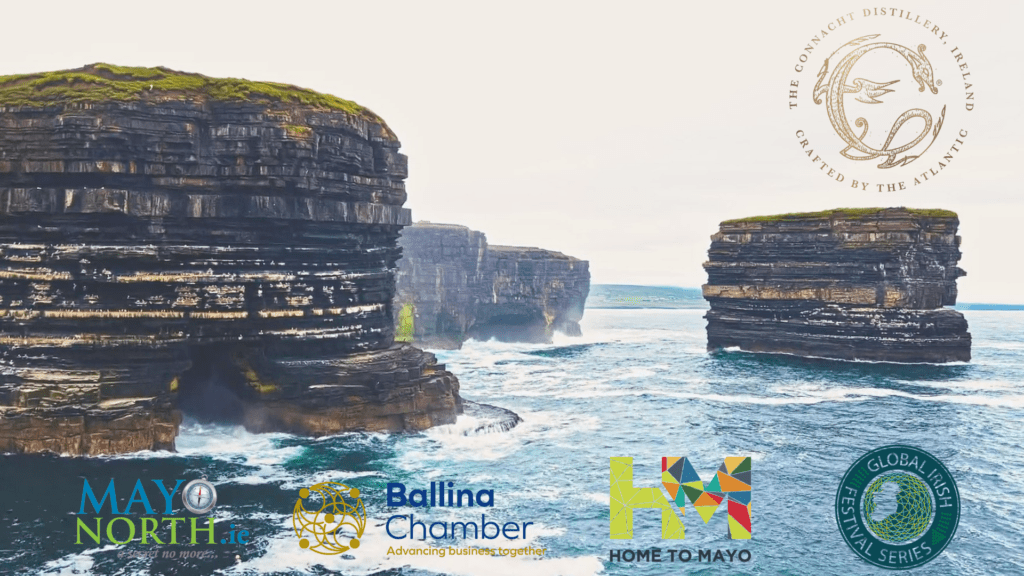 28th May
Seafood Foraging & Guided Walk of isolated Bartra Island with Denis Quinn of Wild Atlantic Cultural Tours
Denis Quinn of Wild Atlantic Cultural Tours will take you over the vast strand to isolated Bartra Island, walking through the crystal-clear streams with tiny fish & shrimp darting for cover, keeping an eye out for sleeping seals and noisy herons and other wildlife.Take in the vast views of the bay, its crystal clear, pristine waters and little islands. Forage for cockles, mussels, winkles, and seasonal wild edible plants while learning a little about local environment, history and archaeology. This is a tours to suit all ages & families, 3-4 hours at an easy pace,wellies essential.
Sea Food Foraging Details;28th May 2022 Meet at (Venue): Killala Communty Centre car park Time: 10.45amTo BookCall/Text/Whats app 083 0241570 Prices:Adult €40 (Group Rates available) Max 12 PeopleFamily – 1 Adult and up to 4 kids €70 Family – 2 Adult and up to 4 kids €80 Denis is a Failte Ireland Approves guide, BA Hons Heritage.
28th May
River Moy Stand Up Paddling with Mikey Hamilton of Harbour SUP. Paddling into the heart of Ballina from the Quay, along the famous River Moy Ridge Pool and back to the beautiful Quay village. between 5-7pm. "life's better on the water" To Book, WhatsApp 086 0315737 Mikee.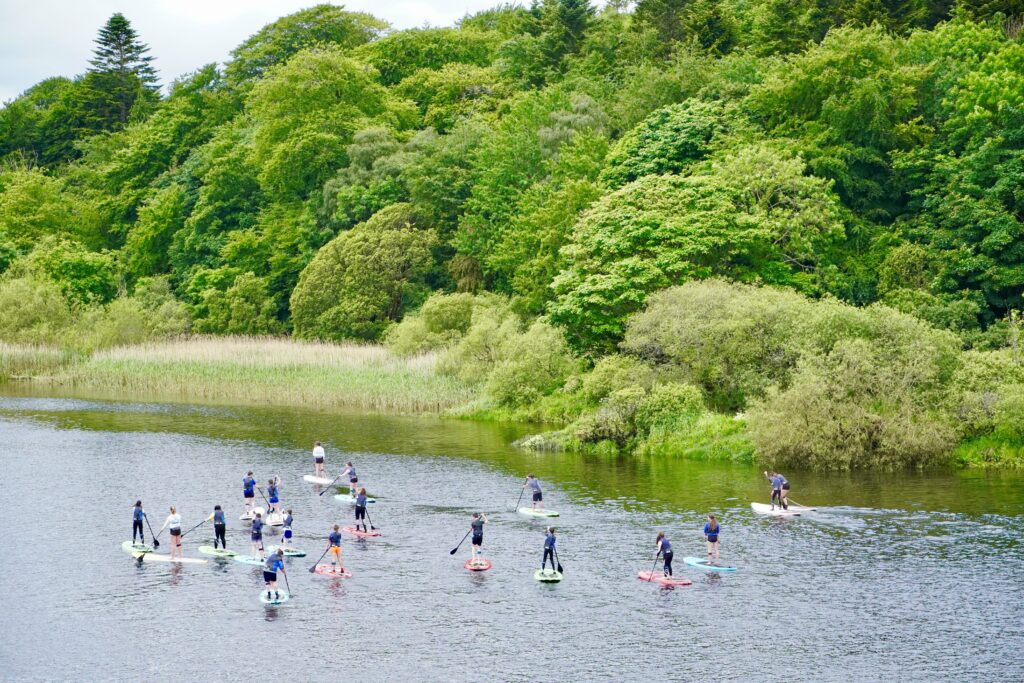 28th May
Flavour of Irish History & Heritage at the Jackie Clarke Collection, open from 10am – 5pm, Featuring Mayo themes of Michael Davitt's No Rent posters, "Mayo Forgotten Famine Girls", the Mayo story of 1798, War of Independence exhibition and so much more! Admission is Free. A very warm welcome awaits you at the Jackie Clarke Collection and Walled Heritage Garden in the heart of Ballina.
28th May
Kayaking on the River Moy with Paddle and Pedals' David Horkan. Contact David at 087 680 8955 | [email protected]
28th May
Ballina Live Music Trail, follow the trail around the town of Ballina and pop into the iconic music venues and locations, featured recently in 'Other Voices Ballina' Music trail. Join the interactive music sessions and discover why Ballina is considered one of the country's best towns for live music and trad sessions.
29th May
Mass of the Exiles celebration at St.Muredach's Cathedral
A special Mayo Diaspora Mass will be celebrated at 11am, in St Muredach's Cathedral, dedicated to our Mayo family around the globe. Broadcast live on the Cathedral webcam, with hymns and tunes by the acclaimed St Muredach's Cathedral Choir, we especially invite our twin towns of Scranton PA, Pittsfield MA USA, Athis Mons France and links with Craigavon, Manchester, and Leeds. All are welcome to tune in and celebrate To watch the Mass live go to the Church Webcam . http://ballinaparish.org/
29th May – Barrett St
Pure Ballina x MASER
Maser makes a welcome return to Ballina as part of Home to Mayo to work with Ballina's Foroige group. Their theme – Ballina-The Place – will explore what Ballina means for young people living there today, expressed in street art. This long-awaited artwork was originally to be part of Ballina Fringe Festival 2020. Now, finally, Maser and Foroige will get their chance to bring another splash of colour to Ballina's streets as we return to in-person festivals and celebrations again
Mayo Marquee in the Market Square 11am-6pm,
Featuring cooking demos and discussions with Chief Ronan Fox and local food producers. Showcasing pieces from Brendan Farrell's 'Take Me Home' show, Trad session with Hup, and excerpts from Atlantic Rhythm's new show 'An Immigrants Return', poetry reading by Sean Walsh.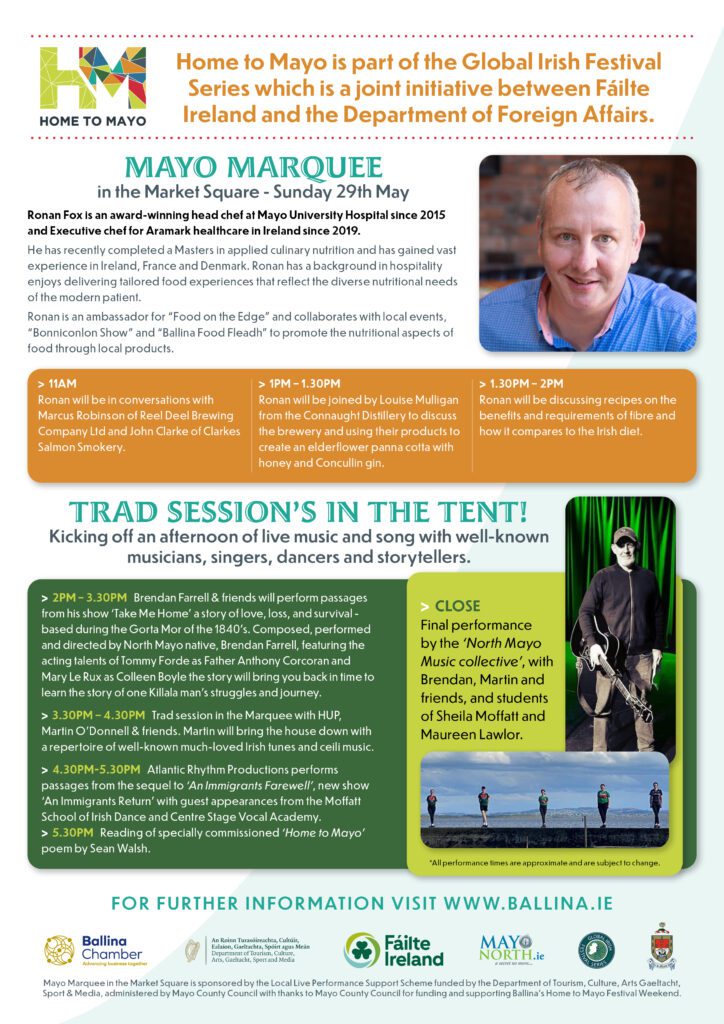 29th May
Ballina's Home to Mayo Fishing Competition on the world-famous River Moy, in association with Ballina Salmon Anglers Association. To welcome back friends and family of the fishing fraternity to the River Moy, Ballina Salmon Anglers Association and Ballina Chamber have created a very special fishing competition to coincide with Ballina's Home to Mayo weekend festival.With the competition commencing at 10am and running till 4pm that day, registration for the competition starts at 9.30am adjacant to the Ballina Training Centre, Riverside.Important Terms & Conditions:
*Entrance fee €15.
Entrants must have current Salmon Licence.
Location controls & restrictions apply.
This will be highlighted at registration.
Further information, Contact Peter 087 992 2200.
Prizes for the Competition:
Prizes for 1st, 2nd & 3rd placed winners awarded;
First Prize €300 Ballina Shop local vouchers
Second Prize €200 Ballina Shop local vouchers
Third Prize €100 Ballina Shop local vouchers
Refreshments served at Prize Giving ceremony.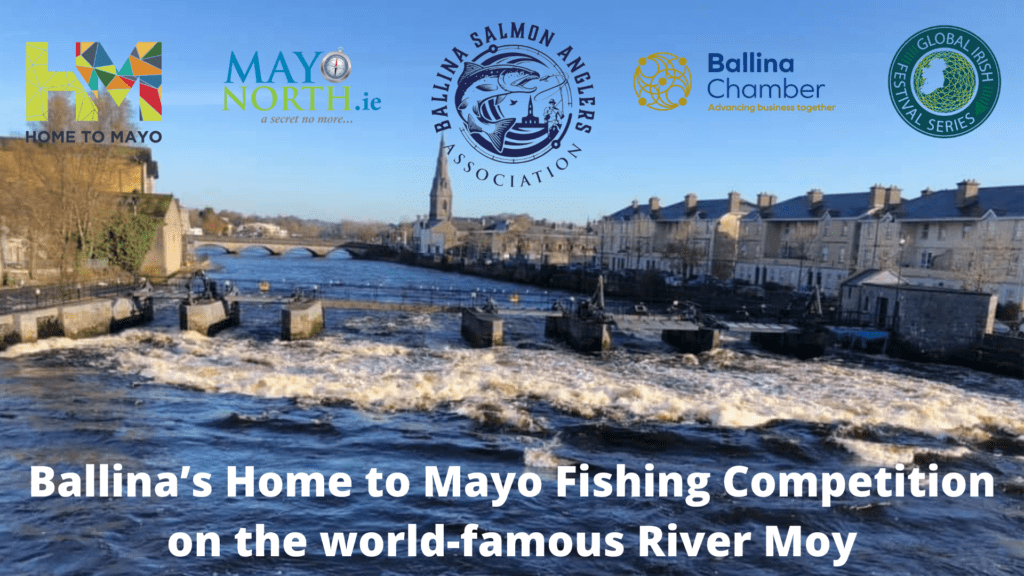 30th May
Mayo Changemakers – Mayo's Global Climate Community (IN PERSON)
Hosted by The Mary Robinson Centre, this is a climate-themed gathering of all Mayo's diaspora in partnership with Mayo County Councils Climate Action Office as part of Ballina's Home to Mayo Festival, taking place in Ballina Arts Centre and online.
Are you working in the area of climate action? Or researching solutions to address climate change? Maybe you're interested in how we can help the biodiversity crisis?
If you're from Mayo, live in Mayo, or just interested in Mayo, then we want to hear from you!
Join us at our Changemakers event on 30 May! More info and to register go to www.maryrobinsoncentre.ie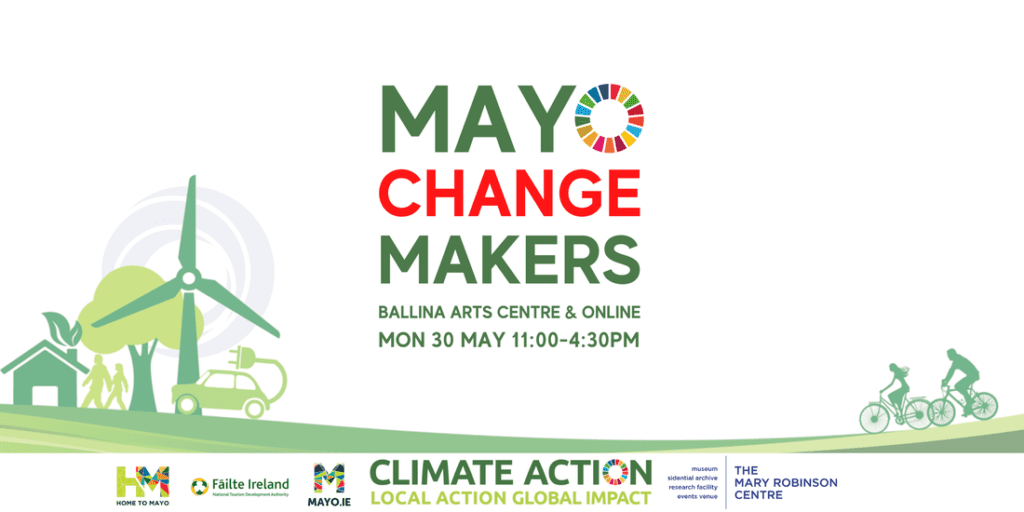 Related Articles
Read more from Uncategorised