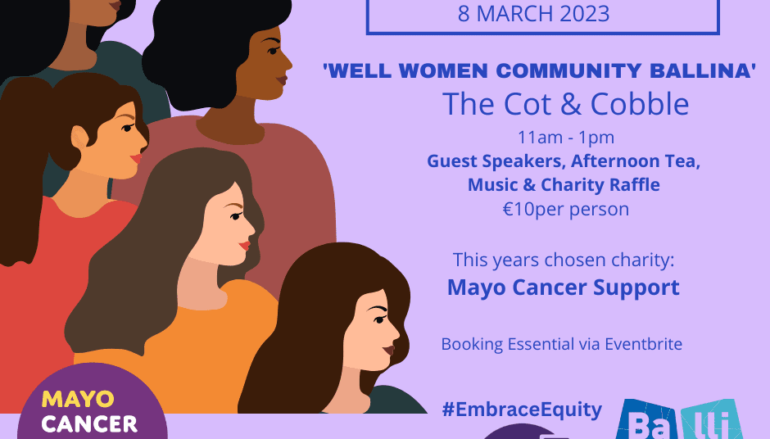 'Well Women Community Ballina' International Women's Day 8th Mar 2023
Ballina Chamber of Commerce is delighted to host 'Well Women Community Ballina' as part of Internationals Women's Day, on Wednesday 8th March 2023.
We look forward to celebrating International Women's Day with Tea, Treats and plenty of chat, in the beautiful surroundings of The Cot & Cobble, featuring an inspirational panel of speakers from a wide variety of backgrounds and the Ballina Community, including live music and raffle.
Venue: The Cot & Cobble
Time: 11am-1pm
Cost: €10 (Reserve your tickets early as last year this was a sold out event.)
All funds raised are in support of Mayo Cancer Support.
Launched by Councillor Annie May Reape Mayo County Council
Welcome notes by Tracey McCann Glacken President Ballina Chamber.
Guest Speakers include;
Professor Breda Smyth Chief Medical Officer of Ireland,
Anne Marie Coleman Chief of Staff to the Global Chief People Officer at The Coca-Cola Company,
Rosemarie Loftus Junior Vice-President of the Law Society of Ireland,
Cara Martin Lady of the Moy 2022 Ballina Salmon Festival – Mayo and Epilepsy Ireland Ambassador and Social Media Campaigner.
Orla Gillespie Fundraising & Communications Officer Mayo Cancer Support.
Musical Performance by students at St. Marys Secondary School, Ballina Reserve your tickets early as last year this was a sold out event.
Book Now at this Link – https://bit.ly/412cWsX
The theme for International Women's Day, 8 March, 2023 (#IWD2023) is #EmbraceEquity
Equity isn't just a nice-to-have, it's a must-have. A focus on gender equity needs to be part of every society's DNA.And it's critical to understand the difference between equity and equality. IWD 2023's campaign theme aims to get the world talking about why "equal opportunities are no longer enough.
The Well Women Community in Ballina, supported by Ballina Chamber celebrates the achievements of the impressive women we have in the West of Ireland.
We can all truly embrace equity.
It's not just something we say. It's not just something we write about.It's something we need to think about, know, and embrace.
It's what we believe in, unconditionally. Equity means creating an inclusive world.
And we can all play a part. Each one of us can actively support and embrace equity within our own sphere of influence.
We can all challenge gender stereotypes, call out discrimination, draw attention to bias, and seek out inclusion. Collective activism is what drives change. From grassroots action to wide-scale momentum, we can all embrace equity. Forging gender equity isn't limited to women solely fighting the good fight. Allies are incredibly important for the social, economic, cultural, and political advancement of women.Everyone everywhere can play a part.Collectively, we can all forge positive change.
Being included, and a sense of belonging, feels rightWhen we embrace equity, we embrace diversity, and we embrace inclusion.We embrace equity to forge harmony and unity, and to help drive success for all.Equality is the goal, and equity is the means to get there. Through the process of equity, we can reach equality.#IWD2023 #EmbraceEquityembrace – verb – ɪmˈbreɪs – to willingly and enthusiastically accept, adopt, and espouse
Ballina 2023
2023: A YEAR OF CELEBRATION
Honouring the past, celebrating the present, inspiring hope for the futureBallina 2023 will mark 300 years since the formal establishment of the town. This tercentenary offers a once-in-a-lifetime opportunity, to develop and participate in an exciting, inclusive year-long programme of events that will create a solid and meaningful legacy for future generations. It will honour the past, celebrate the present and inspire hope for the future. From spectacular signature events, to neighbourhood street parties, it is a chance to celebrate, to connect and to make memories together that will last a lifetime.
Related Articles
Read more from events
Sorry, no posts were found.