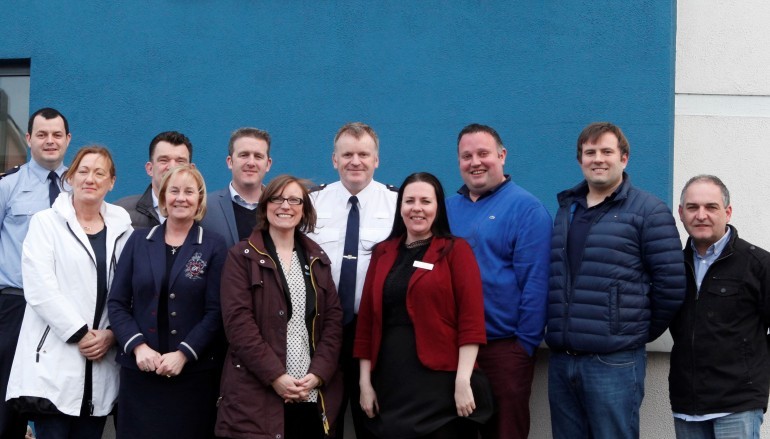 Ballina Business Community Launches Business Watch
Following on from a recent Town Centre Health Check for Ballina, a retailer's survey identified a need for a Business Watch be setup in the area.
Based on the same principles as Neighbourhood Watch, the Business Watch, is the practice of both the Gardaí and the business community coming together to prevent and reduce crime.
Chaired by Maria Carr of The Junction Restaurant with Hugh Rouse, Rouse Insurance Business Watch coordinator, Ballina Business Watch hosted its first open meeting and launched the Ballina Business Watch at Ballina Garda Barracks.
Recent crime results which was compiled as part of Ballina's Purple Flag Award renewal application announced a 15% decrease in overall crime in the Ballina Municipal Area, with criminal damage down by 28%, public order down by 29% and robbery of business down 26%.  This is fantastic news for Ballina, the business community and a testament to Ballinas' An Garda Síochána and Superintendent Joe Doherty.
However, it has been agreed by Ballina Chamber of Commerce and Superintendent that 'Prevention is better than the Cure' and therefore a Business Watch group has been created to monitor crime in the town and alert businesses about issues such as shoplifting, anti-social behaviour & credit card fraud.
Chair of the Ballina Business Watch Maria Carr states 'The drop, in crime figures for Ballina is very encouraging and we would like to thank An Garda Síochána for their ongoing commitment to fighting crime in Ballina. Ballina is a fantastic town for tourists, visitors and families to enjoy and we want perpetrators of crime to know that Ballina and its business community will not tolerate this type of behaviour!'
Garda Gerry Carney, Community liaison Garda is working closely with the Business Watch group, and will be calling into businesses in Ballina throughout the coming weeks.  Additionally, a Text Alert system has being launched by Business Watch.
Members of the Business Watch are also reviewing the CCTV system in Ballina in conjunction with Ballina's An Garda Siochana and Ballina Municipal District Council. The group have launched Phase 11 of a planned upgrade of the current system and plans to optimise the strategic placement of cameras.
Purple Flag awarded to Ballina again, in 2017

All of this proactive work comes on the back of the announcement that Ballina has retained its Purple Flag status in 2017.  Ballina, the first town in Connacht and the second town in Ireland to be awarded the Purple Flag in 2014,  went through a rigorous programme called 'Purple Flag Academy' for the second time which started in November 2016 including workshops, self-assessment and final application by the end of January 2017 year and were assessed independently in April.
Paul Regan, Ballina Chamber of Commerce President said:
"Thank you to all involved who supported the Ballina Purple Flag Committee achieve the award again. We are so fortunate to live in such a beautiful town and region with new initiatives set up to further support Purple Flag such as Ballina Business Watch and Text Alert services."
Further information on Business Watch please contact Ballina Chamber offices 096 72800
Related Articles
Read more from News