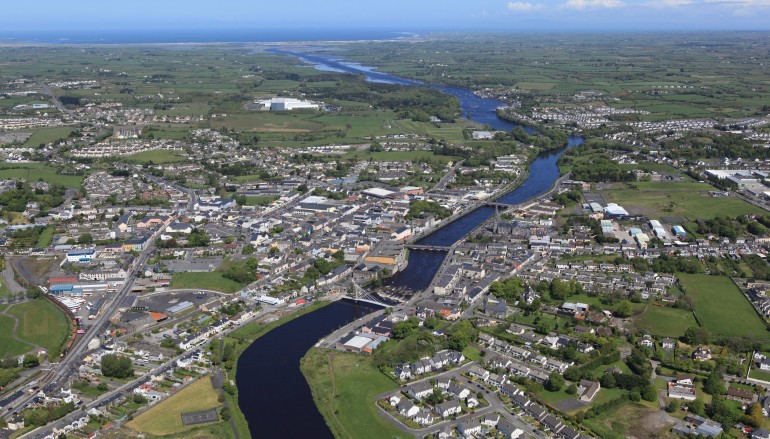 Ballina Tourist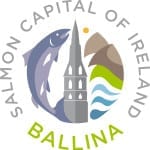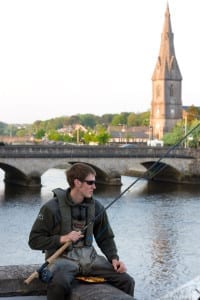 A Guide For The Ballina Tourist
The Ballina Tourist will find the town a perfect stop-off point on their journey by road along the Wild Atlantic Way, which passes right through the centre of the town where it crosses the River Moy.
Just 40 minutes' drive from Ireland West International Airport's Continental, US and UK flight routes, Ballina is Europe's most famous Salmon Fishing destination with Ballina Salmon Festival celebrating the town's heritage every July with a busy street market, live music and the local's favourite, Heritage Day. This bustling north Mayo town is well served by Bus and Train services and is located two hours' drive from Galway city, one hour from Sligo and just three and a half hour's drive from Dublin.
What's On in Ballina?
Why not plan your visit to Ballina around one of the many great festivals taking place in the region? From community activities to festival style events throughout year including Ballina's own St. Patrick's Day Parade every March, following the Salmon Festival there's September's Food Fleadh Ballina celebrating local food producers which features live cooking demonstrations by guest Chefs (which since 2018, coincides with the 'Other Voices' music festival). And even in Winter there are events that draw people to Ballina, like the renowned Scary Woods Walk in October to celebrate Samhain Abhainn (Irish for Halloween). And every Christmas season sees the return of the market and the now famous Coca-Cola truck, during the town's own Frosty Salmon Festival.
A wealth of Irish cultural experiences are available to the Ballina Tourist at venues such as: Ballina Arts Centre, for Art Exhibitions, Live Shows and Music; take in a tour of the beautiful building that is home to the Jackie Clarke Collection, one of Ireland's most significant historical collections; the Marshall Doran Collection tour at Belleek Castle and for the digestif connoisseur the Connacht Whiskey Distillery offers tours revealing how the drink is made along with the chance to sample some of their unique, locally produced Irish Whiskeys, Gin, Vodka and Poitín.
Places to Stay
From B&Bs to five-star hotels, there's something in Ballina to suit every budget, such as The Ballina Manor Hotel, The Great National Hotel, The Ice House, The Twin Trees, Mount Falcon and Belleek Castle within the grounds of Belleek Woods, where you can relax and take a stroll alongside the River Moy and spot local wildlife such as the Swan and the Heron.
A comprehensive list of accommodation throughout North Mayo is available at Accommodation for the Ballina Tourist
Eating in Ballina
From traditional cuisine to cosy cafés to ethnic restaurants, Ballina offers a wide variety of quality food to suit your tastes. And whether it's a good coffee, a hearty pub lunch or a five-star dining experience you're after, Ballina has something to meet your needs.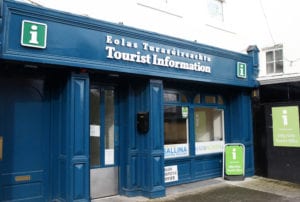 When visiting Ballina, the welcoming Tourist Office staff will orient you to all the local venues and eateries all within walking distance of the town centre. A plethora of booklets and flyers and leaflets will inform you about staying in Ireland, great places to visit, essential maps, guides and souvenirs to help your trip along the Wild Atlantic Way a memorable experience. Facilities available to ballina tourists include ample Parking in close proximity to the Tourist Office as well as Public Toilets on site.
Ballina's Abbeys and Music at the Church
In 2018, St. Michael's Church hosted the Other Voices Music festival, which recently appeared on the RTÉ 2 channel, and more Music events are planned to take place in Ballina. For those looking specifically for churches as places of worship, they include St. Muredach's Cathedral, St. Michael's Church of Ireland, Calvary Church and Ballina Methodist church. Also, the atmospheric ruins of Rosserk, Moyne and Rathfran Abbeys are situated near Ballina with the Augustinian Abbey (built 1427) right in the centre of town.
Visit Ballina and explore the outdoors ….
Still eager to explore? There are hundreds of walking and hiking trails to explore from Bonniconlon to Belderrig, a new Greenway to cycle and a myriad of secret, sandy strands to discover along the Wild Atlantic Way. Within touching distance lies the expansive Enniscrone beach, the awe-inspiring Belderrig Valley, the great heights of Nephin (meaning 'heavenly') Mountain – the second highest in Connacht, the stunning lakes of Talt, Conn and Cullin, the rugged cliff faces of Ballycastle, the gardens of Enniscoe and the monastery trail along the River Moy.