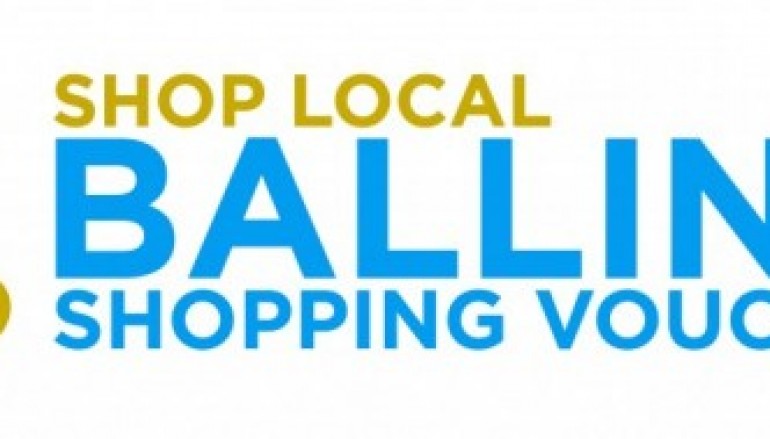 Ballina Chamber Shop Local Vouchers
Ballina Chamber of Commerce "Shop Local Gift Vouchers" are the perfect all year round gift idea and are not just for Christmas. This gives you the opportunity to treat family and friends while allowing them the freedom to choose where to spend the voucher. Vouchers are perfect for all sorts of occasions such as Birthdays, Communions, Anniversaries or as a simple "Thank You" to that someone special.
WHY BUY BALLINA CHAMBER SHOP LOCAL GIFT SHOPPING VOUCHERS?
Did you know that for every €1 spent locally is worth €4 to our local economy?
BALLINA CHAMBER OF COMMERCE Shop Local Gift Vouchers come in denominations of €10, €25 and €50 and are redeemable in outlets in and around Ballina and can be used in a multiple of various shops, restaurants, beauticians and hair salons.
A great many businesses have already signed up, with more to come! Download the below brochure to see which businesses are onboard. 
Ballina Chamber Shop Local Voucher Participant List 

For the Business – How is it managed?
Shop Local is developed and is solely managed by Ballina Chamber of Commerce.
Shop Local celebrates all that is good about shopping in Ballina. It has been devised for retailers and customers alike. The aim is to create greater brand awareness of Ballina.  All administration and management of the initiative is through Ballina Chamber of Commerce. NO COMISSION FEE for businesses !!
The Chamber manages each promotional campaign, manages the social media channels, administers the website and manages all the financial aspects of the scheme making it as easy as possible for retailers and other providers to get involved.
Gift Voucher Redemption for Businesses 
Ballina Chamber charges nothing for purchase of vouchers, with no additional costs incurred to the business on redemption of the vouchers, so unlike other well known voucher schemes, Ballina Chamber offers a zero percentage commission for the loyalty scheme. 
Ballina Chamber will redeem vouchers as quickly as possible after presentation.
Contact the office and let us know how many vouchers you have presenting to be redeemed,
Present the vouchers to the office staff for validation,
Give your BIC and IBAN number to the office,  Electronic Transfer of funds can be administered between 1-3 days, allowing 24 hours for transfer of funds to take place.
So, want to be able to accept gift vouchers and be part of the scheme?
It's FREE for Chamber Members to join this scheme.
All member outlets that accept Shop Local gift vouchers are listed online as well as on the list that accompanies all vouchers sold. Each outlet that joins also displays a "Shop Local Gift Vouchers accepted here" poster and door sticker as well as seasonal posters at relevant times of the year.
If your company would like to find out more about these vouchers please contact Ballina Chamber on Tel: 096 72800 or email info@ballina.ie
Related Articles
Read more from Blogs