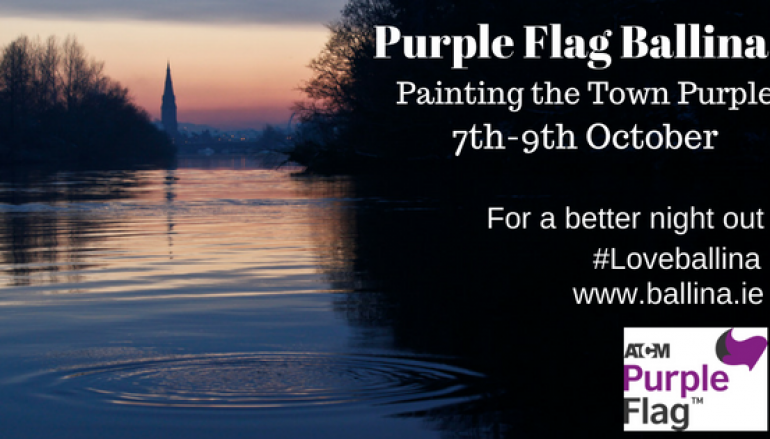 Ireland and UK prepares to celebrate vibrant towns and cities
The annual celebration of the Purple Flag programme, which recognises excellence in the management of the evening and night-time economy (ENTE) in Ireland and the UK, will be taking place on the weekend of the 07-09 October 2016.
Towns and cities across the country are planning a wide-range of events to not only showcase the quality, diversity and vibrancy of their ENTEs, but also to challenge the common negative, stereotypical perceptions about the safety and quality of our town and city centres during the evening period.
Ballina Purple flag plans on 'painting the town purple' by lighting the town's iconic pedestrian bridge and Ballina Municipal District Council will raise the purple flag over its offices on Friday evening to kick start Purple Flag weekend.
Purple Flag Weekend 7th – 9th October
Ballina has an eclectic mix of live music and entertainment with a variety of events planned over the weekend;
Friday  7th October
Ballina Arts Centre, Barrettst, Gis a Shot of your Bongos Mister, 8pm. Tickets: €12/€10 Early booking advised     Brian Fleming brings the first of his celebrated trilogy of one-man shows to Ballina Arts Centre
Bolg Bui, Bridge St, Live music with Pat and Mick from 9.30pm till late
Emmetts Bar, Connolly St, Reggae Disco from 10pm
Saturday 8th October
Great National Hotel Ballina, Strictly at the Movies, 8pm. Tickets: €20
Ten couples take to the floor in this joint event produced by Ballina Stephenites Squash Club and Ballina Stephenites GAA Club. A star studded night of glitz and glamour – Hollywood style with a huge entertainment factor – Tickets will be on sale at a cost of €20 which includes entry to a grand raffle on the night.
The Broken Jug, O'Rahilly St, Trad Sessions, 8pm – 10pm followed by DJ and late Bar
Rouses Bar, Pearse St, Live Trad session from 9.30pm All musicians welcome
The Loft Bar, Pearse St, live music with The Kranes, from 9.30pm
Sunday 9th October
Ballina GreenWay Park, Belleek, 4 Mile Colour Dash in aid of the Irish Cancer Society, 12noon – 2pm
Entry Fee €20 or Fundraise a minimum of €30, (1 Mile Run for Under 16s) €10 Entry if you wear your own white T- Shirt.  To register online visit www.eventbrite.ie/e/colour-dash-ballina-tickets-26903272412 or call Michael Rice at The Shoe Hospital, Brdge Street Ballina, 087 6611975
(Its not an evening event but its definitely worth a mention)
The Broken Jug, Tommy Maloney, live music from 7pm – 9pm.  Live on stage from 10.30pm Lee Munn & Friends
Ballina Taxi Co-op gets you home
Get home safely with;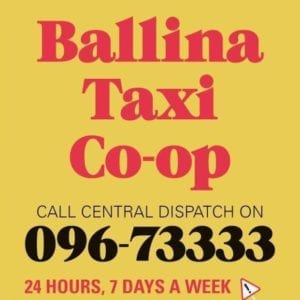 This series of purple events intends to capture people's imaginations, change perceptions and encourage people to do something different with their evening in a variety of locations.
Ballina is also celebrating after learning it has retained the prestigious Purple Flag accreditation for its evening and night-time economy (ENTE).
Feedback from the assessors included;
There was a clear sense of community in problems, challenges and benefits shared – incredibly strong
The range of pubs and facilities is well above the standard for this size of town.
A Number of public buildings have been refurbished and opebed for broader use. The standard of presentation is excellent.
With Purple Flag is a town and city centre award which aims to raise the standard and broaden the appeal of town and city centres in the ENTE between the hours of 5pm to 5am. Areas awarded the Purple Flag are recognised for providing a vibrant and diverse mix of dining, entertainment and culture while promoting the safety and well being of visitors and local residents.
Paul Regan, Chairperson of the Purple Flag Committee and President of the Ballina Chamber of Commerce expressed his delight at the news of Ballina retaining the Purple Flag Award.
'It is a testament to the hard working community groups in the town, Ballina Municipal District Council, An Garda Siochana, Ballina Chamber of Commerce and Ballina's Hospitality sector who have all come together to work towards Ballina retaining the Purple Flag Award, and giving locals and visitors to the town a safe and entertaining place to enjoy. Well done all involved.'
Further information on Purple Flag at [email protected] 096 72800
Full schedule of events to follow.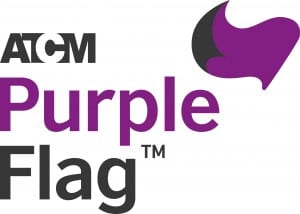 Related Articles
Read more from News