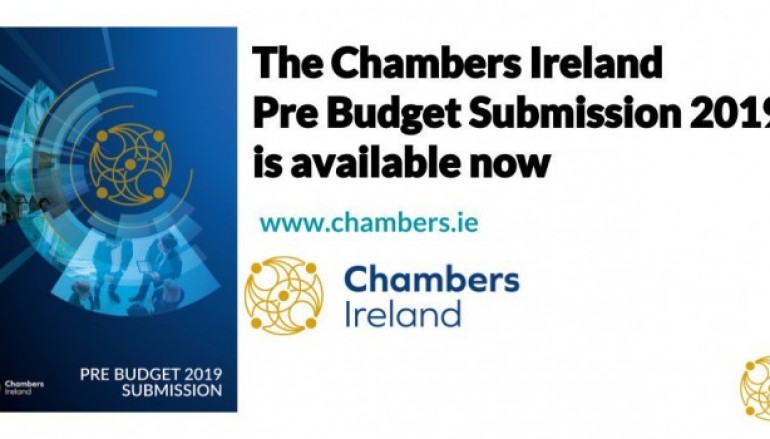 Budget 2019 : Chambers Ireland review
"Government's chosen path for Budget 2019 will produce long term benefits for the Irish economy if measures announced are implemented appropriately and rapidly. Balancing the books, delivering promised investments, establishing the Rainy Day Fund and preparing the economy for Brexit are the best approach for Government to take at this time. We are pleased with the commitment to significantly ramp up capital expenditure to €7.3bn and delivery of the National Development Plan will be vital over the coming years.
Chambers Ireland has been calling for over-profile corporate tax receipts to go towards the Rainy Day Fund and this is a most welcome decision by Government, along with the Minister's commitment to avoid over-reliance on volatile taxes and the need to protect a broad tax base.  We continue to call for this to be used as an equalisation fund to deliver consistent finance for capital expenditure into the future and would like to see clarity on access mechanisms for this fund.
While Government has committed to wide ranging investments across many departments, which is welcome, our members will be concerned at some of the more immediate changes.
Budget 2019 does nothing in the short term to enhance our competitiveness at this crucial time in the run-up to Brexit. No changes to the CGT regime in particular was a surprise, and we had asked Government to increase the earned-income tax credit by €500, but only a €200 increase was delivered. Increases to employers' PRSI and the National Minimum Wage will impact business costs negatively.
We are extremely disappointed with Government's decision to increase the 9% VAT rate for the hospitality sector and this will come as a blow to regional Ireland. We now hope that the effects of this on rural jobs might be offset by increased funding going towards tourism bodies, by expanding our market reach and delivering capital investment.
While increased funding towards housing is positive, if the policies already in place are not facilitating the level of output of affordable homes so desperately needed, we must ask ourselves if other policy changes beyond extra money will be required in delivering new homes.
Similarly, we welcome the increase of €90m towards childcare and the expansion of the Affordable Childcare scheme, however while sustained investment in childcare is crucial we must be sure that this investment translates into more affordable services for parents.
We look forward to seeing the detail on the new funds promised, particularly those that will be set up to support business in preparing for Brexit. How and when the variety of investments announced today will be spent remains unclear and businesses will likely see the short-term increases in costs as the key takeaways from today's budget, while the more positive elements will likely take longer to have impacts.
Businesses need to make a leap of faith with this budget. Some potentially positive initiatives will require rigorous implementation to have an impact. In the intervening period there is little in it to improve competitiveness."
Related Articles
Read more from News