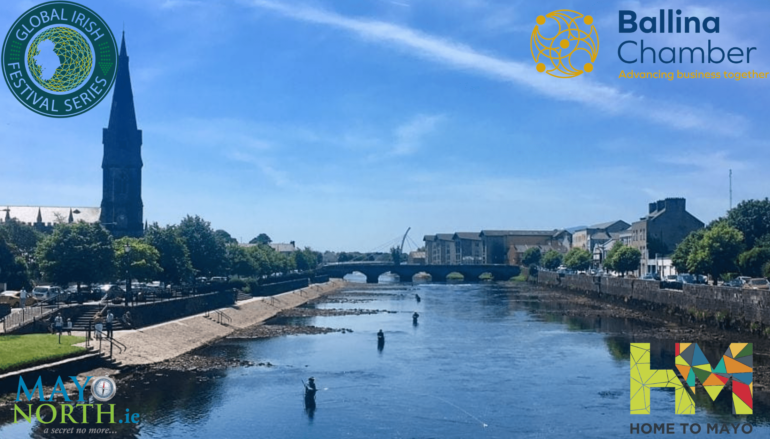 HOME TO MAYO PLANS ACCELERATE AS MONTH LONG FESTIVAL BEGINS TO TAKE SHAPE
After Mayo County Council's success having 'Home to Mayo' selected as part of the Global Irish Festival Series, event organisers are busy putting plans in place for a Mayo experience for anyone visiting next May.
This month-long festival will be delivered by Mayo.ie in partnership with The Global Irish Festival Series, a Fáilte Ireland and Department of Foreign Affairs initiative, which aims to harness diaspora links for the benefit of local and community tourism.
'Home to Mayo' will see a series of events celebrating our County and its people throughout the month of May 2022, incorporating existing festivals along with participatory experiences across towns in the County. 'Home to Mayo' will also include the internationally celebrated Mayo Day. The event offers those with a connection to Mayo the opportunity to make the trip home and celebrate all things Mayo.
We are delighted to announce an online programme of Events available to view by logging on to www.hometomayo.ie. All events taking place throughout the month can be viewed here. This Programme will be updated on a weekly basis with new events being added as soon they register with Mayo.ie.
Whether you are interested in tracing your family history through our Footsteps of Emigrants Festival, experiencing the local culture at our Home to Ballina weekend of celebration, or celebrating the Ballina Twin Town Connections and large Ballina diaspora with a large reunion party, there will be a wide range of events and activities to suit everyone.
We have a global Diaspora network that is second to none on this island. This campaign will welcome the return of our diaspora to Mayo where they can enjoy a series of interesting and thoughtful events and initiatives that will resonate strongly with them and with all Mayo people at home and abroad. Start planning your trip!
Colm Brophy T.D. Minister of State for the Diaspora stated
"As Minister of State for the Diaspora, I am delighted to team up with Fáilte Ireland and Mayo County Council through the Emigrant Support Programme to launch this homecoming and to welcoming members of our Diaspora ''Home to Mayo'' as part of the Global Ireland Festival Series in 2022."
Michael Smyth, Cathaoirleach of Mayo of County Council, added "As Cathaoirleach of Mayo County Council I would like to take this opportunity to personally invite Family, Friends, our Diaspora and anyone with a Mayo connection from around the world home to Mayo next May to enjoy many of the festivities that will take place during the month-long festival. With the success of Mayo Day over the last 7 years 'Home to Mayo' is another opportunity to extend the celebration of our Mayo-ness. There is a vibrant line up of events happening county-wide which will cater to everyone's tastes. Stay up to date with all things Home to Mayo by going to www.hometomayo.ie."
Fáilte Ireland's Head of Festivals, Ciara Sugrue, said:
"We are excited to see plans come together for next year's 'Home to Mayo' festival. Supported by The Global Irish Festival Series, a joint initiative between Fáilte Ireland and the Department of Foreign Affairs, the festival will feature a fantastic line up of events that tap into international diaspora networks and will help attract overseas visitors both to Mayo and Ireland."
President of Ballina Chamber, Gerry Luskin said:
" Our diaspora and connections around the world is a big part of our community in Ballina, and Home to Mayo offers us, the organisers an opportunity to invite our extended family and community home to enjoy the very best of Ballina and the region for a very special, action packed weekend, especially curated and dedicated to celebrating our bonds of family, ancestry, genealogy, culture, heritage and sporting communities and achievements."
Gerry also stated; "The weekend festival is especially targeted towards Ballina's town twinning programmes with twinning established with Scranton (PA USA), celebrating 30 years of twinning in 2021 & Pittsfield (MA USA), celebrating 25 years, Craigavon (NI), Athis Mons (France), as well as a number of UK cities with strong North Mayo links in Leeds, Manchester, Birmingham and London! Additionally as an extra project, we plan on making additional connections with our namesake Ballina in New South Wales, Australia."
We envision reaching out to all, inviting them home to celebrate our town and community, our people and our county.