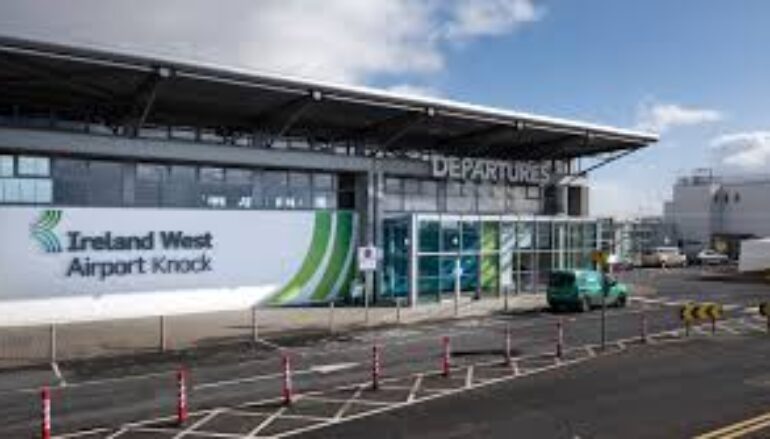 Western Business Community Unite to Fight for Ireland West Airport Knock
The business community of Galway, Mayo and Sligo has united for the first time, to call with one voice for Government to respond to the challenges currently facing Ireland West Airport Knock. They are urgently seeking a meeting with Hildegarde Naughton TD, Minister of State at the Dept. of Climate Action and Transport, and Eamon Ryan TD, Minister for Climate Action, Communication Networks and Transport, to discuss this matter.
Kenny Deery, CEO of Galway Chamber commented, "Our regional airports are of critical importance to the West of Ireland, in providing essential connectivity to global markets for regional businesses, in providing a gateway for much needed tourists and in attracting foreign direct investment into the region. That is why we, as a business community, are coming together to ensure the sustainability of Ireland West Airport Knock".
Ireland West Airport Knock had 807,000 passengers use their airport last year, and as of now, will be incurring a significant loss this year. The Business Community of the West are seeking Government intervention to bridge those losses.
The reason for these losses does not lie solely as a direct result of COVID-19. Ireland's travel restrictions are some of the most restrictive in Europe. The longer these restrictions are in place the greater the risk they pose to the West Region's competitiveness and future economic recovery.
While the business community of the West appreciate that public health advice must take priority, they cannot ignore the fact that Government-imposed travel restrictions are creating significant implications for our regional airports.
Brain Hopkins, Vice President of Ballina Chamber of Commerce states; "Ballina and Mayo Chamber of Commerce together with Galway and Sligo Chambers and the Western Business Community recognise the role Ireland West Airport contributes to the region. The hard work of the team at Ireland West Airport strengthens the ability for our business to start, grow and prosper and we look forward to meeting with the  Ministers to discuss interventions from Government to secure the future of Ireland West Airport and ensure its continued growth".
The Western Business Community have called for an urgent meeting with Ministers to discuss the importance of Ireland West Airport Knock to our region.
Ireland West Airport Knock has, as a result of the pandemic:
-Suspended all flight operations from end march to start of July , and had to lay off most staff, and make 30% redundant and extended layoffs.
-On restart of operations from July, the remaining staff are on 4-day week and from this month are reduced to 3 day working weeks.
-Despite services resuming in July, Aer Lingus have suspended their daily Gatwick service until November 1st at the earliest. During the months of July and August Ryanair operated 50% of their regular schedule but load factors were in the region of 30% compared to 90% for the same period in 2019.
-Total passenger traffic for the months of July and August was 21,847 compared to 183,892 for the same period in 2019 – a decline of 88%
-As result of the pandemic and the current 14 day travel quarantine in place – Ryanair have further reduced their schedule from Ireland West Airport for the months of September by 70% with similar cuts expected for the winter period unless there is a change in Govt Policy regarding air travel.
-Passenger forecast for year end 2020 are 170,000 compared to 2019 record year passenger wise of 807k – a decline of 78% as a result of COVID-19 and its widely held amongst industry experts that it will be 2024 before traffic returns to 2019 levels
-Reduction in costs of 50% however passenger numbers for the year so far down by 80% and turnover of 77%.
– Airport expects to report losses of close to €4m despite the aggressive programme of cost reductions.
-The Airport acknowledges the support of Government through the TWSS and now EWSS however the airport as others is on its knees and facing further massive challenges as we move into the normally quieter winter period.
Related Articles
Read more from News