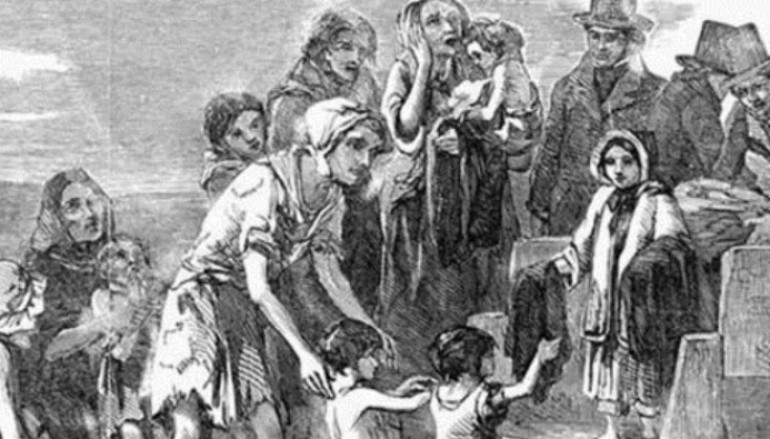 Brave Mayo Famine Girls sent to Australia to be Remembered
The resilience and courage of c 140 girls from four Mayo workhouses who were sent to Australia 1848-50 will be honoured in Ballina in October of this year.
From the beginning of the week, a special exhibition will run in the Jackie Clarke Collection, and on Thursday night, 18th October, an illustrated talk will be delivered at 8 o'clock in the local Library. It will trace life in the workhouse, the passage of the girls to Australia, and also explain Mayo's rather unique links with Australia.
A fitting memorial to the girls and those in the county who died in the Great Hunger – will be unveiled on Pearse Street, near the Library, on Friday, 19 October, at 2pm.  The unveiling will be performed followed by an ecumenical blessing.
Students from Ballinrobe. Castlebar, Westport and Ballina – workhouses from which the girls were sent – will read out the names of the girls sent to Australia, and flowers will be laid in remembrance at the memorial which will, no doubt, become a landmark on Ballina's  main street. Choirs and musicians will perform at the open air ceremony. Foroige and others groups will be invited to participate.
Representatives from all parts of Mayo will be invited, and it is expected that a Government Minister, the Australian Ambassador and other dignitaries will attend.  A special welcome will be accorded to those with a link to the girls and/or the workhouses of the county. Descendants of the girls in Australia will be informed of the arrangements and it is hoped that some may be able to be present.
It is intended that a DVD of the events will be made and uploaded on YouTube, Facebook, etc.
Of the girls sent to Australia, approximately 87 were from Ballina workhouse, 25 from Ballinrobe, 15 from Castlebar and 10 from Westport.
The event is being planned  by a local Committee, and details will be regularly updated.
Those seeking further information should contact Ballina historian and author, Terry Reilly ([email protected] and/or www.terry-reilly.com)
Picture courtesy of AustralianTimes.co.uk
Related Articles
Read more from News