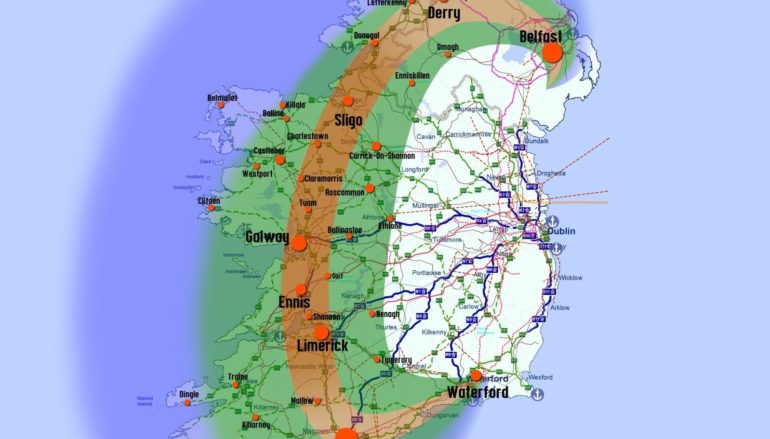 Ballina Chamber hosts AEC Business Forum Seminar
In 2015 Chambers of Commerce and a group of Action Oriented Partners from nine western counties (Donegal, Sligo, Leitrim, Roscommon, Mayo, Galway, Clare, Limerick, Kerry) signed up to a Charter to develop the Atlantic Economic Corridor (AEC). Our Chamber is a signatory to this Charter.
The AEC Business Forum is sponsoring a study of the economy of the Atlantic Economic Corridor in partnership with Local Authorities, State Agencies, and Business/Community Groups in the corridor.
The first part of the study focused on the economy of County Mayo and is now complete. This report presents a factual, data driven assessment of the evolution and current state of the economy of Mayo in the context of the AEC region. Based on such information, the report highlights areas for future focus so that the county can grow and develop economically and socially. Strategies to build on our strengths, address our weaknesses, capitalise on our opportunities and overcome our threats, are outlined. Many Business Owners and Leaders from across Mayo contributed to the study and there are a number of interesting case studies presented in the report.
We at Ballina Chamber are delighted to host a seminar so that Members and other Community Stakeholders can hear more detail about the findings of the report and actively engage in a debate on plans and initiatives which we believe will continue the strong economic and social development of Mayo and the AEC for future generations.
Our guest speaker for the seminar is Professor John Bradley, the author of the report. John is an economist, formerly Research Professor at the ESRI, thereafter an international research consultant in economic development.

The seminar will take place on Wednesday 29th May 2019 from 7.00pm to 9.00pm at the Ballina Manor Hotel.

If you wish to read the report in advance of the seminar you can download at:
http://www.sligochamber.ie/wp-content/uploads/2019/05/The-Economy-of-the-AEC-Mayo-Study-Final_compressed.pdfOr you can purchase a printed copy from the Chamber office.

If you are interested in infrastructure requirements for the AEC region you can also download a report completed in 2017 at:http://www.sligochamber.ie/wp-content/uploads/2019/02/8920-AEC-Infrastructure-03-Apr-2017-ilovepdf-compressed.pdf

The seminar will hear from other guest speakers about developments on the Atlantic Economic Corridor and about MENTOR MAYO.
I look forward to seeing you and any guests you wish to bring along, on the 29th and for your valuable contribution to the future economic development of Mayo.
Best Regards
Hugh Rouse,
President Ballina Chamber of Commerce
096 72800
Related Articles
Read more from News