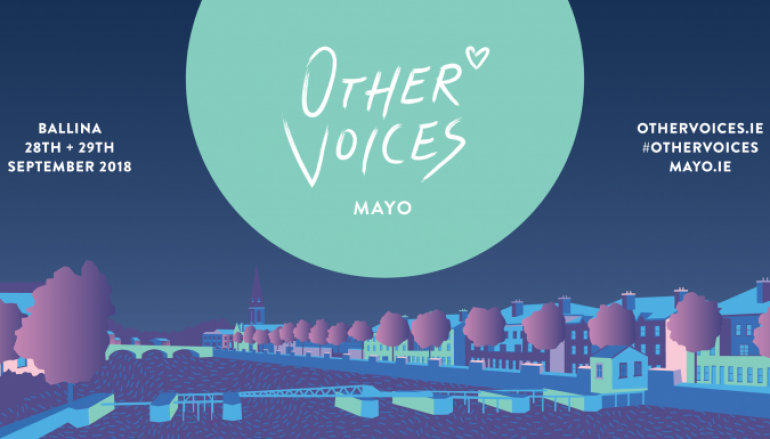 Other Voices Ballina Co Mayo September 28th & 29th, 2018
On Friday September 28th and Saturday September 29th, 2018, the vibrant town of Ballina in Co. Mayo will provide a stunning backdrop to Other Voices, the internationally acclaimed music television series and arts festival, which has travelled countless roads over the past 17 years. From Dingle to Derry, New York to Belfast, Texas to London, Berlin and beyond, Ballina joins the global network of towns and cities that map the rich and diverse musical journey of Other Voices.
At the end of September, the Mayo town will explode into life with song, story, conversation and debate, a weekend of live music, creative partnerships and diverse discussions with artists and speakers from across the world, joining together to raise their voices. The Other Voices live TV recordings will take place in the 250-year old St. Michael's Church in the heart of Ballina, while the Other Voices Music Trail will run across a multitude of venues, bars, pubs and clubs throughout the town. Ireland's Edge Ballina, an extension of Ireland's Edge, the renowned annual culture and creativity conference, will be a mixture of debate, performance and discussion that aims to contribute to the positioning of Ireland, particularly rural Ireland, as a viable, dynamic location and environment for world leading developments in creative technology industries.
Also taking place during the Other Voices Ballina weekend will be the annual Food Fleadh Ballina, hosted by Ballina Chamber of Commerce at the Old Military Quarter in the town centre. This culinary feast will highlight the very best local, seasonal, sustainable food, a wealth of produce from the fertile lands and rivers of Ballina and North Mayo. Along with a host of market stalls and tasting menus, join many of Mayo's most celebrated chefs and food producers for demonstrations, workshops and much more.
Speaking at the launch of Other Voices Ballina 2018 in St. Michael's Church on Thursday June 14th, Tom Gilligan, Director of Services at Mayo County Council said: "I'm absolutely delighted that Other Voices is coming to Ballina. Other Voices coming to Ballina represents a fantastic opportunity to showcase the remarkable cultural talent and gifts the town possesses in music and the arts. This is a game changer for Mayo and represents our passion for music and culture. It's our heartbeat, it's what makes us unique."
Richard Finn, Cathaoirleach of Mayo County Council added "The people of County Mayo and Ballina are delighted to have such an internationally acclaimed Irish festival come to Ballina. I've been told that they have only visited a few other places, including Derry, London, New York and now Ballina! We are honored to have an event of this caliber taking place here and we wish it all the very best of success. We hope that those who come to Ballina for Other Voices find great enjoyment during their time in our beautiful county."
Other Voices Executive Producer Philip King said: "All of us were delighted to accept the invitation to bring Other Voices to beautiful Ballina in Co. Mayo. We have strong connections with the county, Other Voices producer Tina O'Reilly is a Westport native and, in a way, producing Other Voices in Ballina is bringing it all back home for us."
The first act to be announced for St. Michael's Church in September is local songwriter and performer Maria Kelly. The Westport native is a true reflection of Other Voices on-going commitment to showcasing the very best emerging music talent. As one of the breakthrough Irish artists of 2018, Maria topped the poll in the Other Voices Open Call 2017, to secure a spot at the IMRO Other Room at Other Voices Dingle last December. Maria will be joined by a host of international and Irish acts at the TV recording event, with artists being announced over the coming months. Maria joined Other Voices presenter and Le Galaxie frontwoman May Kay, to celebrate the launch of Other Voices Ballina in St. Michael's Church on Thursday June 14th.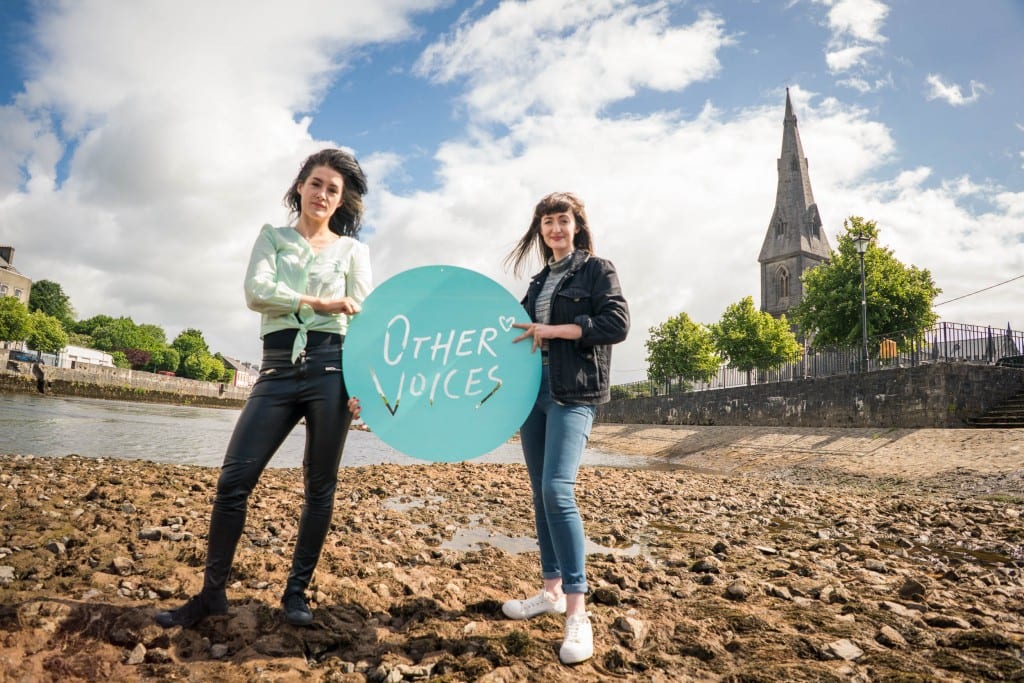 Situated on the Wild Atlantic Way, close to the mouth of Killala Bay, Ballina is one of Mayo's most vibrant and friendly market towns, the pretty Georgian streetscapes offering up a flourishing culture of music, arts and entertainment. The town and surrounding North Mayo lands are steeped in history, from the ancient forests and woodlands of Belleek to the 6,000-year-old Céide Fields, the most extensive Stone-Age monument in the world. Ballina sits on the mighty River Moy, world famous for its bountiful salmon angling and the Ballina Salmon Festival which brings more than quarter of a million visitors to the town each year.
Mags Downey Martin at Ballina Chamber of Commerce said: "Ballina Chamber of Commerce and Tourist Office is delighted to welcome 'Other Voices' to our town. Ballina has a strong reputation for being a musical hub in the county and hosts a plethora of diverse and unusual music venues to support the 'Other Voices' production, which contributed to choosing Ballina as the next programme venue outside of Dingle. Food Fleadh Ballina, Mayo's premier Food festival makes a welcome return this year coinciding with 'Other Voices' weekend. Ballina will be the place to be the end of September 2018."
Music fans travelling for Other Voices will find a wealth of accommodations from 5-star hotels to charming guesthouses; restaurants dishing up delicious local, seasonal produce and the buzz of Food Fleadh Ballina in full swing, along with bars and pubs serving local, craft refreshments to whet all appetites. Uncover hidden gems in old time stores, browse galleries and bookshops, take a break with a coffee or settle back with a pint in the many cafes and hostelries dotted throughout or simply wander the banks of the beautiful Moy, the surging heart of this truly authentic Irish town.
The Other Voices Open Call Ballina 2018 is now accepting submissions. This year, Other Voices invite artists of all genres to submit one track to be considered for a performance slot on the Other Voices Ballina Music Trail in September 2018. For details and submissions see www.othervoices.ie or go straight to Other Voices Open Call 
Other Voices Ballina 2018 is made possible with the support and partnership of Mayo County Council, Mayo.ie, Ballina Chamber, Mayo North, Ballina.ie, Wild Atlantic Way, Coca Cola, Ballina Arts Centre, Music Generation Mayo and Core Music Hub and The Jackie Clarke Collection.
Featuring Other Voices Ballina at St. Michael's Church – Other Voices Music Trail at various venues – Ireland's Edge Ballina plus Food Fleadh Ballina at the Old Military Quarter.
@OtherVoicesLive / @OtherVoices / #OtherVoices #OtherVoicesBallina
Related Articles
Read more from News