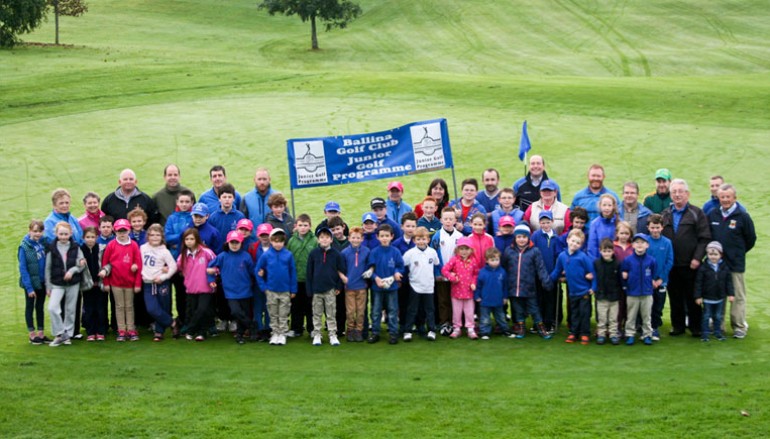 Ballina Junior Golf Programme
The Ballina Junior Golf Programme started in the Ballina Golf Club in 2014. Since the programme started our numbers have grown from 30 to an expected 165 in 2016, a substantial increase for any junior sporting club.
Our growth is not only due to dedicated coaching and up-to-date equipment but also to the fun experienced by our juniors and the thrill of course time. We were aware that to exceed the children's expectations it would take not only great golf, but also a fun social aspect which golf has always been known for. In order to cater to this we put on extra events during the year, such as our Halloween Walk/Party and our Christmas Party. Events such as these help our golfers interact with children of all ages with a common interest – golf! These events were a brilliant success and we look forward to continuing this in 2016.
In 2015 the Ballina Junior Golf Programme hosted the Irish Junior Masters and the European Junior Golf Tour which saw, not only local players, but players from Ireland and England visit and play at Ballina Golf Club. Tournaments such as these are always a big hit with our juniors and we were delighted that so many of our own players took part and did extremely well, some winning their individual age groups.
At the close of 2015 we acknowledged the hard work our juniors had put in throughout the year by presenting them with certificates and had a formal presentation for those who worked solidly and earned trophies in various different categories.
In 2016 we will host our first Junior Invitational Golf Tournament, inviting juniors from all over Ireland to participate in this inaugural event. We expect, like always, that our juniors will rise to the occasion and enjoy every moment.
2016 will see our wonderful junior golfers work hard and continue to improve their game and you never know the next Rory Mcilroy or Lydia Ko may well hail from Ballina!
Founded in 1910, Ballina Golf Club offers one of the most scenic parkland courses in the West of Ireland. Over the years it has always adapted to meet the needs of users, developing to 18 holes in 1995 and completing a new ultra-modern clubhouse in 2005. Details of all programmes, including Junior Golf can be found on their website.
W: http://www.ballina-golf.com/
F: https://www.facebook.com/Ballina-Golf-Club-216338175096583/timeline/
Related Articles
Read more from Blogs