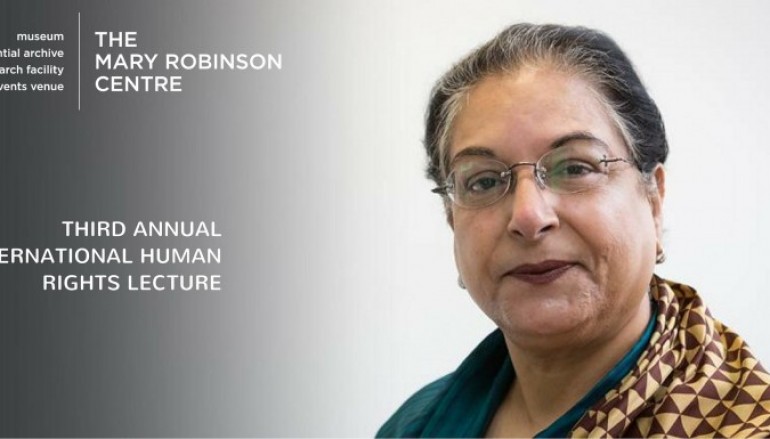 Ballina welcomes Hina Jilani to Mary Robsinson Centres' Third Annual International Human Rights Lecture
Hina Jilani will shortly become the third guest speaker of the prestigious Annual International Human Rights Lecture series at The Mary Robinson Centre.  Following in the footsteps of Graça Machel and Professor Muhammad Yunus who have been members, alongside Ms Jilani and Mrs Robinson, of The Elders group of independent global leaders established by the late Nelson Mandela to work together for peace and human rights, Ms Jilani's lecture builds on the excellent profile this annual lecture has cultivated both for Ballina and its soon-to-be-developed Mary Robinson Centre in recent years.
A lawyer, a civil rights activist and an advocate of the Supreme Court of Pakistan, Ms Jilani is an advocate for peace, human rights and women's rights in her homeland of Pakistan and is internationally recognised for her expertise in critical human rights investigations. Ms Jilani is also a member of The Elders, the group of independent global leaders working together for peace and human rights, founded by Nelson Mandela and Richard Branson.
The lecture will be followed by a discussion between Hina Jilani and Mary Robinson, facilitated by Mary Lawlor of Front Line Defenders, the Irish-based International Foundation for the Protection of Human Rights Defenders.
The lecture is free of charge and open to the public.
Ballina Arts Centre, 25 June 2016, 3pm.
For more information or to reserve a seat please visit www.maryrobinsoncentre.ie/events or call The Mary Robinson Centre on 086 8093965.
Related Articles
Read more from Uncategorised