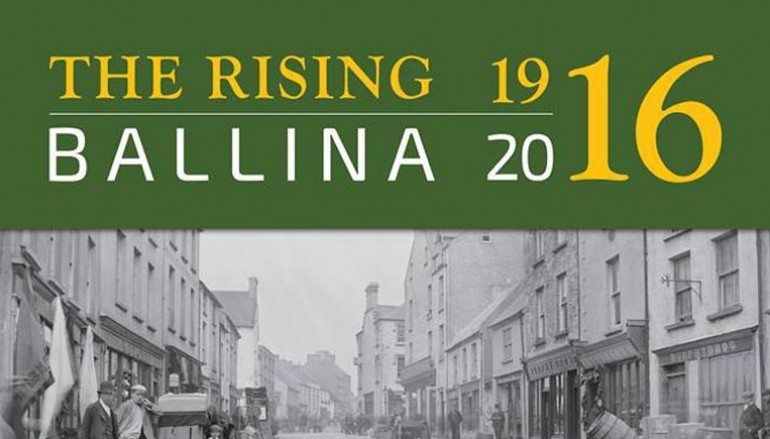 Living History Market
Saturday 23rd & Sunday 24th April 1916 / 2016
Ballina Military Barracks, Market Square, Ballina Co. Mayo
To commemorate the Easter Rising centenary, the Ballina Military Barracks will be transformed to a time gone by with a huge celebration of Ballina's rich culture and history over the actual centenary anniversary of the 23rd and 24th of April 2016.
The Market/Fair day circa 1916 will bring local and national history to life and give visitors a sense of stepping back in time to the era of 1916 and to what the Military Barracks in Ballina was like at that time of uprising and rebellion.  Visitors will be able to relish the sights and sounds and feast on the flavour of life which will include Street Drama, Music, Arts & Crafts, Irish Volunteer Drills & Readings of The Proclamation.
In 1916, the year of the Easter Rising, the First World War was raging across Europe, Ireland was a country without a parliament; as part of the United Kingdom under the executive power British government . At the time of the Rising of 1916, the Great Famine of the 1840s was still a living memory. Ballina had bidden farewell to many of its finest young men fighting in the trenches of France. So Ireland's demographic, political and cultural landscape at the time was very different to the one we live in today.
The festival will bring this to life by using drama and include short plays, a wake, street performers, re-enactors, soap box readings of Historical Significance, poetry in Irish & English, Pathe Reels and footage from the Jackie Clarke Collection. There will animals on the street like market days of old and a variety of transport including vintage cars and bikes, horse & carts and other conveyances. There will be a sense of celebration and tradition brought to life with music too from top local traditional musicians, local choirs and singers playing music and songs of the era.
Many of Mayo's best artisans, craftsmen and traders including blacksmiths, wood turners and tin men will be on hand, happy to advise and provide a display of craftsmanship with an array of items and replicas of historical heritage. The local farmers market will be selling fresh vegetables and a selection of home produce to feast upon from 11am to 6pm each day.
It will be a friendly and fun day out for all ages with something for everyone and will allow the older generation to reminisce on times gone by and the younger generation to learn, engage with and be inspired by our historical past.
The weekend is being organised by a group of local volunteers 'The Humbert Heritage Group' who are passionate about Ballina and have great pride in the town's colourful history. They are recognised for organising memorable and authentic historical events as the founders of Ballina Heritage Day and the 'In Humbert's Footsteps' 2014 re-enactment in the Military Barracks. Adrian Bourke, spokesperson for the group said "It is with great anticipation and excitement that Ballina's Military Barracks will be transformed to a bygone era with a sense of fun, festival and patriotism to celebrate 100 years of Ireland. We as a committee are putting huge effort into making this a spectacular event and we hope to see you there."
Everyone is invited to join in the fun and dress up in the costume of the day. For more information please follow the event on Facebook. Enquiries can also be made with Derek Leonard, Harrisons Pub.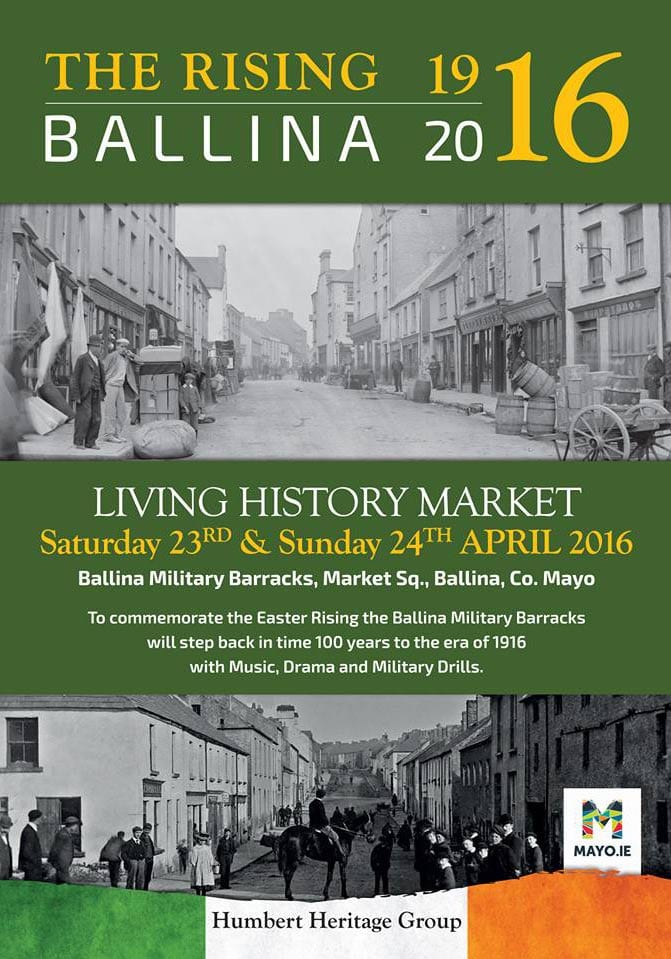 Related Articles
Read more from Uncategorised