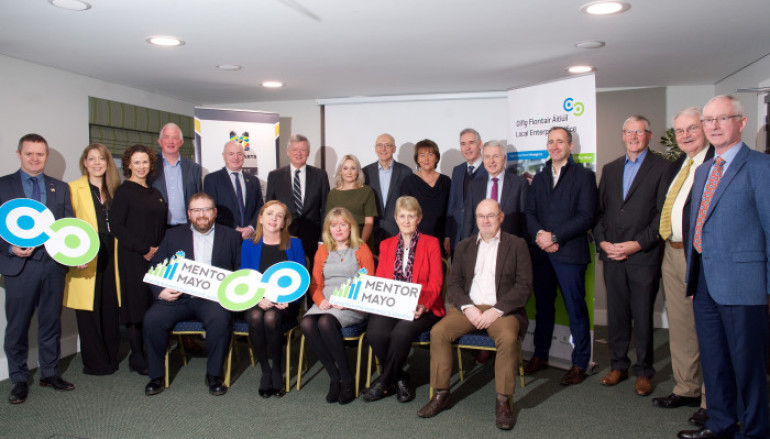 Expanded Business Mentoring Service Launched in Mayo
Today, 19th February 2019, the business community in Mayo helped launch an expanded business mentoring service in the county, Mentor Mayo.
Mentor Mayo is an innovative initiative that builds on the success of Local Enterprise Office Mayo's established mentoring service by combining it with the entrepreneurial insight offered by the Mayo Business Mentors Group, which comprises a panel of experienced business people from throughout Mayo who are giving pro bono time to this exciting new development.
Local Enterprise Office Mayo provides specialist mentoring support to roughly 250 businesses per year. The aim of Mentor Mayo will be to significantly increase the number of businesses of all sizes that access mentoring in Mayo.
This free access to expertise, guidance and business advice applies to a multitude of sectors from the start-up, growth and scaling stages of their business ventures.
The first step is to visit the Mentor Mayo website for further details and submit an expression of interest. The categories of expertise and mentoring available include General Business Advice, Financial Management & Accounting, HR Management, Marketing Development, Sales Development, Prototype Development, Website Development, Social Media Development, etc.
Speaking at the launch of Mentor Mayo, John Magee, Head of Enterprise at Mayo County Council, stated "LEO Mayo are thrilled to have the Mayo Business Mentors join the already established Mentoring Panel in the county. Mentor Mayo creates a perfect opportunity for people with years of business experience to impart that knowledge to businesses in Mayo so they can continue to create and sustain employment in the county. We would like to thank the local Chambers of Commerce, banking institutions, JCI Mayo, WestBIC and local media for all the support received so far in promoting this initiative."
John Caulfield of Mayo Business Mentors Group said that "Mayo has a rich resource in its leading entrepreneurs and expert business specialists who have extensive knowledge of business at national and international level. They have experienced the ups and downs of business and have valuable insights and guidance to share with new business start-ups and growing businesses. Many such people want to see more entrepreneurs living and working in Mayo and want to share their experience and expertise to help achieve this goal".
Confidential mentoring offers encouragement, support, suggestions, guidance and a sharing of expertise and experience so that recipients are pointed in the right direction and can prioritize actions required to implement and make progress with their business venture.
Local Enterprise Office Mayo serves as the "first stop shop" for businesses in the county, providing advice on growing your business, through mentoring, high quality training and management development supports, as well as direct financial support.
The Mentor Mayo website is available at:  https://mentormayo.ie/
Related Articles
Read more from News