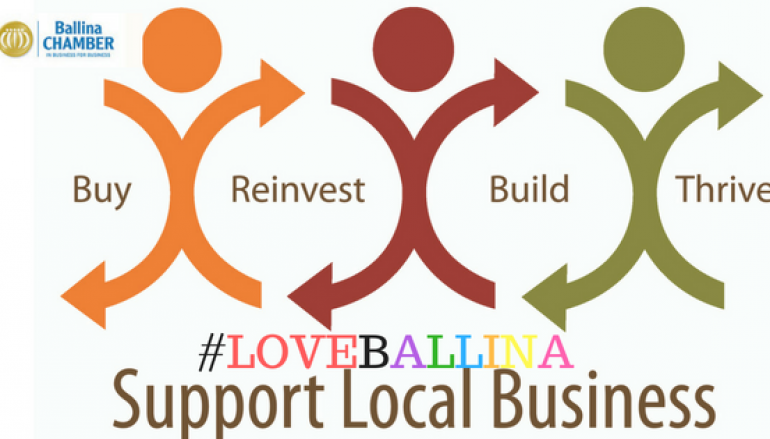 Ballina Chamber Vouchers ready for Christmas Sales
Ballina Chamber of Commerce is delighted to announce the return of its very successful and popular voucher scheme. Encouraging a Shop Local message this Christmas, Chamber President Paul Regan said this is an ideal way for people who want to keep business local but also have choice and variety of product within the voucher system.
Give a Gift of a Job – Buy Chamber Shopping Vouchers!
Ballina Chamber Shopping Vouchers are an ideal gift for Christmas, Weddings, Birthdays, Communions, Confirmations, occasions & staff bonuses!
Vouchers are available in denominations of €10, €25 and €50 and are available in the Chamber Office, Ballina Tourist Office, Pearse St, Ballina 096 72800.
The recipient has a wide range of options when spending their voucher, while the voucher scheme retains money in our local area, supporting businesses and preserving valued jobs in Ballina.
During these more challenging times, Ballina has shown substantial resilience despite the decline in our economy with businesses working hard to keep shoppers spending local and supporting local.
Ballina Chamber has seen a concerted effort from businesses to work more closely with one another, network more effectively and promote joint ventures. In addition to this, more people are choosing to stay local for their Christmas shopping and general necessities. What better gift can you give this Christmas than guaranteeing employment locally?
Tax Free Christmas Bonus with Chamber Shopping Vouchers
Under the Revenue Commissioners approved 'Small Benefit Exemption' scheme, your company can award staff up to €500 as a once off payment. This €500 payment is completely Tax and PRSI free, requiring no return on payment when availed of with Chamber Shopping Vouchers.
Further information at www.revenue.ie/en/tax/it/leaflets/benefit-in-kind/faqs/miscellaneous.html#content
List of Ballina Shopping Vouchers Participants : Copy of Chamber One page list 2017
Further information on Chamber Shopping Vouchers for customers and Retailers at Ballina Chamber Offices 096 72800
Related Articles
Read more from News