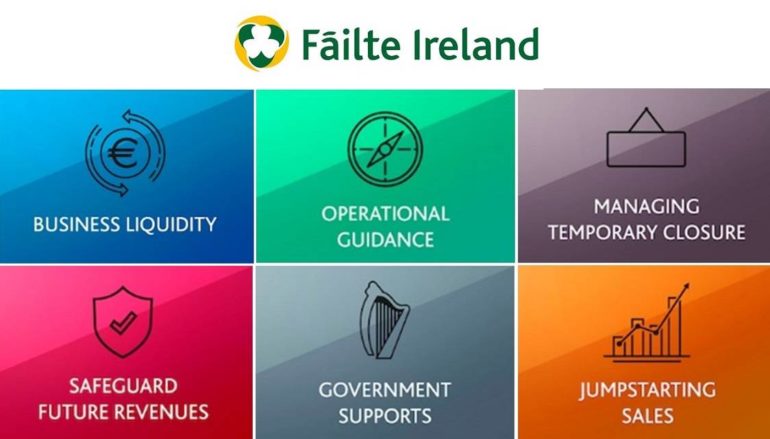 Operational Guidelines & related business supports from Fáilte Ireland
Some of you may have been listening to our CEO Paul Kelly on Morning Ireland just now. Fáilte Ireland has just published the sector specific operational guidelines for the tourism industry to ensure the safe re-opening of tourism businesses on June 29th.
Please also see – Guidelines for reopening Restaurants & cafes
The National Tourism Development Authority developed the guidelines in collaboration with industry bodies; theIrish Hotels Federation (IHF), the Irish Self Catering Federation (ISCF), the Irish Caravan and Camping Council, the Association of Visitor Experiences (AVEA), Ireland's Association of Adventure Tourism (IAAT) and B&B Ireland. Relevant Government departments including the Department of Transport, Tourism and Sport and the Department of Health, State agencies including the Health Service Executive (HSE), wider Government and the Labour Employer Economic Forum (LEEF) were also consulted in the drafting of these operational guidelines.
The guidelines provide detailed advice on the necessary systems to be implemented in order to instil public confidence and reboot business while adhering to public health advice and Government protocols. They are the first in a suite of new supports being rolled out by Fáilte Ireland to help tourism businesses to recover and re-open safely.
The guidelines are live on Fáilte Ireland's dedicated COVID-19 Business Support Hub on www.failteireland.ie.
Sector specific guidelines are available for:
Hotels & Guesthouses
Self-Catering businesses
Caravan & Camping businesses
Visitor Attractions
Activity Providers
Restaurants & Cafes
B&B
Fáilte Ireland's sector specific operational guidelines will be regularly updated in line with Government public health advice as and when this advice evolves. This includes any further guidance that is given following work by the Health Protection Surveillance Centre and National Public Health Emergency Team on the application of the existing social distancing requirements in specific, defined and controlled environments in the hospitality industry during periods of low incidence of the disease.
Please do note that invariably there will be specific circumstances that won't have been foreseen by us or our industry representative bodies in the drafting of these guidelines and in these instances I would encourage you to use your own judgement in arriving at solutions. If there are recurring issues, we will of course take note but reverting with timely answers could prove a challenge given the number of players involved in the signoff process.
Business Supports
To support the implementation of the Operational Guidelines, Fáilte Ireland has launched a suite of business supports to help businesses to plan out the key elements of their reopening and recovery. These first three suites of business supports have been developed with industry experts and address some of the priority areas of business recovery:
Financial Recovery
Calculating & Optimising your Commercial Capacity
HR for Reopening – Best Practice
These are now live on the Fáilte Ireland Support Hub.
Fionnán Nestor
Projects Officer, Wild Atlantic Way | Fáilte Ireland
Related Articles
Read more from News