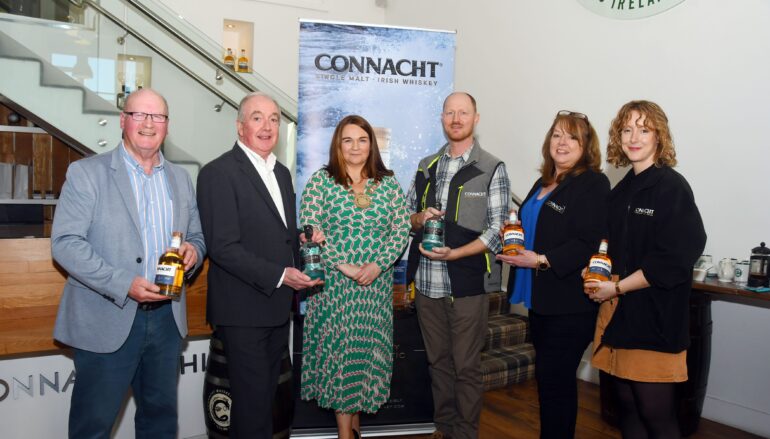 Ballina Chamber Networking returns to North Mayo
Ballina Chamber held a networking event recently at the Connact Distillery based in Belleek.
It was the first in a series of planned networking events organised by the Chamber and the first since the Covid 19 pandemic. The networking events are aimed at supporting members and the wider local community business community to reacquaint with colleagues and build new partnerships.
It was also a chance for members of the local business community to meet new Ballina Chamber President Tracey Glacken, who gave an address to those in attendance outlining her hopes for her term as Chamber President.
New Chamber President Tracey says;
"There are lots of exciting plans in place for the coming months, as the Chamber focuses on helping members build up their businesses following the pandemic, the initial focus will be on facilitating stakeholder networking as well as increasing public awareness about Ballina's commercial sector.
The last 2 years have been tough on businesses and we in the Chamber want to get back to basics and help to support businesses as they restart and grow again. We have planned several Member Only events for the next few months but encourage members to invite colleagues along."
The next Chamber events include;
Wednesday 27th April, Irish Water Sustainable Water Town Initiative, Water Conservation Masterclass, at 10am Wednesday morning
Friday 27th May from 8.30-11.30am; Business Business Showcase in association with Ballina Chamber, as part of Home to Mayo weekend. Mid West Radio will also host an Outside Broadcast on the day, featuring local speakers from the hospitality and retail sector, with discussions around enterprise and the community at large. With invited guest speakers and panel discussion from Mayo Local Enterprise Office, Western Development Commission, Chambers Ireland, and the Strategic Banking Corporation Ireland.
Home to Mayo Weekend; 27th, 28th & 29th May
June Networking BBQ; Barbeque for members. Details to be confirmed.
Guests were welcomes by the Connacht Distillery team, including an address by newly appointed head distiller Ryan Friesen who recently moved to Ballina from California to take up the role and the company's Finance Director Milo Molloy.
"We are delighted to host the first Chamber networking event since Covid.  We are committed to our hometown of Ballina, employing 12 people locally and we recently welcomed the return of tours to the visitor centre," said Mr Molloy.
Tracey said after the event, "Special word of thanks to Connacht Distillery's' Milo Molloy, and team for their amazing hospitality in hosting the event.
And we are delighted to announce a raffle on the evening raised €800 with match funding by Connacht Distillery, and all proceeds going to the Ukrainian Support fund. "
For more information on the Chambers forthcmog events or becoming a Chamber members please contact Ballina Tourist Office 096 72800 or email [email protected] / [email protected]  
Fo those wishing to hear about the products available or book a tasting tour at Connacht Distillery go to connachtwhiskey.com
Related Articles
Read more from News