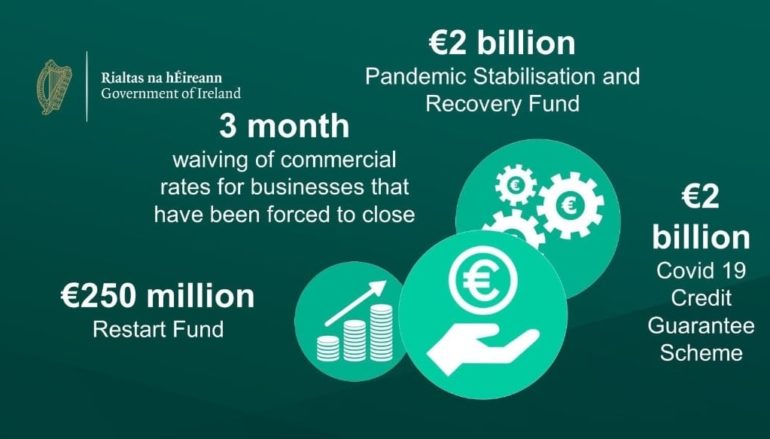 Wide-Ranging Financial Supports Welcomed by Business as We Plan for Re-Opening of Economy
Chambers Ireland welcomes announcement from Cabinet this afternoon (2 May 2020) of additional financial supports for businesses, particularly SMEs, who have been impacted by COVID-19.

The supports range from waivers on commercial rates, grant aid, a loan guarantee scheme and supports for businesses who have tax liabilities.
Short synopsis of measures include :
➡️ A €10,000 restart grant for micro and small businesses based on a rates/waiver rebate from 2019;
➡️ A three month commercial rates waiver for impacted businesses;
➡️ A €2 billion Pandemic Stabilisation and Recovery Fund within the Ireland Strategic Investment Fund (ISIF), which will make capital available to medium and large enterprises on commercial terms;
➡️ A €2 billion COVID-19 Credit Guarantee Scheme to support lending to SMEs for terms ranging from 3 months to 6 years, which will be below market interest rates;
➡️ The 'warehousing' of tax liabilities for a period of twelve months after recommencement of trading during which time there will be no debt enforcement action taken by Revenue and no interest charge accruing in respect of the warehoused debt;
➡️ A commitment to local authorities to make up the rates shortfall, so that local authorities can continue provide full services to the public.


Speaking this afternoon, Chambers Ireland Chief Executive Ian Talbot said,
"The wide-ranging supports announced by Cabinet this afternoon will be welcomed by the business community. What our members have been telling us over the past several weeks is that they need much more support to help fund overheads and working capital, particularly as we move to re-open the economy. Our message to Government throughout the crisis has been that the risk of under-reacting to these economic challenges is much greater than over-reacting. The economic programme that will be required is unprecedented. This afternoon's announcement shows that this message has been heard.
The announcements from Government of new supports will be welcomed by businesses, particularly the announcements on commercial rates waivers, supports on tax liabilities and the new Restart Fund, which aims to provide grants to micro and small businesses. This particular scheme is a step in the right direction, as many businesses are facing huge challenges with liquidity and cash-flow.
Additionally, we welcome confirmation that the Exchequer will replace funding lost to Local Government through waivers on rates with central funding. Our Local Authorities are providing essential services during the pandemic and this assurance of continuity of funding will be well received.
Implementation of support is critical. The funds proposed must be capable of rapid drawdown and the organisations charged with delivery are properly resourced to undertake the tasks. Further, we reiterate our earlier calls to ensure supports like the Wage Subsidy Scheme are extended beyond the June deadline. We will review the supports closely and look forward to continuing our constructive engagement with Government over the coming weeks and months."
Related Articles
Read more from News