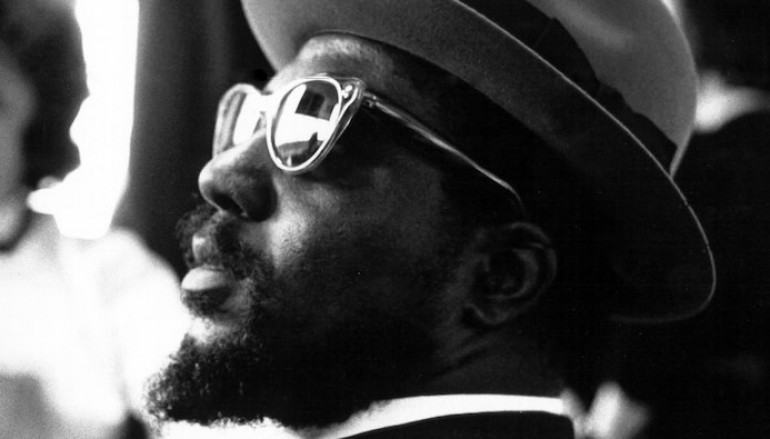 Ballina Arts Centre March events 2018
Can you believe its March already!! And with St Patrick's Day and Easter back to back this year, March is already full to capacity with festivals and events. Ballina Arts Centre has again come up trumps with a variety of Music and Theatre options for its patrons to enjoy.
Music
Snowpoet
Thursday 8th March, 8pm
Thought You Knew is the second album from Snowpoet, the London based band led by writing duo of Jazz FM Vocalist of the Year (2016) Lauren Kinsella and multi-instrumentalist Chris Hyson. The band also features Josh Arcoleo on saxophone, Matt Robinson on keys, Nick Costley-White on guitar and Dave Hamblett on drums.
Born out of a deep musical friendship and understanding, their acclaimed eponymous debut Snowpoet has garnered rave reviews and a devoted audience for their compelling sound, drawing comparisons with Bjork. Thought You Knew takes their musical collaboration and sound to the next level, blending sweet hook-laden vocal lines with warm and lush arrangements. This music is infectious, delicate and tasteful. With a new home at Edition Records, they are set to reach new heights in their profile, confirming their reputation as one of the most innovative and creative new bands in the UK today.
"London-based Snowpoet's eponymous debut album is an ethereal, psychedelic, and magical combination of lyrical, nature inspired poetry and modern innovative folk music." Alfred Archer Folk Radio UK
"Like being punched in the face by a butterfly." Mara Carlyle BBC Radio 3
Tickets: €15 / €12. Early booking advised.
Presented in association with the Improvised Music Company.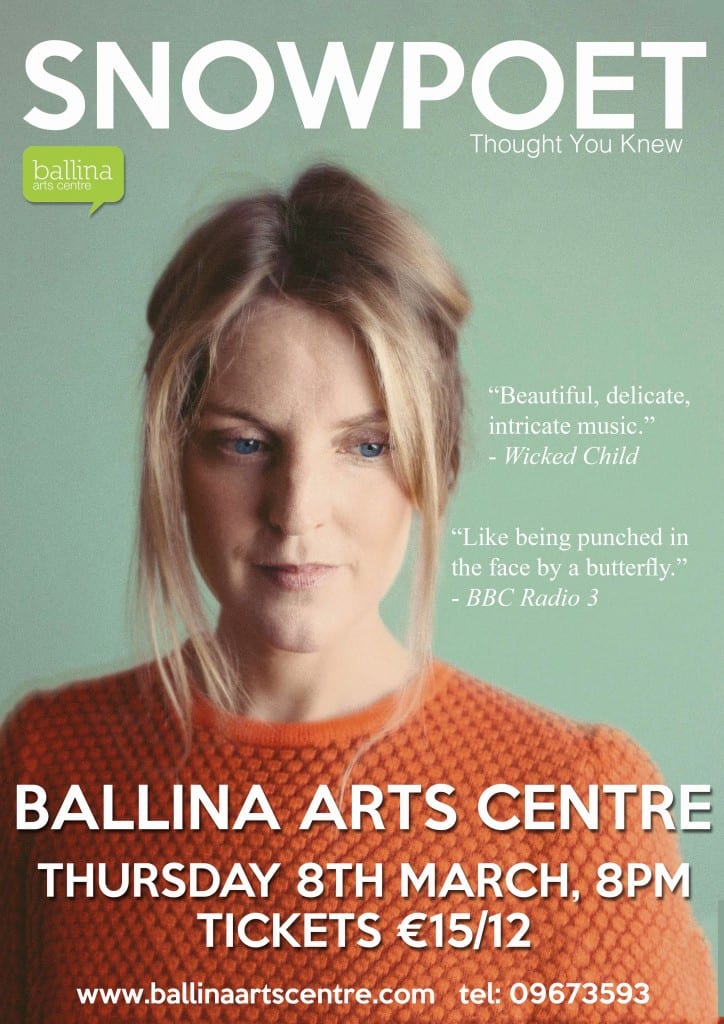 Music:
A Tribute to Thelonius Monk
Brian Priestley & Friends
Thursday 15th March, 8pm
The music of Thelonius Monk is a constant fascination, which has been the subject of renewed focus thanks to his centenary last autumn. His compositions, and his pianistic approach to other people's material, were initially condemned as being too weird (or even incompetent). But musicians like Coleman Hawkins and Dizzy Gillespie immediately saw his value, and he went on to influence the next generation of soloists such as Sonny Rollins and John Coltrane. This evening's programme will include everything from his most simple and singable tunes to compositions that still present a challenge to adventurous performers.
Brian Priestley, though better known as a writer and broadcaster, is an inveterate pianist and a fan of Monk.  He'll be joined by former Dublin resident (via Monaghan, North Carolina and Berklee), Tom Caraher on saxophone.  Driving the engine will be the hot rhythm-section of Kinvara-based Paul O'Driscoll on bass and Limerick drummer John Daly.
Tickets: €15 / €12. Early booking advised.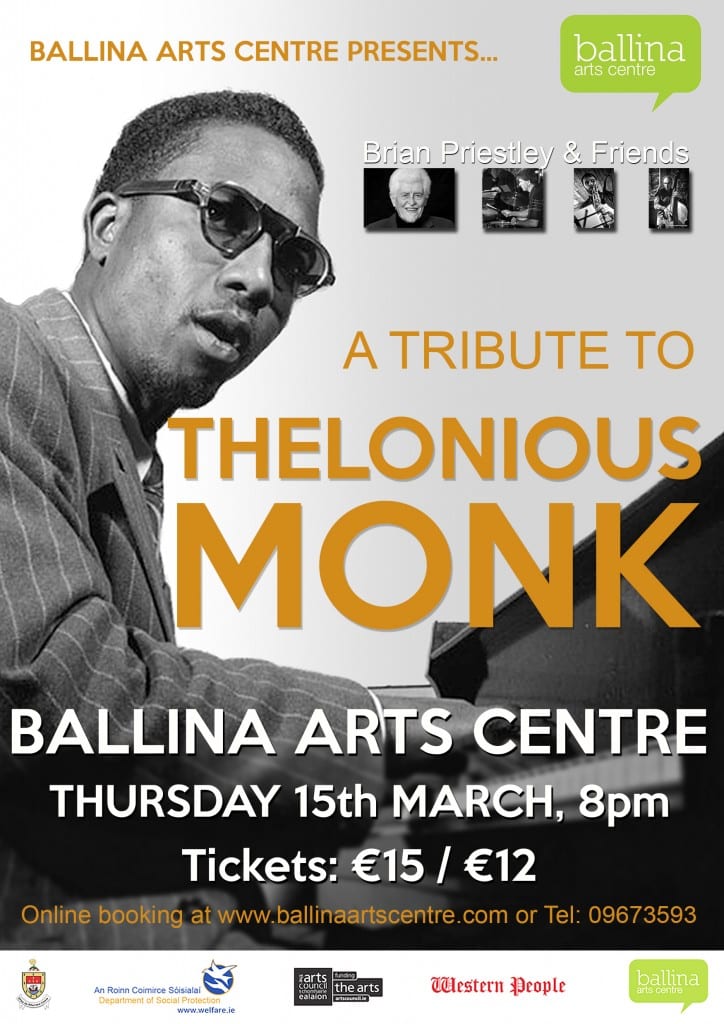 Theatre:
Someone Who'll Watch Over Me
by Frank McGuinness
Decadent Theatre Company
Friday 23rd & Saturday 24th March, 8pm
"We are in a decidedly perilous position, to put it mildly"'
Adam, an American doctor; Edward, an Irish journalist; and Michael, an English academic, have little to unite them beyond being human in the same small space. Yet somehow, together, they determine to ward off madness and forestall despair.
Somewhere lurk their unseen captors yet, in the cell, there are stories of adventure and love, there is song and laughter, and even a surge of writing, cocktail-drinking and movie-making.
Inspired by the abduction of Brian Keenan taken hostage in Lebanon in the 1980s, Someone Who'll Watch Over Me is playwright Frank McGuinness's hymn to the defiant power of the human spirit and the creative imagination.
"Someone Who'll Watch Over Me sees Frank McGuinness at the very top of his form, extracting from the depths of the human condition uncrushable determination, passion and compassion, anger and jealousy, spite and fear and lashings of black subversive humour."
 ★ ★ ★ ★  The Irish Times
"Brings its own light touch to grim matters." The New York Times
"A beautiful play" The New Yorker
Tickets: €18 / €16. Early booking advised.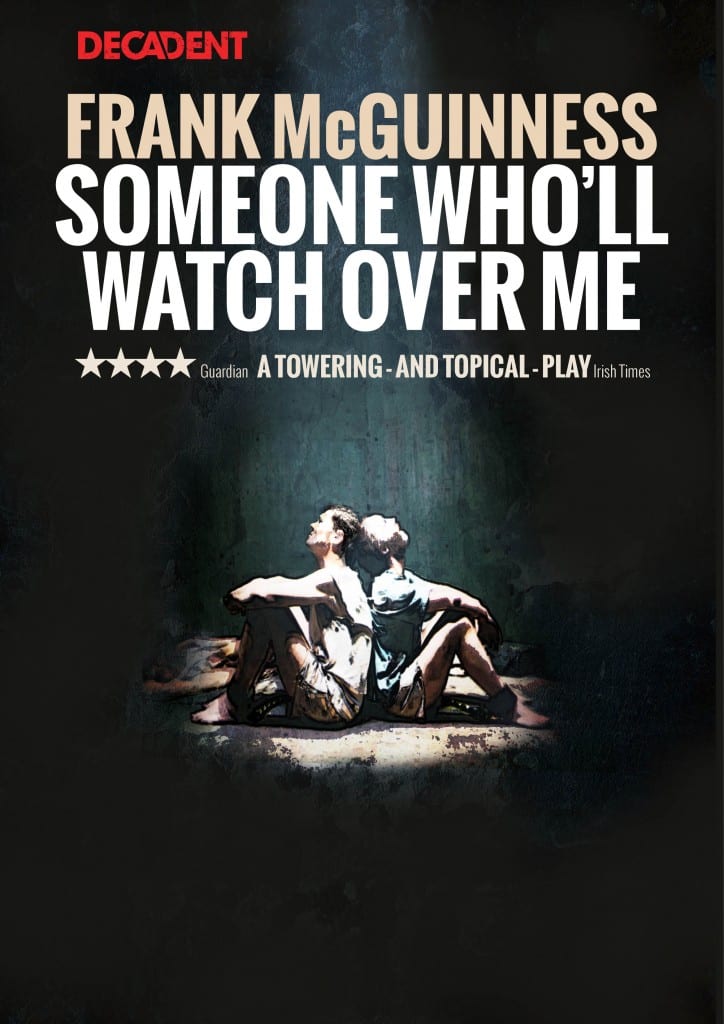 Further Information on all events coming to the Ballina Arts Centre at:
http://www.ballinaartscentre.com  | [email protected] |  096 73593 | 
Related Articles
Read more from Uncategorised