The Scary Woods Walk returns for another year of Chainsaws, Clowns and Coffins
Ballina's much-loved Halloween Festival, Samhain Abhainn returns for its seventh year, running from Friday 25th to Thursday 31st October. As always, the festival offers a variety of great events for children, with terrifying treats for grown-ups too.
Back in 100AD, the Celts marked the season of Halloween or 'Samhain', an old Irish word meaning the 'end of summer'. Fast-forward 2000 years and Ballina continues to build on Irish history by celebrating 'Samhain Abhainn' – a summer's-end festival on the banks of the River Moy.
The Fanta Scary Woods Walk, once again proudly supported by Ballina Beverages and run by Ballina Stephenites GAA Club, takes place from Saturday 26th to Monday 28th from 7pm. The guided walk through the shadowy darkness of Belleek Woods – one of the largest urban woodlands in Europe – on the banks of the River Moy, harbours all kinds of creepy presences, designed to prey on the imagination of young and old alike.
The Friendly Fiends of the Scary Woods Walk makes a day time appearance on Monday 28th from 1pm, giving our mini spooks an opportunity to meet and greet the ghosts and ghouls of Belleek Woods and enjoy the art installations. Walk through the woods at your own leisure with no hidden surprises during the day, that's left to the night time horrors of the Woods.
Samhain Abhainn programme includes a feast of Children's workshops and camps including Spooky Scéals Storytelling and Halloween Hoot Owl Display in the Jackie Clarke Collection, Halloween Craft Camp run by Ballina Costume Company, based in the Jackie Clarke Collection with a warning that early booking is essential as it books out quickly as does the ever popular pumpkin carving workshops with local artist Gemma McLoughlin based in Ballina Stephenites Club house.
New to this years programme includes Flow Fancy Dress Disco; an inclusive disco for people with ID in the Cot and Cobble on Friday 25th October.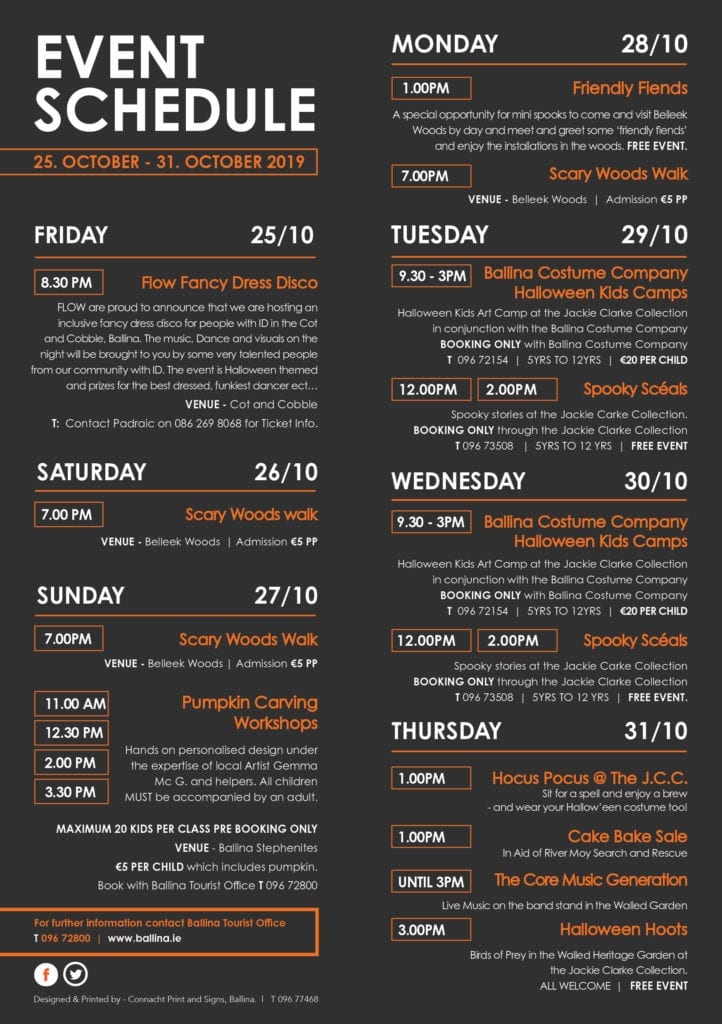 Micky Tighe, Event Coordinator of the Scary Woods Walk and Ballina Stephenites GAA Club states;
"Sahhaim Abhainn, Ballinas Halloween Festival is a truly collaborative and inclusive festival; celebrating the traditions of Samhain, supporting community and sporting clubs of our town as well as creating a fun and educational experience for families to enjoy. Samhain Abhainn and the Scary Woods Walk would like to acknowledge the support of its annual festival by Coillte, Belleek Castle and Belleek Forest Enhancement Committee. "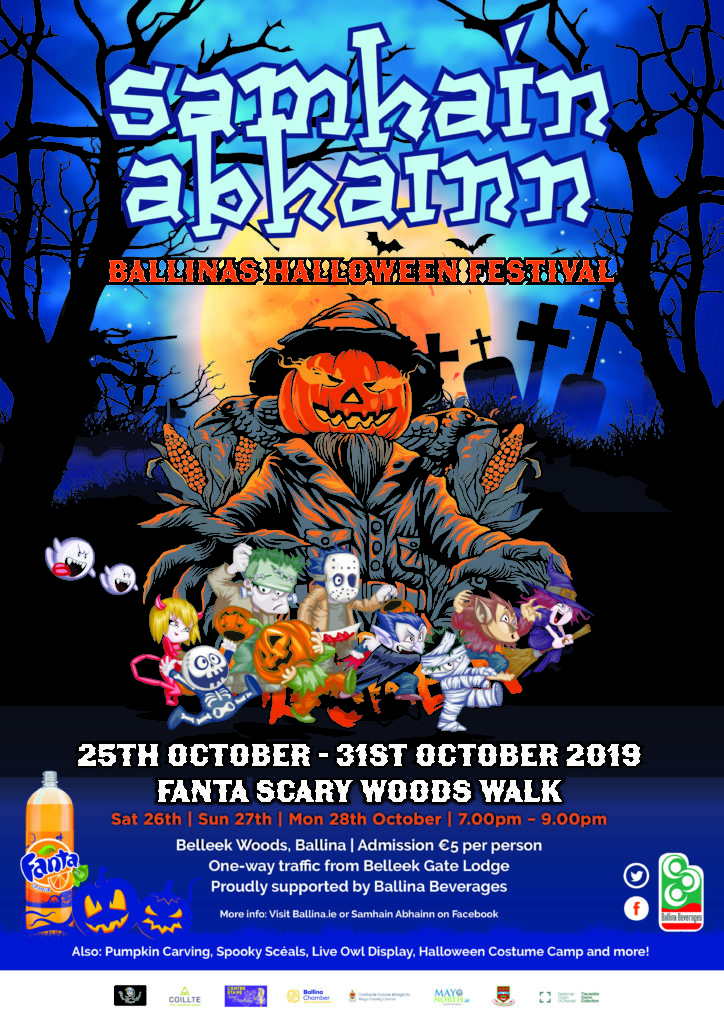 Hugh Rouse, President of Ballina Chamber of Commerce states;
"Ballina Chamber of Commerce are delighted to once again be supporting Ballina's Samhain Abhainn Halloween Festival in particular, the Scary Woods Walk which uses one of our fantastic local amenities to host a unique Halloween experience for our locals and visitors."
Notes to Patrons of Scary Woods Walk
The Scary Woods Walk will take place in Belleek Woods on Saturday 26th, Sunday 27th and Monday 28th October from 7pm.
Admission is €5 per person.
A one-way traffic system will be in operation from Belleek Gate Lodge
Children must be accompanied by an adult. The Scary Woods Walk is not recommended for children under 7 years old though this is at the discretion of guardians.
Please Note:
To Book
Pumpkin Carving Workshop contact Ballina Tourist Office 096 72800
Spooky Sceals contact Jackie Clarke Collection 096 73508
Halloween Kids Craft Camp contact Ballina Costume Company 096 72154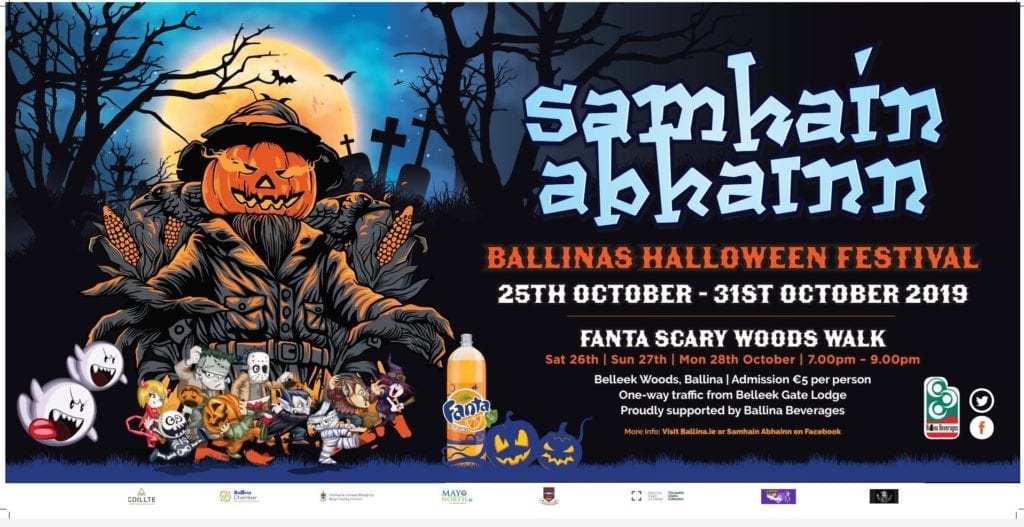 Further Information please contact
Ballina Tourist Office, 44 Pearse St, Ballina Co Mayo | 096 72800 | [email protected] https://www.facebook.com/SamhainAbhainnBallina/
Related Articles
Read more from Uncategorised