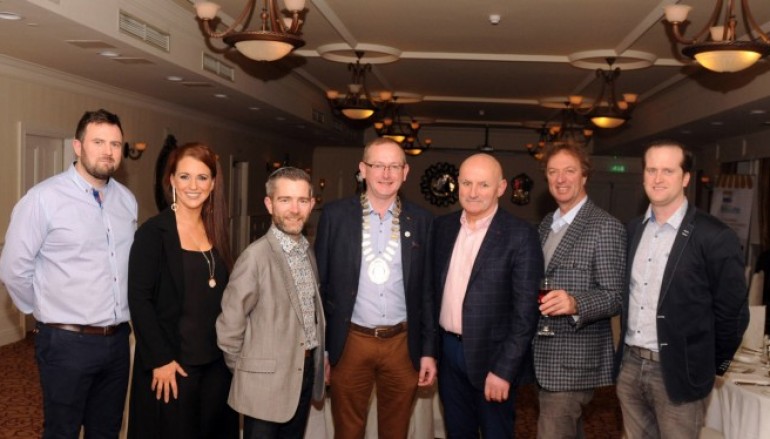 Chamber President Outlines Vision for Ballina at Annual Dinner
Mount Falcon Ballina hosted the annual Ballina Chamber of Commerce Networking dinner on Friday 26th January 2018.  Guests assembled in the beautiful ballroom of the hotel for pre-dinner drinks reception and then enjoyed a four course menu followed by a panel discussion with local guest speakers.
Angelina Nugent of Mid West radio was guest MC on the night and highlighted the importance of Chambers of Commerce in towns, the work they do to promote business and investment, especially in the west of Ireland. Guest speakers on the night featured Superintendent Joe Doherty Ballina Garda Station, President of Ballina Lions Club and Principal of Breaffy National School Vincent Duffy and Mayo People of the Year Awards Recipient Bernard Gutherie and Director of Office Pro.
Following the meal, Chamber President Paul Regan gave an inspiring Presidential Address highlighting the many successes in Ballina over the year, in particular the success of the Shop Local retail vouchers, Ballina's participation and runner up award for Ulster Connacht at the National Enterprise Town Awards, the Food Tourism Networking event organised by Mayo North Promotions Office, the success of the new Ballina Tourist Office and Chamber Offices and the many festivals and events organised by and supported by the Chamber in 2017.
Paul stated 'It has been my pleasure to serve the business community for the last two years, as President of Ballina Chamber of Commerce.  Ballina is a wonderful place to live, to work and enjoy, to raise a family and we should be very proud of how far we as a town and community have come in the past ten years.  Ballina has so much going for it, it has a strong tourism offering, a growing population with great second and third level education available and with many new initiatives in the pipeline..watch this space.'
Paul made particular reference, offering words of Thanks to Billy Lewis of Moy Valley Resources, Anne-Marie Flynn of Mayo North Promotions Office and Carmel Murphy, Kevin Keegan, Marie Crowley and Tom Gilligan of Ballina Municipal District Council and Mayo County Council, for the continued support of the Chamber throughout 2017.  Paul also thanked the team in the Chamber office, the Chamber Council delegates and all the businesses who support and make up the Ballina Chamber of Commerce.
A special presentation was made to retiring Business people Frank and Ann Cafferty of the Gift Centre and Peter and Bernie Timlin of Timlins Drapery Store.
The Ballina Chamber of Commerce AGM will take place on Tuesday 20th February in Ballina Chamber Offices Pearse St, at 7pm.
(Pictures taken by John O'Grady)
Related Articles
Read more from Uncategorised