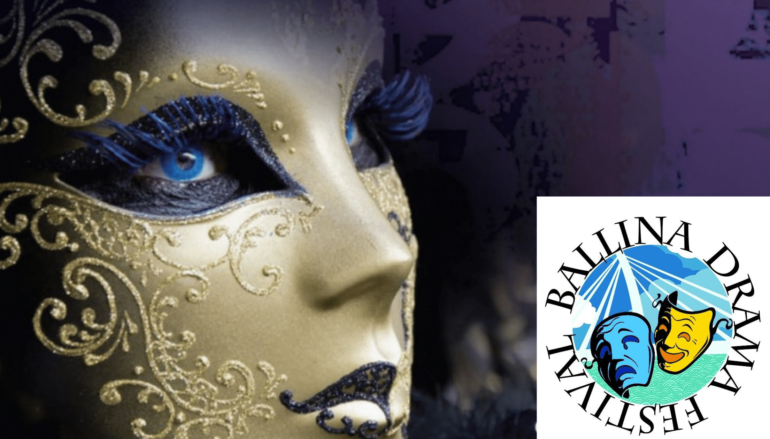 BALLINA ONE ACT DRAMA FESTIVAL – 2021 NOV 5TH, 6TH & 7TH – BALLINA ARTS CENTRE
Festival Director Marie Loftus – was delighted to get the 'thumbs up' regarding this year's One Act Festival and whilst it will see some small changes in format, it certainly will not disappoint in quality as a diverse mix of groups stage a well balanced selection of comedy and drama over 3 nights.
Such is the popularity of the Ballina Festival amongst circuit contenders that groups were eager to be included and the Ballina programme of first class drama was finalised in late September. It includes returning groups, new additions and the overall winners of both the 'Open' and 'Confined' sections in 2019.
As always patrons will be warmly welcomed to the Ballina Arts Centre and may be assured that both the Festival and Arts Centre teams will adhere to all aspects of safety regulations to ensure an enjoyable weekend for everyone, both sides of the curtains.
We have no doubt that this year's festival, which will be opened on November 5th by the popular dynamic local councillor MARK DUFFY at Ballina Arts Centre will once again enthral those who attend. Proceedings this year are in the very capable hands of IRENE O'MEARA. There is no element of a Drama Production that Irene herself has not been directly involved in. The team at Ballina One Act Festival are privileged to welcome her to Mayo and she herself is delighted to be here for the duration and we are confident that she will enjoy being looked after by Edel and the professional staff at BALLINA MANOR HOTEL – her home from home for the weekend.
The number of visitors to Ballina for this festival is increasing annually. Many stay over for the duration of the weekend. This is a tribute to the excellent facilities of the Ballina Arts Centre and the wonderful standard of our local hospitality sector. We persist to encourage visitors to enjoy the many attractions that Ballina and it's surrounds have to offer and the positive feedback is a reflection that encompasses the entire community.
It has been sometime since festival goers have all met. Sadly, there shall be absent friends – and this will be our first festival without Eugene Loftus, the man who had a dream and made it all happen. Sean and his crew at Ballina Arts Centre are already taking ticket bookings.
SEASON TICKETS are €30 NIGHTLY TICKETS are € 12 and can be booked by calling 096-73593 or online at www.ballinaartscentre.com
PROGRAMME
FRIDAY 7.30 pm
CLANN MACHUA KILTIMAGH HUNGER MARCH CONFINED
RASPER PLAYERS- LUCAN NAOMI IN THE LIVING ROOM OPEN – comedy
PHOENIX PLAYERS-TUBBERCURRY PLAZA SUITE CONFINED – comedy
SATURDAY 7.30 pm
PALACE PLAYERS – KILWORTH –CORK DREAMERS OPEN – comedy
DOONBEG DRAMA GROUP – CLARE TWILIGHT OPEN
LUCAN DRAMA – DUBLIN CONTRACTIONS OPEN – comedy
SUNDAY *7pm (note earlier starting time)
COROFIN DRAMATIC SOC – CO CLARE A THOUSAND DEATHS OPEN – drama
WILD SWANS – GORT COMING HOME CONFINED-tragi comic
ROSCOMMON DRAMA GROUP A GALWAY GIRL CONFINED – drama Followed by Presentation of Awards.
Related Articles
Read more from Uncategorised