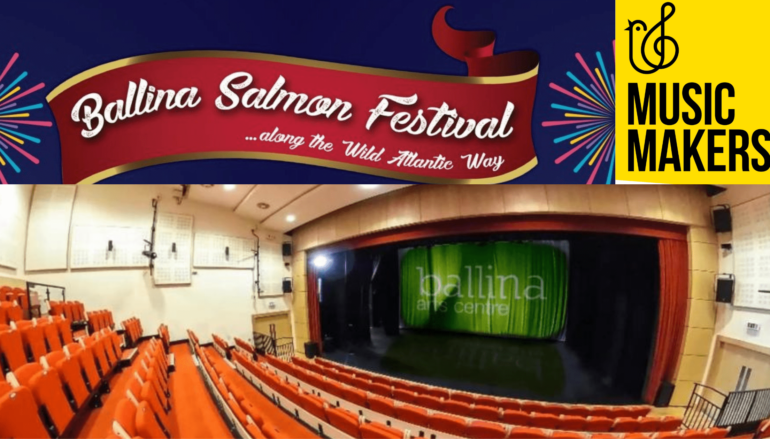 A little bit of festival fun this July
The longest running community festival in Ireland, Ballina Salmon Festival is synonymous with bringing over 200,000 visitors into the region, but alas was cancelled in 2020 and in the traditional format again in 2021.
However, the committee have created a mini festival to keep the flag flying and bring joy to the locals and visitors in town over the week of the 12th – 17th July, the traditional dates of the festival.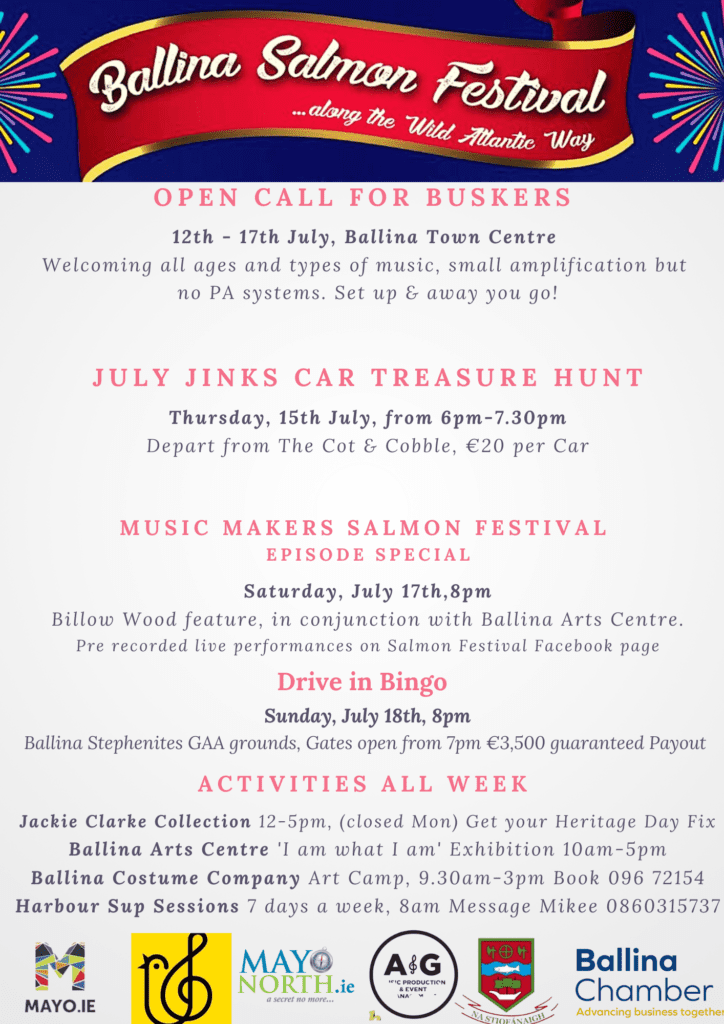 Busking on the streets of Ballina
Whether you are a seasoned busker or a newcomer, what better way to show off your talent than on the Streets of Ballina busking this July. Ballina Salmon Festival is synomomous with celebrating music on the streets of the town and we want to do that again this July 2021.
We are hosting an "Open Call for buskers" in Ballina Town Centre, from 12th -17th July and be in with a chance to appear A & G Music Production & Event Management Music event hosted in Great National Hotel Ballina July 18th & 19th pre recorded shows! Supported by the Department of Tourism, Culture, Arts, Gaeltacht, Sport and Media.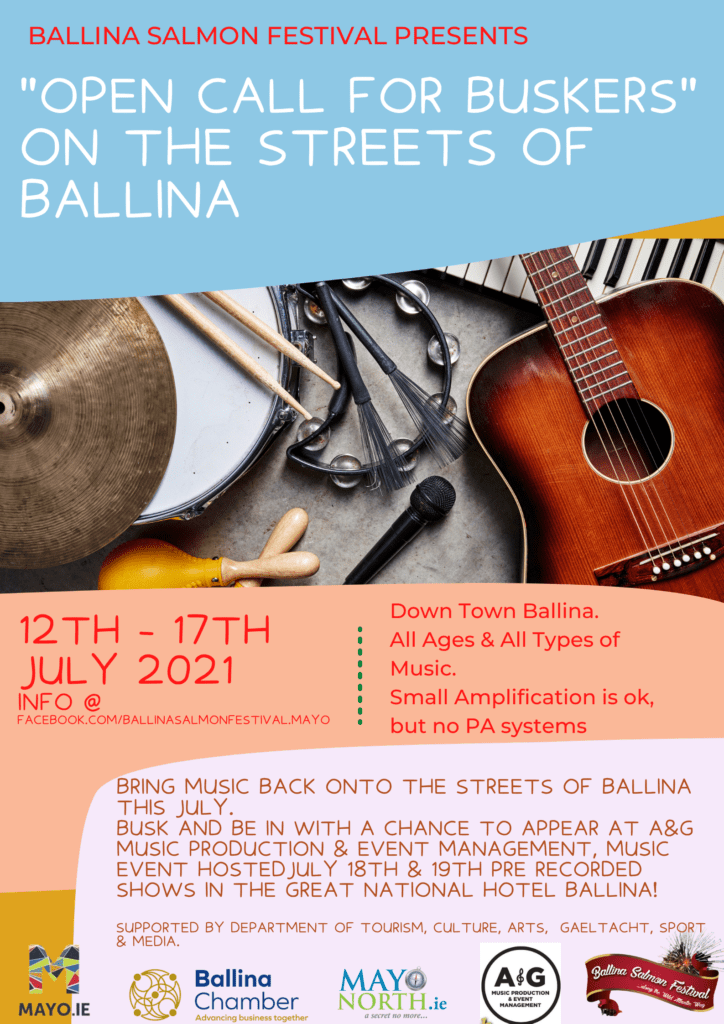 A long standing much loved event, Car Treasure hunt returns! Adhering to Covid guidelines the festival is truly delighted to include this very popular event in the programme after a 2 years wait, for what should have been the traditional Salmon Festival hunt in "Jovial July", on the banks of The River Moy.
Kicking off at 6pm, at the Cot and Cobble on Clare St, the organiser will meet the cars at the front of the premises to register and send you on your merry way on the highways and byways of our locality to solve the clues set out set.
On return you will hand in your sheet and when all teams are back the organisers will give out the answers amid plenty of banter and fun in an orderly fashion. Prizes and gimmicks to suit all but a thick skin is required along with a good sense of humour!
So…think up a good team name, scrounge the €20 per car and remember…
First cars out at six bells – last cars out at half past seven and for obvious reasons -"Bring your own pen"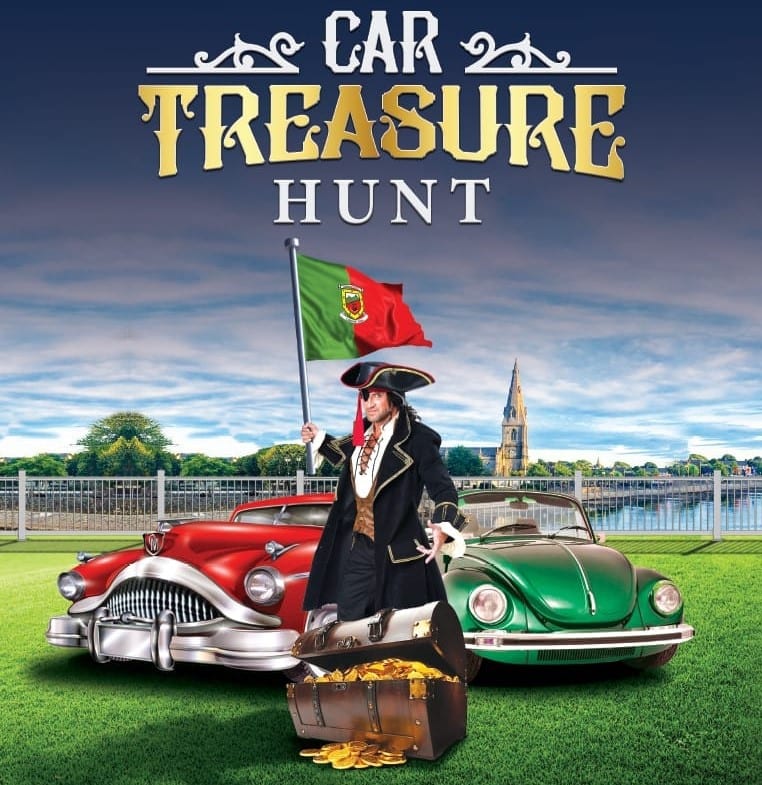 Billow Wood entertains at Festival 2021
The Saturday night boasts a very special online event, featuring Music Makers at the Ballina Arts centre. A brand new music series which has been showcasing some great local Mayo and Irish talent over the last number of months, with live performances and interviews about the magic of making music and some of the stories behind the songs.
Ballina Salmon Festival in collaboration with Ballina Arts Centre, presents a programme celebrating the musical talents of North Mayo's finest and friend of the festival Billow Wood. Tune into the Ballina Salmon Festival facebook page, Saturday July 17th at 8pm, and enjoy Billow Woods original folk infused music and interviews with members of the group.
For further information on any of the above, please Contact Ballina Tourist Office 096 72800 (open Mon-Fri, from 9.30am)
Related Articles
Read more from Uncategorised