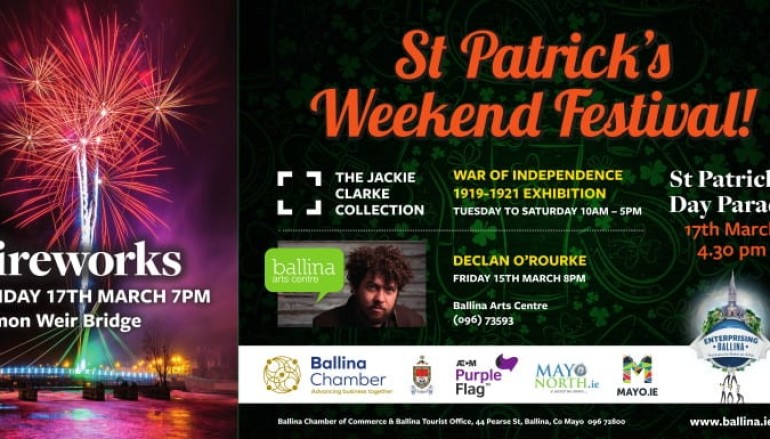 St Patricks Day and Weekend festivities in Ballina Co Mayo
The principal aim of St. Patrick's Festival in Ballina is to celebrate our wonderful community, to celebrate our national Saint and Irish identity and stand proud with our fellow town and county folk.  We celebrate the talents and achievements of Ballina and North Mayo's sporting communities and all the exciting clubs that bring every age and social background together.
Ballina hosts its St Patrick's Day parade on Sunday 17th March from 4.30pm, followed by the now annual Fireworks display over looking the Salmon Weir Bridge at 7pm.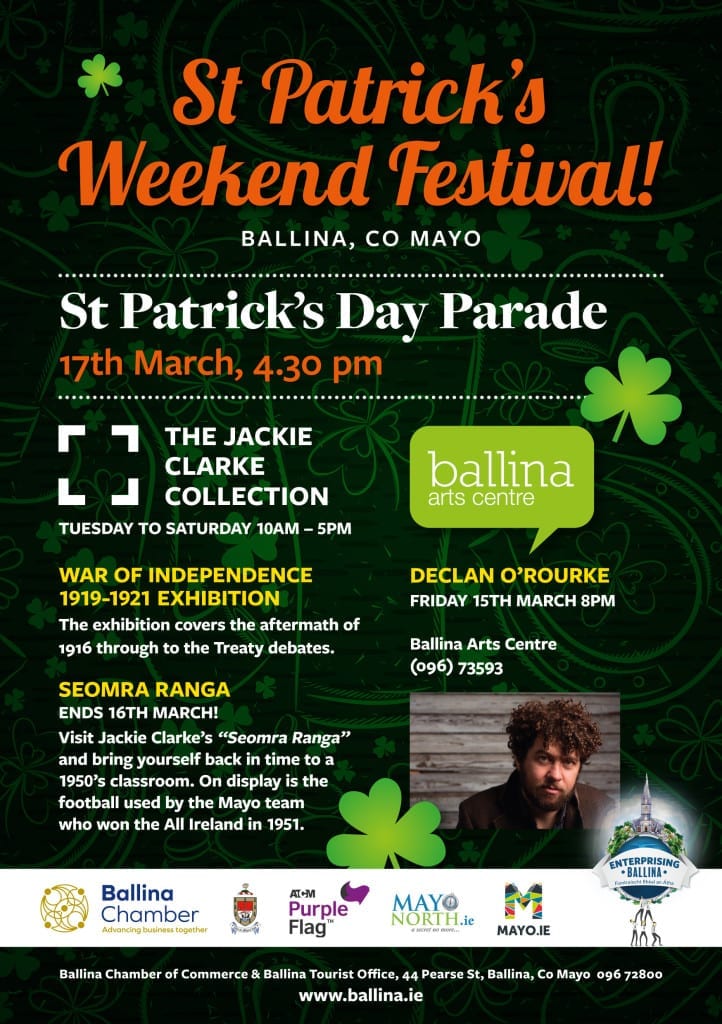 Community Parade
Celebrate our great community and join in the Ballina Party from 4.30pm. Kicking off from Convent Hill, and marching into downtown Ballina, this years parade promises to be as family friendly, fun filled colourful and as exciting as ever, celebrating Ballina's great sporting communities, our well known companies and businesses that supports our town and community.
Come and enjoy the street festival in Ballina where the colourful floats, bands and clowns will entertain both young and old.
The Ballina St Patrick's Day Parade promises to be even more spectacular this year.
Stick around, enjoy the family friendly atmosphere in Ballina, as the town prepares for a spectacular Fireworks display over the iconic Salmon Weir Bridge.
***If you would like to become involved, enter a group or float please contact Ann Bain- Parade Organiser 087 2394529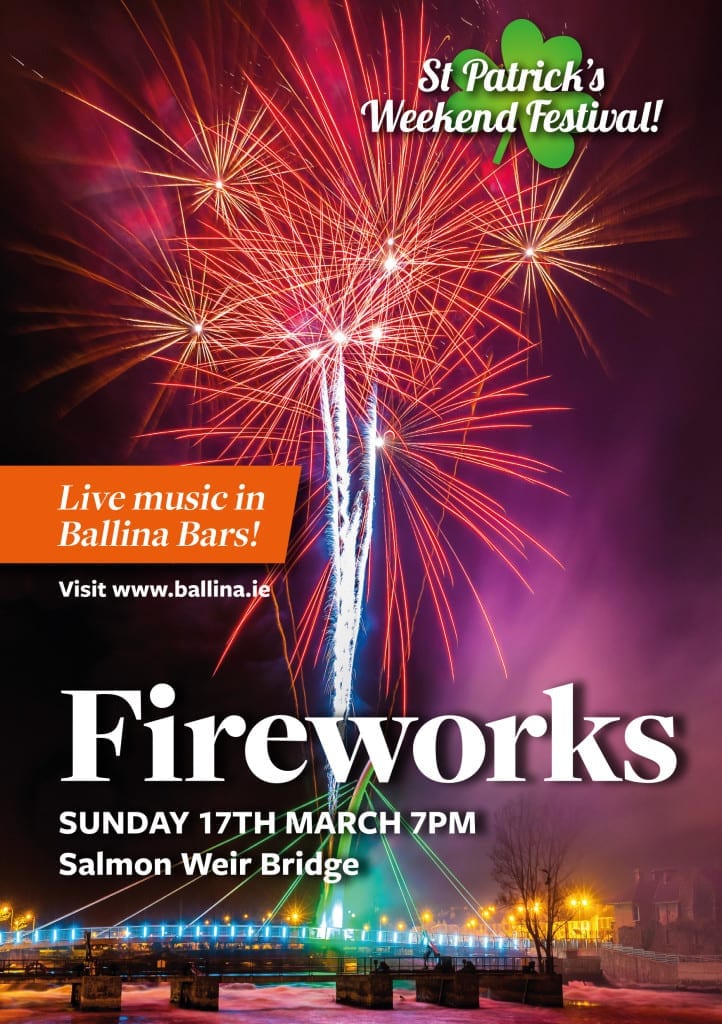 (Photo Credit – James Wright Photography)
Ballina St Patrick's Day Parade Committee & Ballina Chamber of Commerce are delighted to announce the return of the now annual Fireworks display over the iconic Salmon Weir Bridge from 7pm, following on from the St Patrick's Day parade celebrations.
Jackie Clarke Collection
The Jackie Clarke Collection continues to host the War of Independence 1919-1921 exhibition, open Tuesday to Saturday 10am – 5pm. Specialised and private tours can be arranged by appointment.
From the 1st to the 16th of March, visit the "Seomra Ranga," and go back in time to a 1950's style classroom.
Did you know that the football used in the 1951 All-Ireland final was donated to Behy National School by Fr. Peter Quinn, who played on the winning Mayo GAA team? As we look towards another exciting season, the football is also on display in the Jackie Clarke Collection (from 1st – 16th March)  Special word of Thanks to the Quinn family and Behy NS for sharing this treasure with the public.
Ballina Arts Centre
Other events in Ballina over the weekend include the much anticipated return of Declan O'Rourke to Ballina on Friday 15th March, 8pm in Ballina Arts Centre.
Declan O'Rourke is a highly successful Irish artist, acclaimed by his peers, and having achieved many plaudits with his five albums released to date. Declan's soulful music, rooted in folk and trad, has attracted the praise of countless industry giants, including John Prine, and Paul Weller, among others.
O'Rourke's songwriting style moves faultlessly between impressionism, and storytelling, and can be at home in almost any form. A dynamic performer, he is at once as comfortable fronting a 50-piece orchestra, as playing solo with a guitar. Songs of Declan's have been covered by a growing list of established artists ranging from Christy Moore, to Eddi Reader, and Josh Groban.
Contact Ballina Arts Centre at  (096) 73593 Tickets: €25. Early booking essential.
Ballina also boasts a weekend full of live music and entertainment in the many bars, hotels, restaurants and music venues in town over the weekend. Visit Ballina Bars for a full run down of live music venues and events in ballina celebrating St Patrick's day weekend events.
Further information on all things St Patrick's in Ballina contact Ballina Tourist Office 096 72800
Related Articles
Read more from Uncategorised