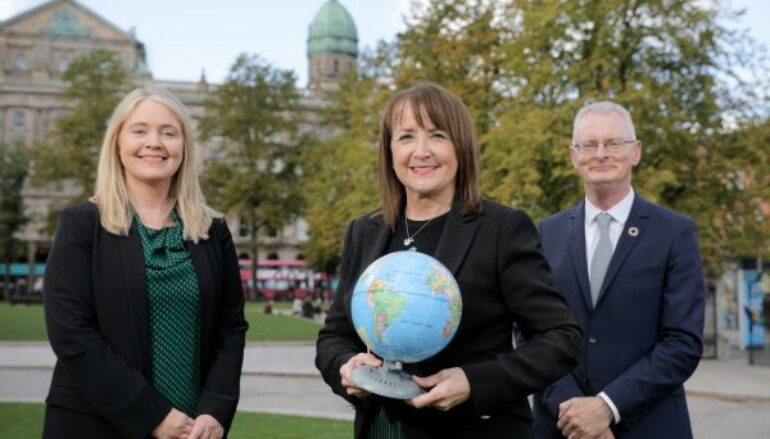 Chambers of Commerce to co-host all-island climate change event
Taoiseach Micheál Martin will join First Minister, Paul Givan MLA and deputy First Minister, Michelle O'Neill MLA for an all-island climate change event in Belfast this week.
Jointly hosted by Chambers Ireland and Northern Ireland Chamber of Commerce and Industry (NI Chamber) with the support of SSE, 'Powering Change Together' takes place on Friday, October 8 at 11 a.m. The hybrid event will be hosted by renowned journalist Tommie Gorman and business leaders are invited to attend online.
Political leaders will be joined by a panel of prominent business figures, who will discuss 'green' opportunities for business and what global agreement on climate action means for companies across the island of Ireland.
Speaking before the event, Ian Talbot, Chief Executive, Chambers Ireland said:
"Climate change is a threat to all of society. Business leaders can play a key role in meeting this challenge head on to ensure we succeed in reaching our goals on climate that lie ahead.
"The reality is that we have no remaining time to delay our actions. A united effort is needed across society, business and politics to protect our climate and deliver a healthy world to future generations. We look forward to engaging with NI Chamber and colleagues across the island to identify opportunities where we can work together towards this common goal."
Ann McGregor, Chief Executive, NI Chamber added:
"Ahead of COP26, businesses across the globe are acutely aware of the role they have to play in tackling climate change. This event is a unique opportunity to hear directly from the most influential policy makers on the island of Ireland, in relation to one of the most pressing issues of our time.
"We are delighted to partner with our colleagues in Chambers Ireland, to discuss approaches to climate change and crucially, learn more about the opportunities change and innovation presents for our members. Together, we are extending an open invitation to business people representing all sectors of the economy to join the live event virtually."
Klair Neenan, Managing Director of SSE Airtricity commented:
"There has never been a more important time to be talking about how Northern Ireland and Ireland respond to the challenges posed by climate change. With just a few weeks to go until COP26 gets underway in Glasgow, SSE is delighted to be leading the climate conversation in partnership with Northern Ireland Chamber and Chambers Ireland.
"In bringing together the most powerful political and business leaders on the island of Ireland, we look forward to a robust discussion that will explore the next steps we all need to take on the road to net zero. It is by working together that we can power real change."
This event is free to attend online however pre-registration is essential. To confirm your place, please register here.
Related Articles
Read more from News