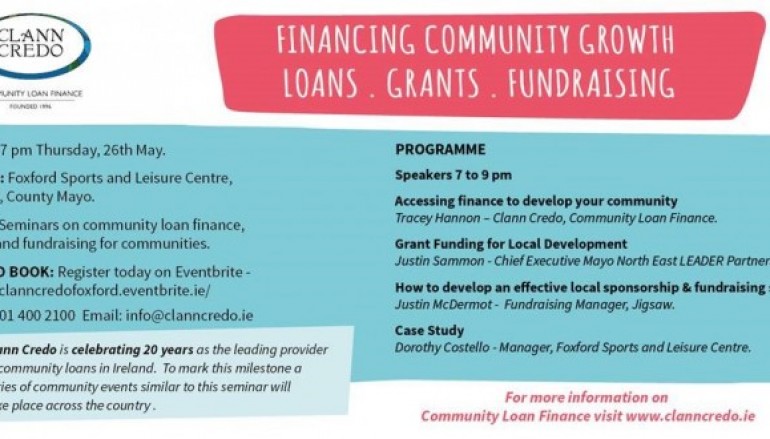 Financing Community Growth – Loans, Grants, Fundraising
While the Mayo LCDC Local Development Strategy has still not been approved by the Independent Selection Committee, and therefore it is unlikely that there will be funding available for at least another 2-3 months, it is no harm to continue with the planning process and for many of you, sourcing matching funds will be a challenge.
Clann Credo – Community Loan Finance, is hosting an information seminar on Financing Community Growth – Loans, Grants, Fundraising at the Foxford Sports and Leisure Centre, Thursday the 26th of May from 7-9pm.
Clann Credo is Ireland's leading provider of community loans to voluntary groups, charities, social enterprises and amateur sports clubs.  Clann Credo is celebrating its 20th anniversary this year, and to mark this milestone a series of community events will take place across the country.  Since 1996, Clann Credo has invested over €85 million in community organisations throughout Ireland.
The seminar will provide information for community organisations on all aspects of funding– loans, grants and fundraising.  Speakers will share their expertise in these areas and describe how finance can be used to develop your community project.
The speakers on the evening will include;
Tracey Hannon – Social Finance Executive for Clann Credo in the Western region, who will discuss community loan finance and how it can assist communities in getting projects up and running.  Tracey will also demonstrate the importance of community loan finance in supporting the development of sustainable communities.
Justin Sammon – Chief Executive Mayo North East LEADER Partnership, will discuss Grant Funding for Community Development with particular reference to the new LEADER Programme.
Justin McDermot – Fundraising Manager with Jigsaw Galway, who has extensive knowledge of the fundraising sector will describe how a community organisation can develop an effective fundraising and sponsorship strategy.
Dorothy Costello – Manager of the Foxford Sports and Leisure Centre will describe the centre's journey and how it has grown and developed.
The seminar is free and open to all members of the community to attend.  To register your attendance please go to https://clanncredofoxford.eventbrite.ie
Phone: 01 400 2100  Email: [email protected]. 
Website: www.clanncredo.ie
Venue:  Foxford Sports and Leisure Centre
Date: Thursday 26th May
Time: 7-9pm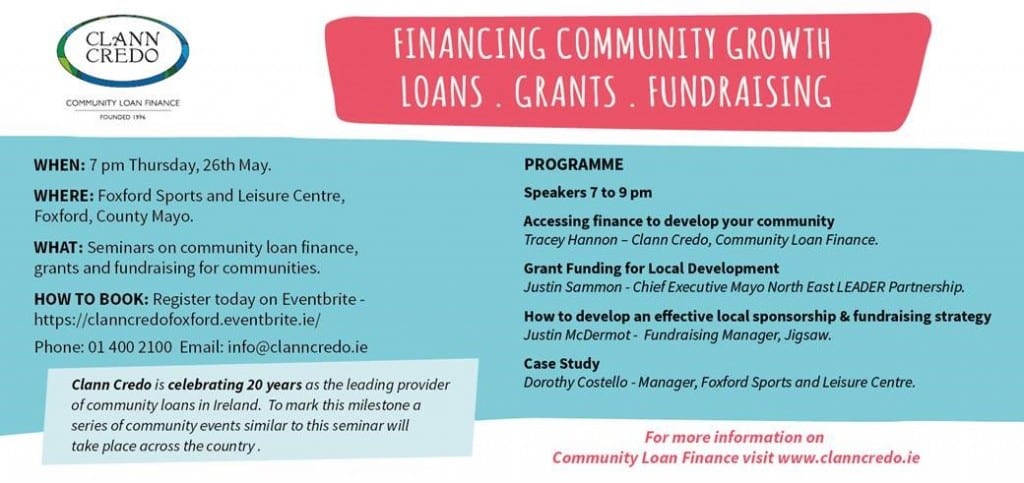 Related Articles
Read more from Uncategorised