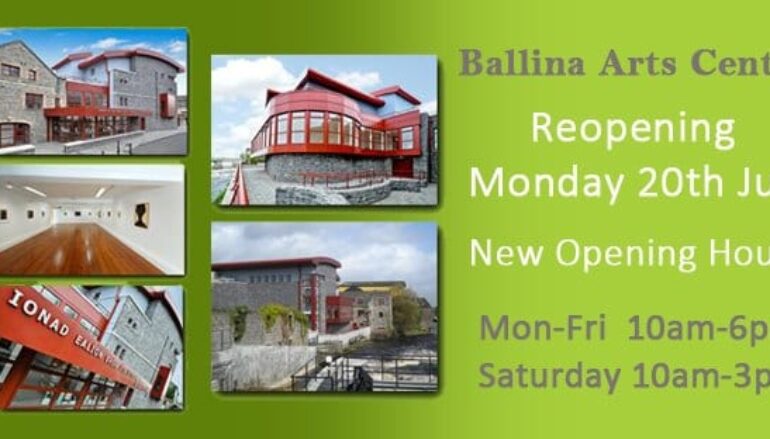 Your Friday nights are about to get more interesting!
Friday Night Live from Ballina
Music brings us together, even when we need to be apart. In that spirit, EAV- Event Audio Visual in collaboration with the Ballina Arts Centre announce a series of multi-camera live streaming events; 'Friday Night Live from Ballina'. Ray Forde, EAV and Sean Walsh of Ballina Arts Centre, decided to run a weekly event from the Arts centre for performers to have the opportunity to display their talent.
The cancellation of all live gigs and concerts has hit two fold, firstly, bands and performers have no opportunity to play and perform in front of a live audience and secondly, the public have not been able to go and see live performances. The aim of these shows is to (in a small way) balance out this and give talented performers a platform.
The first event will take place on Friday 7th August with local super group Gorilla Radio. The gig will be live streamed simultaneously on the Ballina Arts Centre Facebook page and YouTube channel.

Paul Newell of Gorilla Radio states "After not gigging for 4 months, we're really looking forward to getting to play live for everyone again with a debut from our new keyboardist".
The performance will begin at 8 pm and the MC and host each week will be Mags Downey Martin. Mags states "Ballina has a wealth of talented musicians and performers who are feeling the loss at not being able to perform live music gigs, bringing joy and happiness to its audience. The Friday Night Live gigs, gives us, the public an opportunity to connect and enjoy live music performances, which has been missing from our lives, as well as showcase the talent in the town and celebrate the wonderful facility we have in the Ballina Arts Centre, supported by EAV."
The gigs will run every Friday Night at 8 pm until a live audience can be permitted. The events will adhere to the social distance guidelines.
The line up over the coming weeks will include a variety of musicians and artists from the locality. If you would be interested in participating, please email [email protected] with your details.
The collaboration and use of the space is facilitated by the Ballina Arts Centre Director Mr. Sean Walsh "We are delighted to be hosting Friday Night Live from Ballina, at Ballina Arts Centre. The current restrictions on live events have had terrible consequences for theatre and arts centres and live music venues. It is great to be able to host the events and broadcast them online. It's a platform for showcasing local music talent".
There is a need to support our arts as they are there for us throughout our lives enriching it for the better. This new venture will be a safe and exciting way to do so.
Related Articles
Read more from News