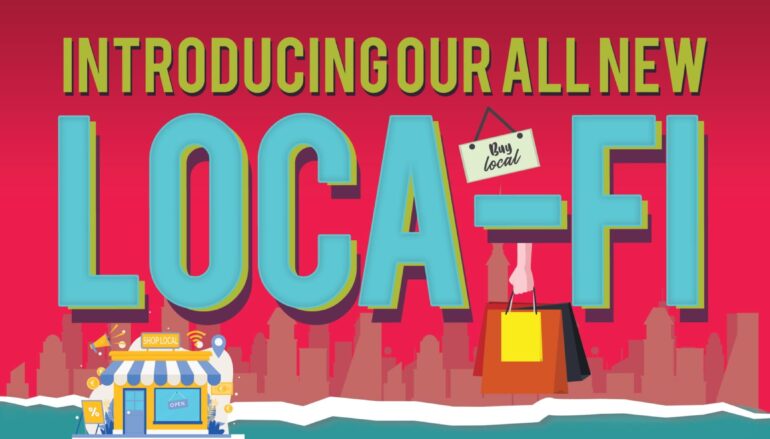 Stay local, borrow local and spend local urges Ballina Credit Union
The new Loca-Fi campaign from Ballina Credit Union is encouraging people in the area to shop local this Christmas to help protect businesses and their employees during this critical time.
"We are anxious to help the recovery of towns and villages impacted during the Covid-19 pandemic by making finance available to members wishing to support this important local economy drive," said Michael Ferguson, the CEO of Ballina Credit Union.
Ballina Chamber of Commerce is supporting the initiative. "It is very important to help local businesses in the lead up to Christmas, so we are 100% behind Ballina Credit Union," said Gerry Luskin, President of the Chamber.
With Loca-Fi, Ballina Credit Union has introduced a special finance option which can have your loan approved in advance of the expected reduction in Level 5 restrictions from early December.
Ballina Credit Union is in the process of circulating thousands of leaflets to local retailers for display in their shops to help explain the initiative
The loan approval lasts for 60 days, so borrowers can have the funds ready and waiting in their credit union account now to spend on a wide variety of retail products once shops reopen. And the loan funds can be used to buy anything from a new television or kitchen, to carpets, furniture, computers, toys and even small consumer items.
"This is a case of local businesses working together to help each other in order to rebuild our local economy," said Michael.
The Loca-Fi loan includes free life insurance, and repayments are built around borrower needs so that interest is charged on the reducing balance with no penalty for additional repayments. Therefore you can spread the cost of almost any purchase you want to make.
Every €10 spent on Irish products generates more than €40 of benefit for related businesses, which highlights the importance of shopping locally to maintain employment in towns like Ballina, Crossmolina, Foxford, Enniscrone and other parts of North Mayo and West Sligo.
The new Ballina Credit Union Ltd App, and improved digital services, make it easier than ever to communicate with your local, member-owned finance provider. Download the App from the PlayStore and AppleStore, visit www.ballinacu.ie or call 096-71066.
And watch out for the Loca-Fi leaflets in shops.
Related Articles
Read more from News