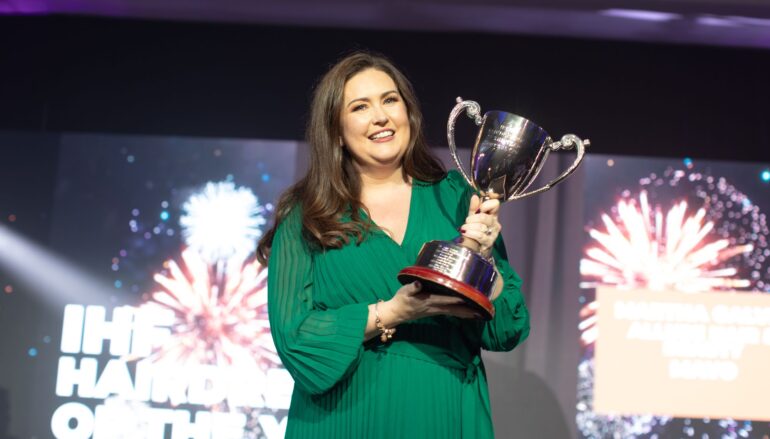 Just when you thought it couldn't be done… Martha Galvin has done it again!
For the second year in a row, she been crowned the IHF Irish Hairdresser of the Year!
With salons in Castlebar and Ballina, Martha has been named the Irish Hairdressing Federation's (IHF) Hairdresser of the Year for the second year in a row.
Martha Galvin, owner of Allure Hair & Beauty in Ballina and Castlebar, was awarded with the IHF's top prize at an awards ceremony last Sunday evening.
"This is absolutely amazing, it is unbelievable to get this award two years in a row," Martha told the Western People.
Last year marked the first time the award was won by a Mayo salon and this year is the first time a consecutive winner has been crowned.
Martha also won the award for Extensions and a cup for finishing in the top ten of the Fantasy Senior award.
In addition, Tiegan Neary from Allure was one of five hairdressers to be selected as a trainee for the 2024 National Star team. She was picked by judges for her skills, personality and ambition to succeed in the industry. She was also the winner of the Fantasy Trainee award on a successful night for Allure as they picked up eight cups in total.
Amanda Ryan, Louise Connor and Sherrie Carroll were in the top ten for Hairdresser of the Year. Amanda Ryan also won cups for Fantasy Senior and Extensions.
Related Articles
Read more from blog