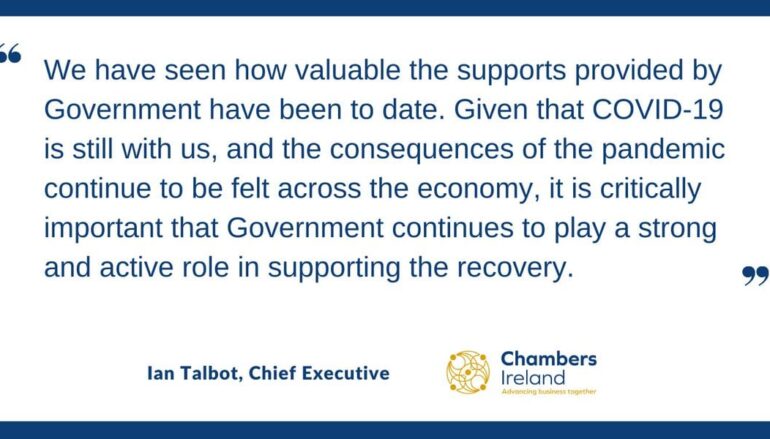 Sustained support and stimulus for local economies must be at centre of Recovery Plan, says Chambers Network.
Ahead of an announcement on the further reopening of society and economic activity, Chambers Ireland is today (28 May 2021) calling on Government to ensure businesses are given the best opportunity to succeed by publishing clear timelines for summer reopening, extending supports to the end of 2021 and providing an additional stimulus for towns and cities. We also ask for a long-term strategy to support the tourism and hospitality sectors.
Speaking today, Chambers Ireland Chief Executive Ian Talbot said,
"We have seen how valuable the supports provided by Government have been to date. Given that COVID-19 is still with us, and the consequences of the pandemic continue to be felt across the economy, it is critically important that Government continues to play a strong and active role in supporting the recovery."
Clear timelines for reopening during the summer and extension of supports
"Businesses cannot plan effectively while working in the dark. Clear timelines must be published to allow businesses to plan for the year ahead. Issues with staffing are already emerging and this will only become worse if employers are not given ample time to train and hire employees.
Although the public health situation appears to be improving, there remains deep uncertainty among the business community as to what lies ahead. A return to normal – if achievable – will not happen overnight. As a result, we cannot rely on consumer spending alone to restore revenues and provide business certainty.
In the interim, Government must provide a stable foundation upon which businesses can trade. We recognise the recent remarks of Minister for Finance Paschal Donohoe who said there would be no "dramatic changes" in the third quarter of this year. We request that this is extended until the end of the year at a minimum and is confirmed as soon as possible.
Debt warehousing and the commercial rates waiver are two key schemes which will continue to be needed for impacted businesses. If a Supplementary Budget is required to provide these guarantees, we urge Government to make the necessary provisions with urgency."
Stimulus for local economies to ensure recovery is sustained
"Our towns and cities must be supported to ensure an economic recovery is both fair and balanced. While the summer has the potential to bring increased levels of trade, there is a heightened risk of uncertainty in tourism and hospitality due to revenue fall-off during the shoulder and low season. With a reduced operating model, these sectors will continue to require the security provided by the Wage Subsidy Scheme until the end of the year at the earliest.
To allow sufficient time for activity in these sectors to return to past levels, their reduced VAT rate should be extended until the end of 2023. A replacement for the "Stay and Spend" tax credit would also be welcomed. This must be simplified and provided in the form of a voucher to all adults that can be spent on tourism and hospitality for a defined period of time.
Particularly given the focus on an outdoor summer, there must be coordination at national and local level to put in the place the structural changes necessary to make our communities welcoming, comfortable and fit-for-purpose. This means outdoor dining must be facilitated, necessary facilities like public toilets and waste management provided, and public realm grants be sufficient and accessible."
Focus on long-term future of tourism and hospitality
"As two of the sectors which have been hit hardest during the pandemic, there is a need to focus on the long-term future of the tourism and hospitality industries to ensure their survival. Staff and skills shortages have been a concern for both industries for several years and these issues have been greatly exacerbated by the pandemic.
The Irish economy benefits significantly from our tourism and hospitality sectors but there is a growing risk that they will not be able to provide the necessary service levels to adequately meet demand. Government must develop a comprehensive strategy that addresses the twin issues of staffing and skills with urgency."E
On May 10, Chambers Ireland issued a letter to An Tánaiste Leo Varadkar on the subject of COVID-19 stimulus and supports for local economies. This letter is available here.
Related Articles
Read more from News