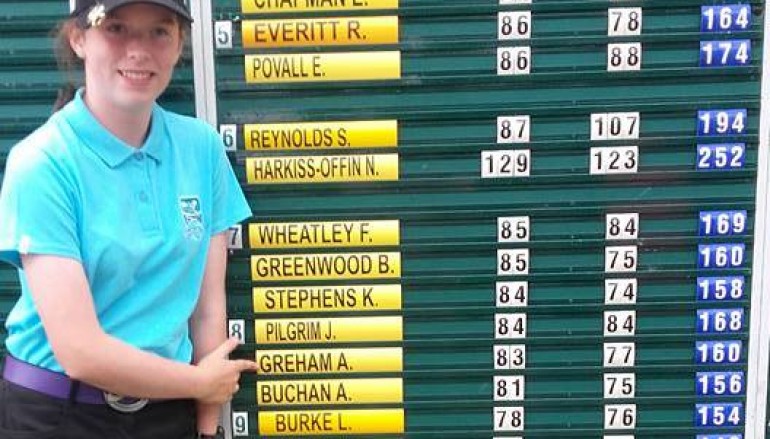 Ballina Golf Club holds the first Albany Open.
There was great competition at Ballina Golf Club for both adult and junior golfers at the first Albany Open, which was held on Saturday 13th August. It was a full day event with both the adult competition and older junior competition (Ballina Junior Cadet Group) being played on the main course and the younger junior competition (Ballina Snag & Novice Groups) held on the short course. Proceeds from the day were generously donated to The Ballina Junior Golf Programme.
The competition was fierce as many brilliant prizes and trophies, kindly provided by our host and sponsor Albany Ballina Tile & Paint, were up for grabs. As the day progressed the Clubhouse was a hive of activity with players enjoying food provided by The Tee Cup Restaurant. A fun filled evening of music was preceded by the presentation of Trophies and Prizes by JV & John Slater from Albany Ballina Tile & Paint. John Slater said on the night that "Albany Ballina Tile & Paint are delighted to be associated with the Ballina Junior Golf Programme and are pleased to sponsor the young golfers of Ballina. Hopefully they will be champions of the future". Noel Dee, Captain was thrilled at how the day went and commented "Ballina Golf Club is very thankful to Albany Ballina Tile & Paint for their generous sponsorship of both the men's and junior competitions. It was a great day on and off the course and the juniors brought a wonderful atmosphere to the prize giving event." Noel added "We look forward to more of these events in the future".
Results from the day: Adult Competition 18H Stableford – 1st Peter James 2nd Sean Rowley 3rd Daniel McHale 4th Tom Mulhaire;  Junior Competition (Cadet Group) 9H Stroke – 1st Darragh Ginty 2nd Annabel Greham 3rd James Merrick; Junior Snag Group Competition 5H Short Course– 1st Ben Scully 2nd Oisin Cunningham 3rd Conor Gallagher; Junior Novice Group Competition 5H Short Course – 1st James Fox 2nd Evie Kennedy 3rd Niamh Howley Sabin.
Ballina Junior Golfer competes in St Andrew's.
The Ballina Junior Golf Programme in Ballina Golf Club were proud and excited to see one of their own Junior Golfers head off to St Andrews to take part in the final of the 2016 Wee Wonders Competition.
Annabel Greham, aged 12, progressed through two qualifying rounds at Rosses Point Golf Club before moving onto the final which was held on Saturday 27th & Sunday 28th August 2016 in St Andrews. Richard Doherty, Junior Convenor of the Ballina Junior Golf Programme said "This is another indication of how well the Junior golfers are progressing in the Ballina Junior Golf Programme and we are all delighted for Annabel"
Annabel achieved a brilliant 6th place, after playing two great rounds of 83 & 77 gross, in a tightly fought competition. Ballina Golf Club Captain, Noel Dee, remarked "Annabel has a wonderful natural talent for the game and it is great to see another junior golfer from Ballina Golf Club perform at such a high level".Breege Lennon, Lady Captain added ""It's lovely to see one of our Junior girls doing so well and is great promise for the future of Ladies golf in Ballina Golf Club".
____
Related Articles
Read more from News