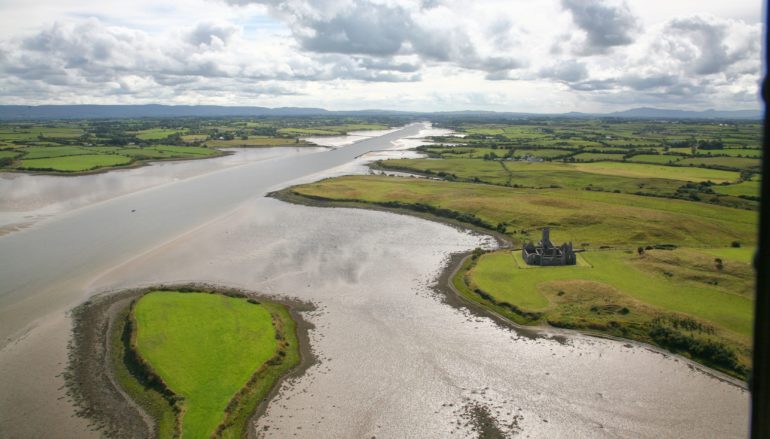 Tóg Mé Bhaile go Mhaigh Eó – "Take Me Home to Mayo"
by Paul Kostiak
Part 1 – Nice to Meet You
There are very few places on Earth that have truly captured my heart. I've traveled the world, over one million miles. I've stood on five continents. I've experienced breathtaking scenery, incredible history, and the warm friendliness of thousands of souls. But none can compare with my beloved County Mayo, and a town called Ballina. For reasons that I'll come to explain in this series of stories, I have developed a deep connection with her rolling green hills, majestic mountains, thundering seashores, and quaint villages and towns. But most of all, her people. In the words of many a songwriter – it feels like home to me.
You're probably wondering why this American with the funny Ukrainian name came to have such a passion for Mayo and her green and red colours. Allow me to introduce myself. I was born and still live in the City of Scranton, nestled in the rolling Pocono Mountains of northeastern Pennsylvania. Some of you may recognize the name Scranton as we are twinned with Ballina. In fact, a stroll along the pavement in the park near the Weir Bridge will bring you to a small tree with a marker. This tree was a gift to the citizens of Ballina from the people of Scranton, planted by my good friend, our former Mayor Jimmy Connors. It is a testament to the connection that we feel with Ballina, as many of our citizens can trace their Irish roots to Mayo. By some estimates 85% of the Irish who emigrated to northeastern Pennsylvania in the 19th and early 20th centuries came from Connacht, and most of them from Mayo. They were coal miners and railroaders who had left the homes and families they loved during trying times. They didn't know what lie ahead but they did know the value of hard work and faith. They came to the right place for both. I would soon come to learn that my own ancestors were among them. My people with names such as Carden, Melvin, Mullarkey and Allen. I'm proud of "all the Irish blood within me." Tis on me Mam's side.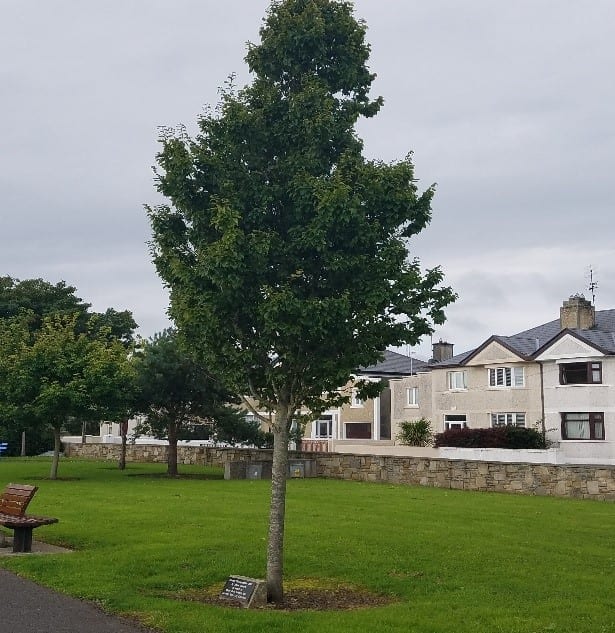 Scranton tree, Canalside, Ballina, Co Mayo (Photo by the author.)
A few years ago, my only knowledge of Ballina was our Twin Town or Sister City connection. I would have been lucky to have found Mayo on a map. I'm a member of the Lackawanna County (Scranton) St. Patrick's Day Parade Committee, the third largest in the United States, so I knew I had Irish heritage but little else. Oh, how that would change, as you will soon learn.
I have always had an interest in genealogy, the study of family history and lineage. I am descended from the grandfather of fabled American frontiersman Daniel Boone and because of this I began to wonder about the others who came before me. Eventually this would me lead me to the loveliest corner of Ireland, and experiences that I never could have imagined. You haven't seen the best of Ireland until you've seen the West of Ireland.
I've often heard that many Irish people find it curious that we Americans are so interested in our heritage and wonder why. In fact, I've been asked this myself many times over a pint or two in a pub. I'll try to explain. We are a nation of immigrants. Because of this we all have a sense of belonging to somewhere else. In my case I have Ukrainian blood from my father's side and Irish blood from my mother's. (With the single exception of the wee bit of English blood from the Boones). You'll be happy to know that my DNA shows a majority percentage 54-42% is Mayo green and red. We wonder about our ancestors. Where did they live? What did they experience? Why did they leave their homes and families? In short, WHO WERE THEY? Which leads us to the question, who am I?
So, back to Mayo. My sister Ann's eldest son's name is Lee. A few years ago he had the opportunity to travel to Ballina with a group of fellow American friends who had a band, to entertain at something called The Salmon Festival. When he returned he was excited to tell me all about his experience. The band played at the festival as well as some pubs in Ballina. He made so many new friends (there are no strangers in Ireland, only friends we haven't met) and had the time of his life. He couldn't wait to take me there. I immediately became interested, mostly for the opportunity to simply see the land of my ancestors. And, so we began to plan our trip.
At the time my mother was eighty-five years of age. She had never been on an airplane before. In fact, she had never traveled more than 150 miles from her birth home in Avoca, Pennsylvania (named for the town of the same name in County Wicklow). I thought what a wonderful thing it would be to take her to Ireland. If I could only convince her to go.
Her mother passed away when she was only ten months of age. The youngest of seven children she would be raised by her Irish immigrant grandmother Mary Mullarkey Allen. Her other Irish grandmother Sarah Carden Boone lived next door. She grew up with a strong Irish influence and instilled the same into me and my brother and sisters. We were the only ones in the neighborhood to cut our teeth on tea and biscuits. I would make it my mission to get her to Ireland.
And so we set out, Mom, Lee, my sister Ann and myself. Our plan was to fly to Dublin and travel throughout the island, which we did. Our stops included Avoca, (of course!), Cork, Mizen Head, Galway, Sligo, and the last three days in Ballina, where Lee had so many friends. At the time I had no idea how much this last stop would change my life. As I said, I had known that my ancestors had come from Ireland, most probably Connacht, but beyond that I knew little else. An introduction to one of Lee's friends named Brendan Farrell would prove to be the beginning of an obsession.
Brendan is a fountain of information regarding Irish and local history and was keen to aid in my quest for information about my family. He is an excellent tour guide, as well. One of the places he took us to that first trip was Moyne Abbey. I was fascinated with the ruins as I have the thirst to study history. On one wall I spotted an old stone plaque with the name of a benefactor carved into it. That name was Carden, one of "my" names. The name of my great grandmother who, in 1872 as an eighteen year old girl, was sent on a ship by her Da, along with her Uncle Paddy, to sail to the United States in search of a better life. Born the daughter of a farmworker during the Great Hunger she surely had a difficult life. Brendan told me that there were indeed Cardens in the Ballina area. Is it possible? Could I be closer to "home" than I had ever imagined? Would I one day be able to have Mom walk in the very Irish footsteps that the people who had raised her had walked, as well as the footsteps of those who raised them?
This chance encounter with an old stone hung on what remains of the wall of an ancient abbey caused me to seek out more. It was then that I found the North Mayo Heritage Centre at Enniscoe House, Castlehill. Lee and I immediately enlisted their services and thus began an adventure that continues to this day. At the risk of spoiling the rest of the story which is to come, I'll give you a wee taste. On our next trip I learned from the Heritage Centre that Sarah's father David, my great-great grandfather, had worked on the Orme family farm in Moygownagh as a herdsman. They provided me with directions, complete with GPS location. At last I would walk in their footsteps. But the best is yet to come and will bring me even closer to Ballina.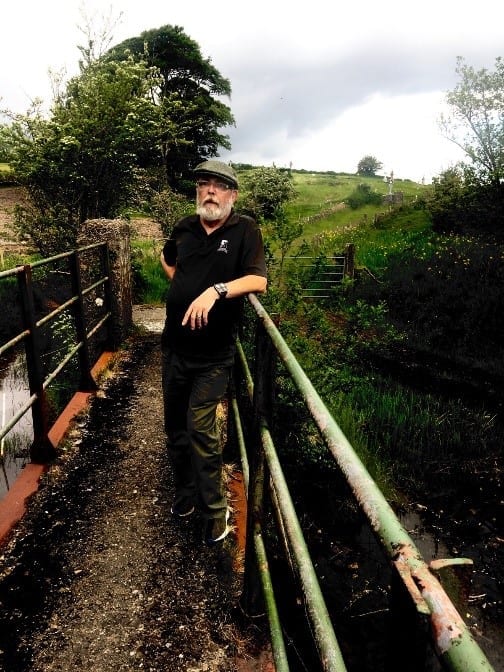 The author at Orme Family Farm, Moygownagh. – Photo by Tony Traglia
I hope you are enjoying my little story. I plan to tell much more about our adventures in future writings. I'll tell of my experiences of family discovery, our twice a year trips to Ballina, an amazing discovery in Ballyderg, and of course the endless craíc I have with my friends in Ballina so that you might see your beautiful homeland through the eyes of an American. Since finding so much more of our family roots and places in and around Ballina I had hoped to take my Mom, now in her eighty-ninth year, back this May to show her. But nature has a funny way of changing things and COVID-19 had other plans for us, so for now we're grounded. With the help of God it won't be too long before we're once again flying across the pond with world-traveler Mam saying, "Take Me Home" and me minding my round at The Old Shebeen. Until then, Slaínte!
Scranton, PA, USA is sister city of Ballina Co Mayo Ireland.
Related Articles
Read more from Blogs