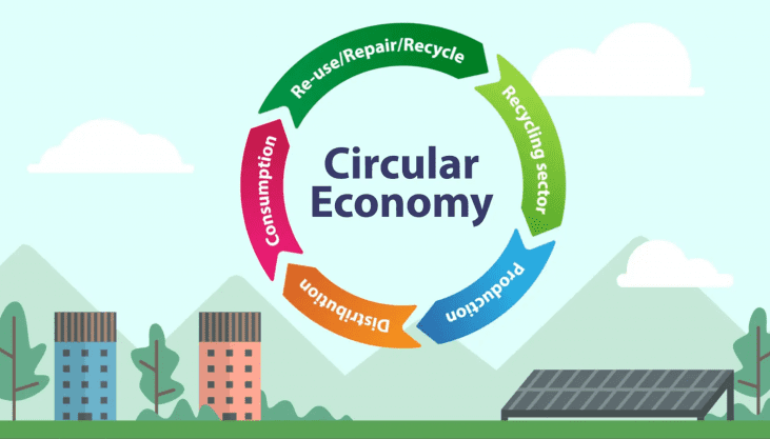 The Waste Action Plan for a Circular Economy
At the beginning of September, the Department of Communications, Climate Action and the Environment (DCCAE) published its Waste Action Plan for a Circular Economy, which aims to give direction to waste planning and management in Ireland over the coming 5 years. Chambers Ireland Policy and Research Executive Michaela Reilly breaks down the actions contained in the plan, as well as our own recommendations for it & the areas yet to be concerned.

What does the Plan set out?
The Department of Communications, Climate Action and the Environment (DCCAE) recently published (4 September 2020) its Waste Action Plan for a Circular Economy to give direction to waste planning and management in Ireland over the coming 5 years.
Designed to replace the previous national waste policy, A Resource Opportunity – Waste Management in Ireland, its overarching aim is to shift away from the current focus on waste disposal and treatment to ensure materials and products remain in productive use for longer. This is intended to prevent the build-up of waste and support the re-use of goods and materials in line with the new EU directives and the promotion of the circular economy.
With over 200 actions, it echoes many of the ambitions committed to in the European Commission's Green Deal, particularly the goals of the 2020 Circular Economy Action Plan 'For a cleaner and more competitive Europe'.
Among other things, the Plan intends to halve the amount of food waste by 2030, introduce environmental levies for waste recovery and single-use coffee cups, and standardise bin colours across the State. Certain single-use plastic products are set to be banned from next July including cotton bud sticks, cutlery, straws, and polystyrene containers, and a deposit and return scheme for plastic bottles and cans is to be also introduced. Additionally, the strategy intends to work with Irish designers and retailers to promote eco-design for clothing and textiles, while a waste oversight body will manage consumer rights.
What were Chambers Ireland's recommendations for this Plan?
Chambers Ireland were engaged in the consultation period and submitted its recommendations on the development of a national Waste Action Plan that would achieve the required waste reductions targets while also protecting businesses and consumers in the transition to a circular economy.
Without describing each recommendation in detail, the submission proposed, among many other things, actions such as an outright ban on unrecyclable single-use plastic food packaging; the decarbonisation of food waste through anaerobic digestion; the introduction of a broader Extended Producer Responsibility Scheme so that the cost of managing the end-of-life of a product is shared among industry, government and consumers; and a phased introduction of Green Public Procurement criteria in public tenders, so that businesses can train in how to respond to it, and have time to catch up to European neighbours that have been long implementing successful GPP practices.
The delivery of the Climate Action Plan, Project Ireland 2040 and the National Development Plan will require sustained investment in the sustainable management of our resources and waste structures. Therefore, Chambers Ireland highlighted that all future waste policy must be designed to support businesses who have already made changes to their supply chains so that they remain competitive. The correct allocation of funding for businesses across Ireland to implement effective and efficient recycling and composting infrastructure, and to incentivise innovation, will play a key role in the success of a future Waste Action Plan for a Circular Economy.
Gaps in the Plan & areas that need further clarification
While we welcome many of the positive actions that are committed to in the plan areas of concern that still require further clarification include the following:
Clear timelines for businesses – businesses need to be informed of the exact single use plastic products that will be prohibited next year and by what date. Additionally, any future additions to that list must be communicated well in advance so that enterprises can prepare for changes to their supply chains.
Specific supports/grants for SMEs – SMEs seeking to adapt their waste management structures may be at a further competitive disadvantage when applying for grants that are not specifically tailored for smaller enterprises. The high costs associated with altering waste management for SMEs needs to be assessed by the Department and followed by supports that will subsidise these initial costs so that they can adopt the new measures presented in the Plan.
Funding for upskilling in the circular economy – the skills shortage in circular economy industries has yet to be addressed. This must be a priority area for the Department to maximise employment opportunities by reforming curriculums in schools, universities, existing training bodies, and skills development programmes.
Revenues from new environmental levies – It has yet to be revealed where the revenues from new environmental levies will be spent, or if they will they be ringfenced for new waste infrastructure, circular economy schemes, etc.
Green Public Procurement – the plan states that DCCAE will "support private sector initiatives that respond to public sector GPP policy" but does not offer a phased introduction of GPP criteria to allow businesses adequate time to respond to this introduction of criteria in public tenders, which will most negatively impact on SMEs.
Covid-19 waste management communications strategy – Covid-19 has setback the progress that had been made in reducing single-use coffee cups and containers. A clear communications strategy on using reusable cups/containers with regard to Covid-19 public health guidelines needs to be speedily implemented to avoid further unnecessary waste.
Businesses of all sizes are very determined to engage with the National Waste Action Plan. However, the Plan suggests an absence of corresponding intention to work with the business community to ensure its success, most notably with SMEs. These organisations will be the key players on the ground that must adopt the aforementioned waste management actions which will be critical in Ireland meeting its climate action goals in both the medium and long-term.
Constructive engagement with the business community will be instrumental in facilitating representative discussions on future pathways and waste management actions. Resilience and capacity building are key, and businesses need to be supported with a strong regulatory and policy framework.
If we are to accelerate our transition to a low carbon circular economy on a national scale, Chambers Ireland strongly contends that the correct funding, infrastructure, and supportive frameworks to enable businesses to make a coherent transition will be more successful in encouraging businesses to make the switch to alternative waste reduction systems and sustainable supply chains.
Useful links
This is linked to Goal 13 of the UN SDGs. Please see here for more information on the SDGs and the Chambers Ireland commitment to these.
Related Articles
Read more from Blogs