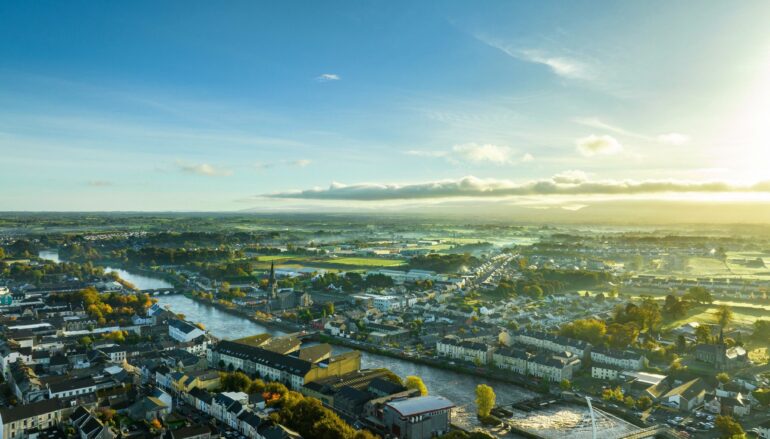 Ballina Chamber of Commerce comments on GeoDirectory Commercial Buildings recent report
The recently released GeoDirectory Commercial Buildings report for Q2 2023 has revealed concerning trends in commercial vacancy rates in Ireland. The national commercial vacancy rate has reached 14.1%, marking the highest level in a decade since GeoDirectory began tracking this data. However, what's even more disheartening is the specific situation in Ballina, where the commercial vacancy rate stands at 23.5%. This figure is up from 22.5% during the same period in 2022, reflecting a 1% increase over the past year.

These statistics indicate the challenges that the town of Ballina is currently facing in terms of its commercial property market. Addressing this issue and finding strategies to reduce vacancy rates must become a priority for local authorities as Ballina Chamber of Commerce and colleagues aims to ensure the economic vitality and attractiveness of the area to businesses and investors.
The report, which was prepared by EY Ireland, found that commercial vacancy rates increased in 20 out of 26 counties.

Ballina Chamber of Commerce were disappointed to read this data, given the opening of new businesses lately in what were once vacant or derelict buildings. These new businesses include:
Mam's Café, Cathedral Road, Ballina
Heyday Hostel, Lower Pearse St, Ballina
And Jimmy's Drive thru Coffee, Dillon Terrace, Ballina.
All businesses are reporting brisk trade and are experiencing additional business with the increase in tourists to the town over the summer period.
The Innovation Quarter Ballina which is due to open later this year in the former Military Barracks will add huge benefit to the investment portfolio in Ballina and will also attract new business to the region. The Mary Robinson Centre is also due to open soon.
The progress of the IDA Business Park in its planning process is indeed a promising development for Ballina. The creation of additional commercial space, especially for large businesses, is a significant step in addressing the town's economic needs.
Indeed, the IDA Business Park holds the potential to be a game-changer for Ballina's economic landscape. It can provide the town with the necessary infrastructure and space to attract and accommodate large businesses, which can, in turn, lead to increased economic activity, job creation, and overall prosperity.

The fact that Ballina Chamber has been receiving numerous inquiries about warehouse space over the past year highlights the demand for such facilities in the town. The availability of warehouse space is crucial for businesses engaged in logistics, distribution, and manufacturing. As Ballina continues to grow and evolve, having access to suitable warehouse space can play a vital role in attracting businesses to the area and supporting their operations.

The Chamber's role as a first point of contact for businesses is essential in facilitating these inquiries and helping businesses find the resources they need to establish and thrive in Ballina. As the IDA Business Park progresses and the local economy develops, it will be interesting to see how these initiatives shape the town's business environment and contribute to its long-term sustainability and growth.
Several buildings which are included in the commercial vacancy report are under the control of other parties and these include the Old Garda Station on Walsh St, Ballina Mineral Water Company, Pearse St and the former Convent of Mercy buildings.

Ballina Chamber is actively advocating for action to be taken on these properties within the next 12 months. Their goal is to see these valuable town centre commercial properties put to use and occupied, which would have several potential benefits. 
Recent reports on the Tesco development with a commencement date yet to be announced illustrates that additional projects are in the pipeline, albeit further information on this project has yet to be clarified, with Ballina Chamber receiving no response to a request for comment from Tesco Ireland

Since the historic visit of President Biden to the town there has been so much positivity about Ballina, both at home and from further afield. Comments and compliments about the wonderful presentation and great people of the town have been flooding in.
Ballina Chamber is encouraging the community to capitalise on this supportive atmosphere and is calling for everyone to do their bit in backing the reduction in vacancy rates so that new and existing businesses can take up those spaces and units that are lying idle in Ballina town centre.

During the summer months the Chamber identified valuable town centre retail space units that became vacant overnight and opened a series of pop-up shops to occupy these spaces for the busy summer months.
With its high-profile location facing onto Bridge St, the units clustered together gave suppliers a unique opportunity to showcase their products in a commercial retail setting, allowing these businesses to have a physical presence and to offer customers more choice of product.

Oriana B, the furniture and homeware store, took up residence in one of the units in Ballina during July and August, creating a fabulous emporium of delights.
Katharine Deas, founder of Oriana B said: "Oriana B is thrilled to have been given this opportunity by Ballina Chamber of Commerce and their president, Tracey Glacken, as the town celebrates its tercentenary of being established on the banks of the beautiful River Moy."

As a result of this project, three of the four empty units have now become occupied by new tenants in the last month and Ballina Chamber are delighted to have supported this initiative which has been a huge success, ensuring vacant units are reused and repurposed in the commercial chain of enterprise.

Chamber President Tracey Glacken expressed gratitude to the landlord of the vacant units for permitting them to run this project. She acknowledged that while the Chamber may have limitations in its ability to directly reduce the current vacancy rate, which stands at 23.5%, they are committed to preventing that figure from increasing further.
Tracey commented: "To support the ongoing development and growth of our town, we have set our sights on addressing vacant and derelict properties, particularly those of commercial significance. Our objective is to rejuvenate these spaces, transforming them into vibrant assets for our community.
One exciting initiative we have in mind is the revival of a Christmas pop-up market. By repurposing these vacant properties, we hope to offer local entrepreneurs and artisans a platform to showcase their products during the holiday season. This not only breathes new life into unused spaces but also fosters economic activity and community engagement."

Mags Downey Martin, Chamber CEO, emphasized the Chamber's ongoing commitment to promoting and safeguarding the interests of its members and the town. She expressed concern about the existing vacancy rate, recognizing that it is detrimental to the town's well-being.
Highlighting the importance of a vibrant busy town centre, Mags stated;  "A busy town centre not only instils confidence among local residents but also attracts potential investors.
The current vacancy rate may not accurately represent the potential for improvement, as a significant portion (40%) of the vacant buildings are beyond the control or influence of the Chamber."

About the Chamber
The Ballina Chamber of Commerce serves as a dedicated lobbying and support group for businesses operating in the Ballina region. We are committed to bolstering the local business community by providing a range of valuable services, including networking opportunities, expert business advice, effective promotion of businesses, and ongoing support.
If you're interested in learning more about our organization and exploring the benefits of membership, please don't hesitate to get in touch with us.
You can reach out to us via email at [email protected] or give us a call at 096 72800. We are eager to assist you and address any inquiries you may have regarding our services and membership options.
Our upcoming event, the Budget 2024 Briefing Breakfast, will take place at the Twin Trees Hotel on Wednesday, October 11th, from 7:30 AM to 9:30 AM. Please note that booking is essential for this event at
Budget 2024 Briefing Breakfast



Related Articles
Read more from Blogs