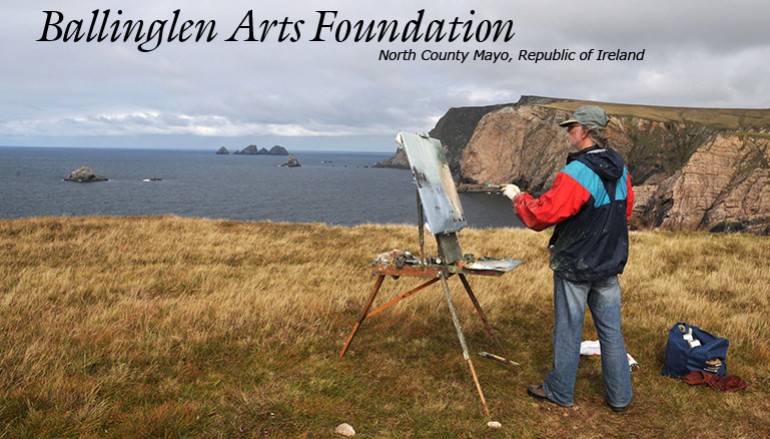 ​The Ballinglen Arts Foundation Ireland
The Ballinglen Arts Foundation
An Irish non-profit organisation located in the village of Ballycastle on the sea coast of North County Mayo in the Republic of Ireland.
Its programmes are designed to support serious artists making important work in ideal, inspiring conditions.
In addition, Ballinglen interacts with the general public through art exhibitions, school classes, print making classes, artists' studio visits, gallery tours and the use of the art library.
The Master Classes Program
Ballinglen is designed for experienced artists who wish to study with internationally recognised artists/professors in the uniquely beautiful and powerful landscape of Northwest Mayo, Ireland.
Working off the success of this Fellowship Program, the Foundation has expanded its mission into a teaching program offering Master Classes taught by professors and recognised professional artists.
2017 Classes & Workshops
Encaustic Painting Workshop: Joanna Kidney 22nd – 30th April 2017
Go With The Flow: Watercolor Monotype: Jane Goldman 4th – 12th May 2017
Landscape Painting Workshop: Andrew Wykes 23rd – 31st May 2017
(Full, taking names for cancellations)
From Patterns in the Landscape to Paper: Michael Olszewski 10th – 18th July 2017
Abstraction Workshop: Nuala Clarke 1st – 9th September 2017
The Ballinglen Arts Foundation Ltd,
Main Street,
​          Ballycastle,
Co. Mayo,
​             Ireland.
F26 X5N3
Telephone: +353 (0) 96 43184
Related Articles
Read more from Uncategorised