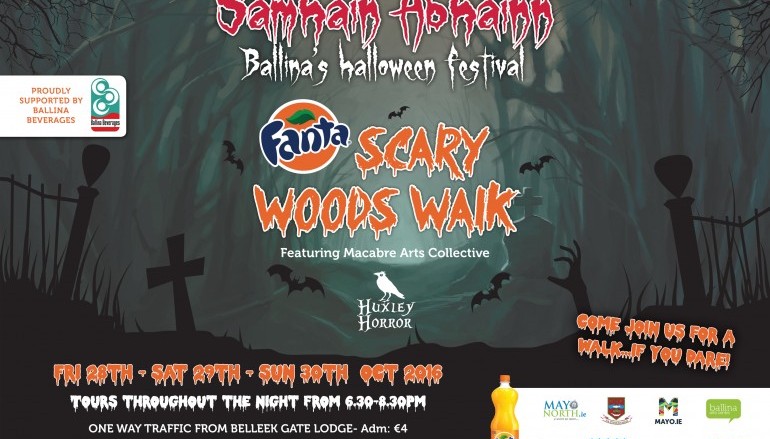 Be scared at this years Samhain Abhainn Festival in Ballina
Samhain Abhainn – Ballina's Halloween Festival returns for another week long feast of spooky sceals, Halloween Hoots, creepy crafts and Scary woods!
Running from Friday 28th October to Thursday 3rd November, the festival flagship event-the Fanta Scary Woods Walks in Belleek Woods, kicks off Friday 28th October from 6.30pm till 8.30pm approximately and will continue again on the Saturday and Sunday nights. (Admission €4per person).
This year the Scary Woods Walk ghosts are delighted to be welcoming Huxley Horror,  arts collective whose macabre, immersive characters and installations have featured at such festivals as Electric Picnic and Glastonbury.
Creepy Crafts and Halloween Horrors Disco
Other events throughout the week include the Creepy Crafts workshop at the Ballina Arts Centre on Saturday morning 29th Oct, at 10am till 12noon and again at 12.30 to 2.30pm, Spaces are limited and can be booked with Ballina Arts Centre 096 73593, Admin €10 per child.
Jackie Clarke Collection Spooky Sceals returns for a second year Tuesday and Wednesday 1st, 2nd November, book your free place by contacting  096 73508. Jackie Clarke Collection is also hosting a 'Halloween Hoot' Live Owl display on Thursday 2nd Nov at 2pm, featuring Jason Deasy of Mount Falcon Estate.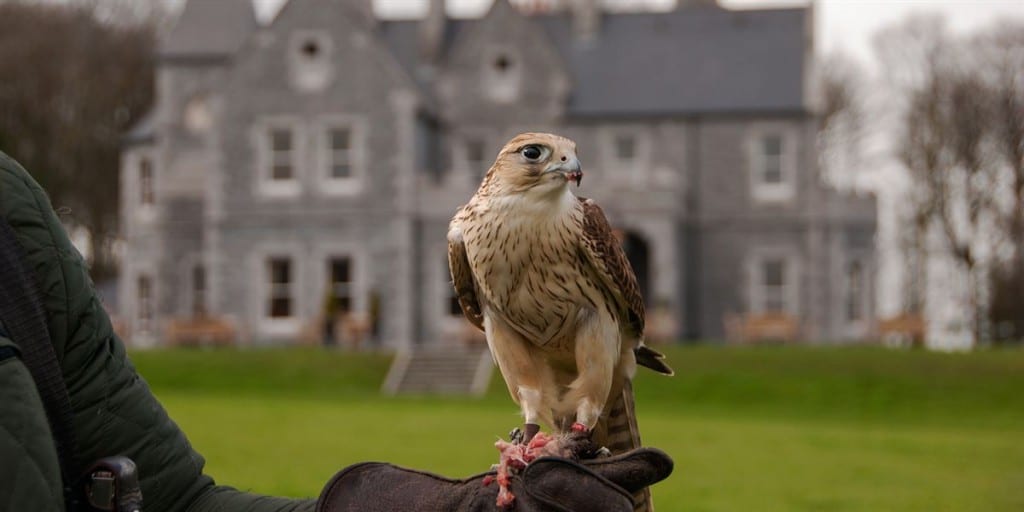 A good old fashioned Halloween Horrors Kids fancy dress disco hosted by Kilmoremoy LGFC in Ballina Stephenites Clubhouse at 4pm – 5.30pm, admission €2 on Wednesday 2nd November.
Week long events during midterm break
Other events throughout the week includes Trick or Treat bingo, usual Sunday night bingo at 8.30pm in Ballina Stephenites but with extra spooky prizes on the night, and traditional folk concert at Ballina Arts Centre on Friday 28th featuring the musical talents of Dermot Byrne, Trevor Hutchinson, Steve Cooney in Concert.
The Samhain Abhainn festival is run by Ballina Stephenites and is proudly sponsored by Ballina Beverages and supported by Ballina Chamber of Commerce, Failte Ireland and MayoNorth.ie.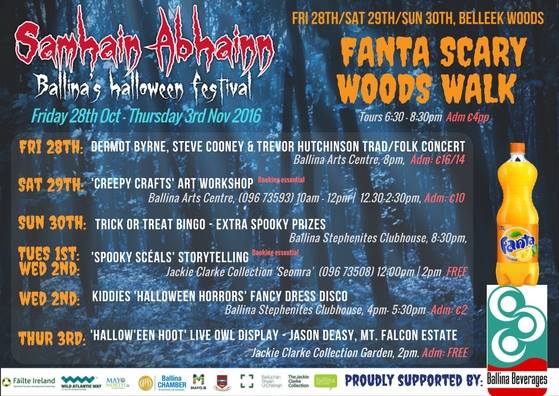 Further information on any of the events please contact Ballina Tourist Office 096 72800
Related Articles
Read more from Uncategorised