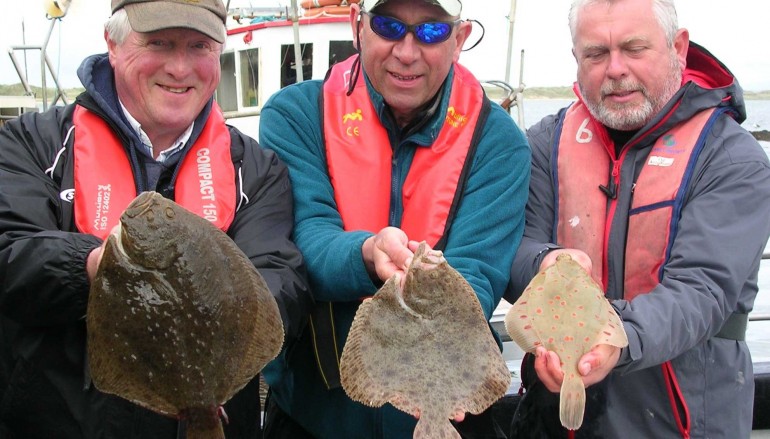 Angling Update – Week Ending 22nd May 2016
Salmon & Sea Trout Angling
River Moy
Anglers experienced another difficult week on the Moy with angling improving over the weekend. Only a few fish were reported during the early part of the week but following a rise in water level on Friday night conditions improved considerably on Sunday resulting in a number of nice fish being caught.
On Armstrong's, Tom Lawler, Athlone, had a fine 12 lbs. salmon on worm, while Australian visitor, Colm Trusker, was successful on Cloongee landing a nine pounder also on worm. Also on Cloongee, Clément Polard, France, enjoyed a very good week's fishing with a total of 7 salmon (3 released) between 7 lbs. and 11 lbs. all on bubble & fly.
Reg Bishop, UK, Patrice Lacombe, France, and Kevin Agnew, Northern Ireland, were amongst the successful anglers on the East Mayo water. They all had fish between 7 lbs. and 10 lbs. on worm.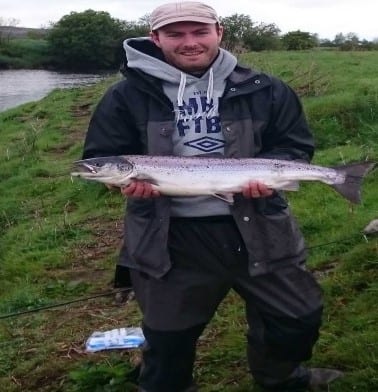 Clément Polard with one of his 7 Cloongee fish
Moy Estuary
Despite difficult conditions throughout the week, Judd Ruane reported some good results for his clients fishing for sea trout in the Moy Estuary. Adrian Logue from Northern Ireland, did particularly well boating a number of nice sea trout including a fine fish over 40cm.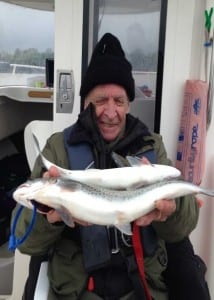 A happy Adrian Logue with two fine Moy Estuary sea trout
To book a day's sea trout fishing visit www.fishingireland.ie or contact Judd Ruane on +353 (0)87 6736969.
Lough Arrow
Anglers on Lough Arrow reported excellent fishing over the past week. Dry flies and the dap worked best and many good sized brown trout were caught.
Ricky Fabozzi & Jim Henry, Sligo had 30 trout over 4 days fishing averaging 1.25 lbs., best at 2.5 lbs. Golden Olive Bumble and Sooty Dabblers worked best for Jim and Ricky who released most of their fish. Elsewhere, local angler, Yvonne Frazer caught a lovely 2.8 lbs. Lough Arrow beauty on the dap.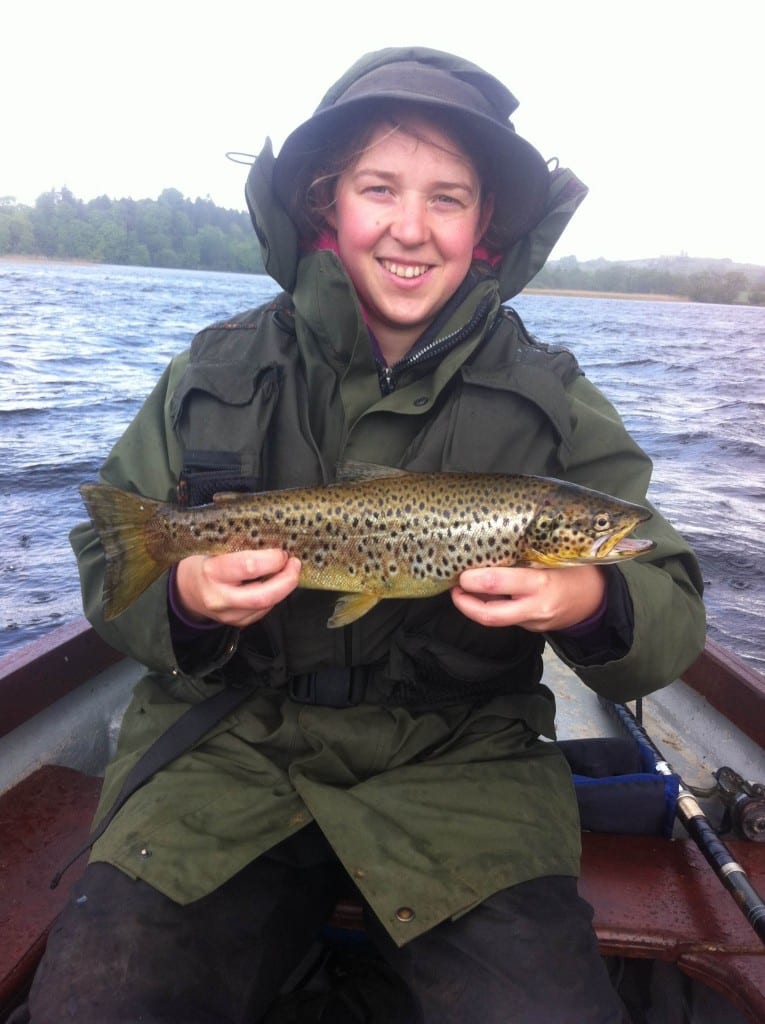 Yvonne Frazer with a fine Lough Arrow Trout
On Sunday, Lough Arrow Fish Preservation Association & District Angling Club held its annual Mayfly Competition. Twenty-five anglers made it to the weigh-in and a total of 61 trout were recorded. The competition was fished on the basis of the heaviest fish over 13″. Lough Arrow Fish Preservation Association & District Angling Club would like to thank the McDonagh Family (Bow & Arrow Bar & Lounge) for hosting the weigh-in, various sponsors including Terry Mann Fishing Tackle, Southside Angling, Lough Key Forrest Park Experience (Floriane Frazer), Simon Steel, Ronnie Chisim, Karl Murrin, Brian Farrell for taking photographs and all competitors.
The winner of the Des McDonagh Memorial Perpetual Cup was Paul Maguire with a fish weighing 3.482 lbs. further results were as follows:
2nd Ken Murray 3.440 lbs, 3rd Peter Roche 2.666 lbs, 4th J.J. McDermottroe 2.594 lbs, 5th Finian Dodd 2.582 lbs.
The juvenile section was won by Alex Smith (8 years) with a fish weighing 1.102 lbs. and in a close second was Oliver Wall (10years) with a fish weighing 0.924 lbs. For both young anglers it was their first ever trout on Lough Arrow! Well done lads!  The club's next competition will be held on Sunday 21st August.
Lough Gill
Sligo Anglers Association fished the Lough Gill Festival Cup Trout Competition over the weekend. A total of 23 anglers took part in the event recording 13 trout for weigh-in. The competition was won by Ricky Fabozzi and Jim Henry, Sligo with a cracking 4 lbs. trout caught by Ricky on a dry Yellow-Black Wulff.
Killala Bay
On Sunday 22nd May a party of anglers left Killala Harbour at 9.00am and headed out into Killala Bay. The weather was fine with a light south westerly breeze. Light showers were expected so the skipper, Donal Kennedy, headed out to one of his favourite spots to try and catch some flat fish.
Donal came well prepared with plenty of fresh frozen mackerel to use as bait. The reason the skipper decided to try for flats was because the weather was to change later in the day with the wind picking up and changing direction which would have made it very difficult to fish that area. The anglers were not disappointed over Donal's decision catching dab, plaice and some nice turbot. Even Donal himself scored on the day catching a fine turbot.
As the wind changed so did the tactics. Donal found more sheltered waters on the west side of the bay resulting in a couple of cod along with pollack, best up to 6 lbs. Pouting, coalfish and gurnard were also landed and rounded off a very enjoyable day for everyone!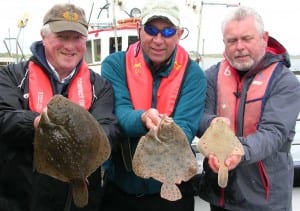 Turbot and plaice were amongst the catch on Killala Bay
To book a day's fishing in Killala Bay contact Donal Kennedy on +353 (0)086 8174509 or visit www.dkennedyangling.net.
Western River Basin District – IFI Ballina – Angling report – w/e 22nd May 2016
By Markus Müller, Fisheries Information Manager
[email protected]

Related Articles
Read more from Blogs