Ballina Chamber launches Shop Local Campaign
Shift the balance '

in favour of 'the home team'

 by switching to quality Irish products in your local shops in Ballina

.
Ballina Chamber of Commerce has made an appeal to hard pressed consumers to make an effort and 'shop for Ballina' in your local town and region where possible to ensure that local jobs are retained.  While acknowledging the reduced financial circumstances of all our citizens and the necessity to cut back on spending this year, it is encouraged shoppers to 'BUY IRISH' where and when they can.
Hugh Rouse, President of Ballina Chamber of  Commerce states, "With Irish retailers and suppliers struggling to survive, it is vital that we support our own local enterprises during these difficult times. By buying Irish we secure Irish jobs, by buying locally we keep our local retailers open, we keep jobs in the community, those businesses that support our local sporting clubs and groups are the backbone of our community."
Hugh also stated "Buying from locally owned businesses keeps money circulating closer to where you spend. Local shops use local services, accountants, legal services, and suppliers as well as employing local people and they also carry a higher percentage of locally produced goods."
Every €10 spent locally on Irish products generates €24 of benefit to the local community.
45 cents of every Euro spent is reinvested locally in comparison to only 15cents for the foreign multiples.
According to ISME Chief Executive, (Irish Small and Medium Enterprises Association) , Mark Fielding states "Each time we spend a euro, we would do well to weigh the full value of our choices, not solely to ourselves immediately, but for the future we want for our children in our own towns and villages".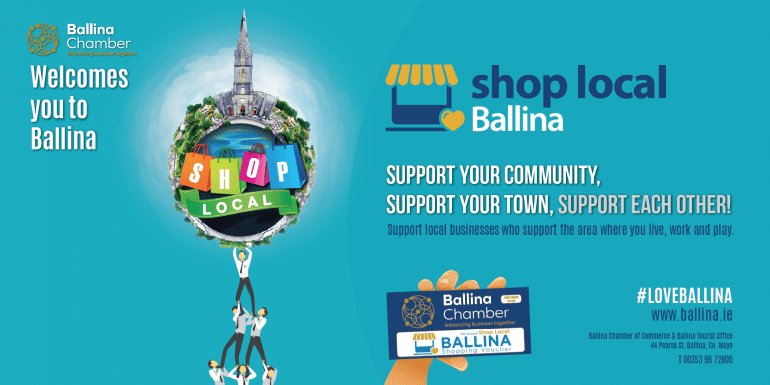 You can support your local business in Ballina, but purchasing Ballina Chamber of Commerce, Shop Local Vouchers available to purchase in Ballina Tourist Office, Pearse St, Ballina, Co Mayo Further information 096 72800
Related Articles
Read more from Blogs