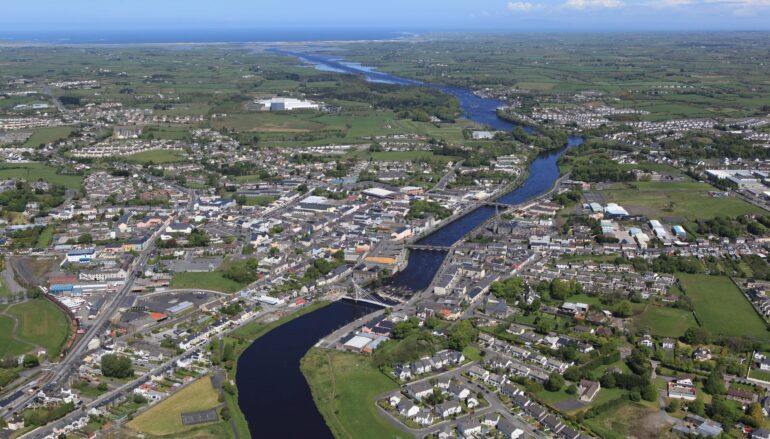 Ballina Chamber of Commerce submission to Ballina Town & Environs LAP 2021-2027
Mayo County Council is preparing a Local Area Plan for the Ballina Town & Environs area that will set out the framework to guide future development in the town an environs up to 2027 and beyond.
The Pre Draft Issues Paper consultation phase has commenced and will run for an 6-week period from the 31st March 2021 to 12th May 2021.
What is a Local Area Plan?
A Local Area Plan (LAP) is a statutory land-use plan for any urban area in need of economic, physical and social renewal or likely to be subject to large scale redevelopment. The plan is subordinate to, and must be consistent with the Development Plan.
Here is Ballina Chamber of Commerce submission to Ballina Town & its Environs LAP 2021-2027:
Ballina is a town blessed with a richness of natural resources and beautiful landscapes, but also challenged by lesser economic opportunity, high unemployment and social disadvantage. Like others, Ballina has had to face the harsh reality of the impact of Covid-19 restrictions – recent development momentum has stalled, and the significant progress in terms of tourism development and promotion has been disrupted. There is real fear about what lies ahead for the economic future of our community.
However, in that change lies opportunity.
The pause in our traditional economic, community and social patterns has allowed the green shoots of change to thrive in Ballina, making space for an already emerging grass roots momentum that has been working quietly, inclusively and effectively, with commitment, driven by a conviction that we, as a community, can work together to make our town greener and a better place to live, work and enjoy.
These initiatives reach the full spectrum of our community; from businesses to sporting groups, everybody has joined the call to give a little bit more to their town . It has become abundantly clear that in order to succeed and achieve the best outcomes for our community and our future, the town must work harder to unify, combining its strengths across the commercial, public, community and voluntary sectors.
There is a unanimous agreement that the people of Ballina want to enhance its presentation, cleanliness and biodiversity, lessen our burden on the economy and improve our quality of life. Ballina has committed to working toward becoming Ireland's Greenest Town by 2025 of which Ballina Chamber is very much supportive of. In doing so, we will also reach out and involve our neighbours in Ballina's wider hinterland. We recognise that we are inter-dependent, and that the opportunities afforded Ballina must also benefit our neighbours.
Achieving this means being honest with ourselves; looking back and learning from the past, recognising the achievements of the present, and looking towards the future with optimism and ambition, and a generosity of spirit that allows for constructive conversations and shared growth, both personal and professional. With Ballina 2023 in the planning stages, an exciting time allowing the town to celebrate its much longer existance, we request Mayo County Council, Balina Municipal District and elected representatives to support the year long celebration and support the vision and legacy plans for the town, that will develop as a consequence of 2023.
Ballina community is at at stage where it is taking control of its destiny and is facing its challenges through active citizenship at all ages. It has strived to achieve an increased presence on decision-making forums with the local authority, ensuring our grass roots and leadership are aligned in their actions and vision.
We are working together in new ways to give all of our community a voice and a role in shaping the future we want to see for our town. It is early in the journey, and many of us are learning as we go, but enthusiasm, optimism and work-rate levels are high.
Ballina is rising and like many of the submissions into the LAP, we all want to contribute, be apart of this exciting future for our town and region.  We request that for the next six years, as part of the LAP 2021-2027 the Municipal council in particular, be ambitions with their plans, be accountable to its rate payers, be supportive of new enterprises, work with the businesses in supporting them through this most difficult times.  Without an ambitious, hard working municipal council, the town will continue to remain stagnant, there will be no change in where we are today.  Ballina Chamber wants a bold, progressive and forwarding thinking local authority who will listen to the ideas of the citizens of Ballina; think outside the box, and remove the barriers of what we think we can't do, but consider what Ballina Town and its environs can do.        
We request that Mayo County Council and Ballina Municipal District continue to support the Ballina Tourist Office and Ballina Chamber of Commerce, ensuring the office remains operational, so that it can continue to promote and provide invaluable information to visitors and businesses as well as provide two of only a few public toilets in the town.
Supporting Mayo North Tourism Promotions Office and Ballina Salmon Festival Office, the absence of a tourist office in Ballina-Salmon Capital of Ireland, would be catastrophic and counterproductive to the existing ten years work already committed be Ballina Chamber and its strategic alliances and collaborative partners.
To read the full submission please click on link below:
Please see our attached submission for Ballina Town and Environs LAP 202-2027
Related Articles
Read more from Blogs