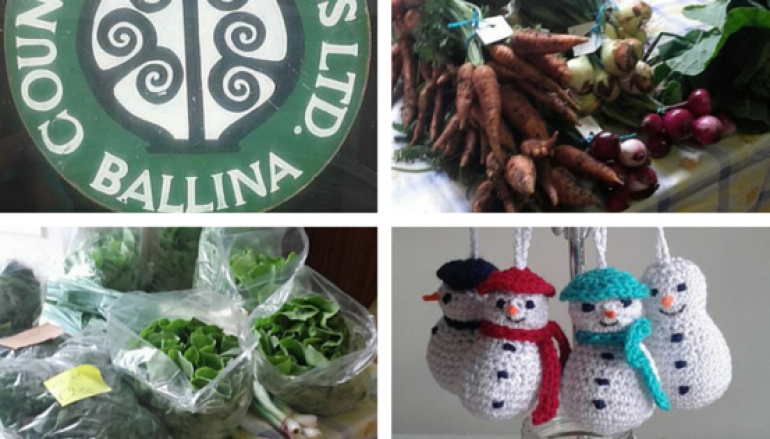 Ballina Country Market celebrates 50 years
Country Markets – supporting Your Local Community
Country Markets Ltd was set up in 1947 as part of the Co-operative movement with the first market
held in Fethard, Co. Tipperary.  Each member is a shareholder.
The idea grew from strength to strength and within a short time was nationwide.
The purpose of the market was to give women an opportunity to sell their surplus produce thus
giving them a little 'Pin Money' for themselves.  Everything sold at Country Markets Ltd must be
made, grown or baked by the producers.   Head office is in Dublin where the Board of Management,
National chairman,  Secretary and Treasurer meet on a regular basis.
Ballina Branch celebrates 50 Years of the Country Markets
Ballina Branch of Country Markets opened on Friday 22nd July 1966 in Convent Terrace at
Mrs Clarke's shop and although it has moved around to a few different places since then, its popularity
never waned.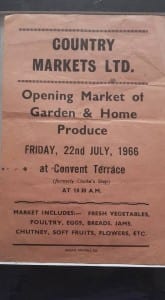 One of the original posters from 1966 advertising the very first market.
On Wednesday 20th July Ballina Country Market will celebrate 50 years in existence, with a very special gathering at Ballina town Library, Pearse Street from 4pm to 6pm, with talks on the history of the market and how it has evolved throughout the decades. All are welcome to come along, and meet those involved in the Country Markets as well as encourage those who would like to join and become involved.
Ballina Country Markets operates out of the Ballina Community Centre  on Teeling St, where you can purchase the best of home produce, 'Straight from our kitchens and gardens to your table' from 9.30-12  o'clock every Friday morning.
With produce such as bread, baking and pastries, home grown vegetables, fruit and flowers, presences, eggs and honey, beautiful crafts and gifts.
And you get to meet the person who has produced and grown your unique purchase.
Further details at Ballina Country Market 
Related Articles
Read more from Uncategorised