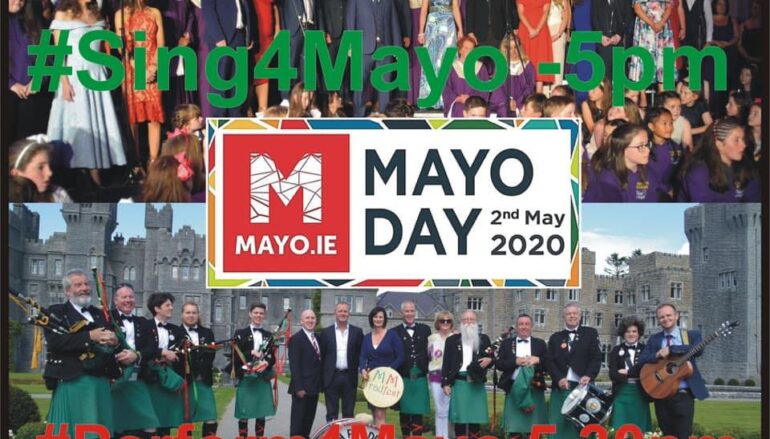 Mayo County Council shortlisted in 5 cateogories in the Excellence in Local Government Awards 2020
Chambers Ireland today revealed the shortlist for the Excellence in Local Government Awards 2020.
In its 17th year, the Awards features a total of 86 projects from Local Authorities shortlisted over 16 categories.
The Excellence in Local Government Awards are held annually in conjunction with the Department of Housing, Local Government and Heritage.
Congratulating the Local Authorities shortlisted, Mr. Darragh O'Brien T.D., Minister for Housing, Local Government and Heritage stated,
"My Department is delighted to support the Chambers Ireland Excellence in Local Government Awards again this year. The vital role played by local government in our communities has been very much to the fore in the past year, especially as the country responded to the COVID-19 emergency. It is imperative that the effort, commitment, innovation and agility of local authorities and their staff continues to be acknowledged through these formal awards.
The projects that the local authorities have undertaken have helped maintain a sense of community, establish connections among our citizens and provide essential supports to the public at a crucial time. I wish to congratulate everyone for their hard work, commitment and resilience throughout the year, which is evident in all the applications submitted.
I also wish to acknowledge the efforts made by Chambers Ireland to continue with these prestigious and important awards in very different times. The number and high calibre of applications submitted by local authorities, along with the organisation of Chambers Ireland, is most impressive. While we are not able to celebrate the entries and winners this year as we might have done in previous years, I would nonetheless heartily congratulate everyone involved on their achievements."
Commenting on the announcement of the shortlist, Ian Talbot, Chief Executive of Chambers Ireland said,
"With over 80 projects in the shortlist revealed today for this year's Excellence in Local Government Awards, it's clear that the innovation and hard work of our Local Authorities has continued unabated across the country, despite the more challenging circumstances that we're all facing.
Even with the disruption endured by so many in 2020, Local Authorities continue to deliver, achieve more and strive for even greater things for their communities. It's been inspiring to receive so many wide-ranging applicant projects for this year's Awards, which underline the efforts that people across our local communities have continued to put in despite living through such uncertain times for us all.
I would like to congratulate each of the shortlisted Local Authorities revealed today. We continue to hold our Awards as a celebration of the enthusiasm, commitment and overall excellence to be found throughout the work being done at Local Government level nationwide. The very best of luck to all shortlisted today."
Gerry Luskin, Ballina Chamber President added,
"The Excellence in Local Government Awards is an acknowledgement of all the hard work our Local Authorities contributes to in our communities, and we especially want to congratulate Mayo County Council for being shortlisted in 5 of the 16 categories.
It is especially comforting to see the awards being hosted, in whatever format allowed in November, in this the most difficult of years. Ballina Chamber is especially happy to learn that Mayo County Councils project – A Sustainable Agricultural Strategy for Mayo has been shortlisted in the Sustainable Environment category and of course the fantastic, now annual Mayo Day event albeit a virtual event this year, also be recognised in the Festival of the Year group.
Mayo County Council has a great reputation for doing well in the annual awards. We will of course be rooting for Mayo on the 26th November and look forward to many more positive projects that we know are in the pipeline for Ballina and the county in 2021."
The Excellence in Local Government Award winners will be announced at the 17th annual ceremony on 26th November. Awards will be presented for excellence in 16 different categories and one Local Authority will be awarded the overall award and named Local Authority of the Year 2020.–
Complete Shortlist for the Excellence in Local Government Awards 2020
Supporting Sustainable Communities
Clare County Council – The Ennistymon Multi-Service Innovation Centre
Cork County Council – Community Contract Initiative with Kinsale Tidy Towns
Donegal County Council – Donegal Men's Shed Showcase 2019
Fingal County Council – Shop Local Website
Longford County Council – Putting a heart back into Edgeworthstown
Monaghan County Council – Clones Town Team
Best Practice in Community Engagement
Clare County Council – Ballyallia Lake Amenity Enhancement Plan
Cork City Council – Social Distancing Park Rangers Programme – (Covid – 19 Response)
Meath County Council – Women in Local Government
Monaghan County Council – Council & Community Collaboration in Scotshouse Village
Sligo County Council – Sligo East City, Cranmore and Environs Mentor Programme
Wexford County Council – Wexford County Council Map Centric Covid Call Centre
Health & Wellbeing
Cork County Council – Cork County Council Community Wellbeing Initiative
Limerick City & County Council – Boxing Clever
Mayo County Council – Making Positive Choices
Meath County Council – Sustainable & Healthy Eating Initiative
Monaghan County Council – An Understanding of Romantic Relationships in young people in Co.Monaghan
Supporting Tourism
Donegal County Council – Donegal Tourism Virtual Reality Wild Atlantic Way Experiences
Longford County Council – Royal Canal Greenway – Longford Section
Meath County Council – Kells Courthouse – Tourism and Cultural Hub
Monaghan County Council – Sliabh Beagh Masterplan
Tipperary County Council – Suir Blueway Tipperary
Wicklow County Council – Wicklow's Historic Gaol – Gates of Hell
Promoting Economic Development
Cork City Council – 'Re-imagining the City' – Pedestrianizing Cork City Streets
Cork County Council – Cork County Business & Tourism Awards
Donegal County Council – Donegal Remote Working Strategy & Public Consultation
Limerick City and County Council – Limerick.ie
Wicklow County Council – Wicklow Naturally – Wicklow's Food and Beverage Network
Local Authority Innovation
Cork County Council – Housing Infrastructure Services Company
Limerick City and County Council – Project 18 – Cora PPM
Mayo County Council – Weather Impact REgister App – WIRE
Meath County Council – MCC Connect
Tipperary County Council – HYDRA Command Development Suite at Clonmel Fire Training Centre
Wicklow County Council – Face Mask Loops
Sustainable Environment
Cork City Council – Cork City Council Goes Electric
Cork County Council – Harper's Island Wetlands
Fingal County Council – Fingal 'Play it Again' Musical Instruments Project
Longford County Council – County Longford Regeneration Initiative
Mayo County Council – A Sustainable Agricultural Strategy for Mayo
Wicklow County Council – Relove Fashion Competition
Best Library Service
Clare County Council – Connections: Stories by Syrian Families in County Clare
Cork County Council – Full STEAM Ahead: Delivering Digital Opportunities to Rural Communities
Kildare County Council – Kildare Library Service's STEAM programme
Meath County Council – Traveller Genealogy
Wicklow County Council – Wicklow County Council Library Service Literacy Supports – Home Schooling
Sustaining the Arts
Cork County Council – Cork Young Filmmakers
Fingal County Council – Estuary
Limerick City and County Council – Bingo Wings
Monaghan County Council – The Patrick Kavanagh Exhibition & Multipurpose Performance Venue
Offaly County Council – Music Generation Offaly/Westmeath
Age Friendly Initiative
Cork City Council – Cork City Age Friendly Initiative
Fingal County Council – Age Friendly Skerries/Fingal – Staying Connected Nursing Home Initiative
Kilkenny County Council – Thomastown Age Friendly Town Plan
Limerick City and County Council – Putting Your House in Order
Mayo County Council – Through the Ages
Meath County Council – Athboy walkability project and inclusive town developments
Festival of the Year
Clare County Council – Clare Food & Drink Fleadh
Cork City Council – SeaFest 2019 – Ireland's National Maritime Festival
Cork County Council – Leap Scarecrow Festival
Limerick City and County Council – Virtual Riverfest Limerick 2020
Mayo County Council – Virtual Mayo Day 2020
Outstanding initiative through the Municipal Districts
Clare County Council – Ennis Town Centre Mobility Plan
Cork County Council – Cork County Council Project ACT – Activating County Towns
Limerick City and County Council – PLACE EE (Platforms for Ageing Community Engagement- Exchange and Enterprise)
Longford County Council – Embracing Remote Working Technology to Support Community and Voluntary Groups
Monaghan County Council – Recreational Developments at Rossmore Forest Park
Enhancing the Urban Environment
Cavan County Council- Cavan Town Hall Theatre
Fingal County Council – Fingal School Streets
Limerick City and County Council – Living Georgian City Programme
Longford County Council – Albert Reynolds Peace Park Accessibility and Urban Connectivity initiatives
Louth County Council – Clanbrassil Street & St Nicholas' Quarter Rejuvenation Scheme
Tipperary County Council – Glenconnor Hill Housing Development
Heritage and Built Environment
Clare County Council – Restoration and Refurbishment of The Turret Lodge
Cork County Council – West Cork Graveyards Project
Donegal County Council – Thatch Repair Grant Scheme
Fingal County Council – The Casino Model Railway Museum
Wicklow County Council – Our Wicklow Heritage – A Living Archive of Wicklow Communities
Disability Services Provision
Cork County Council – Castlemartyr Footbridge Scheme
Kildare County Council – Lilywhite Summer Home Olympics
Limerick City and County Council – Autism Awareness Training for Firefighters & First Responders
Wexford County Council – Min Ryan Park Communication Boards
Commemorations and Centenaries
Dún Laoghaire Rathdown – Divine Illumination – Oratory of the Sacred Heart
Kildare County Council – Commemoration of 1919 Kildare All-Ireland Senior Football Winning Team
Limerick City & County Council – Max Arthur Macauliffe Commemoration Ceremony
Longford County Council – Longford at War: Commemorating 1913 – 1923
Wicklow County Council – Wicklow Life: 1919-1923 War of Independence & Civil War years
Related Articles
Read more from News