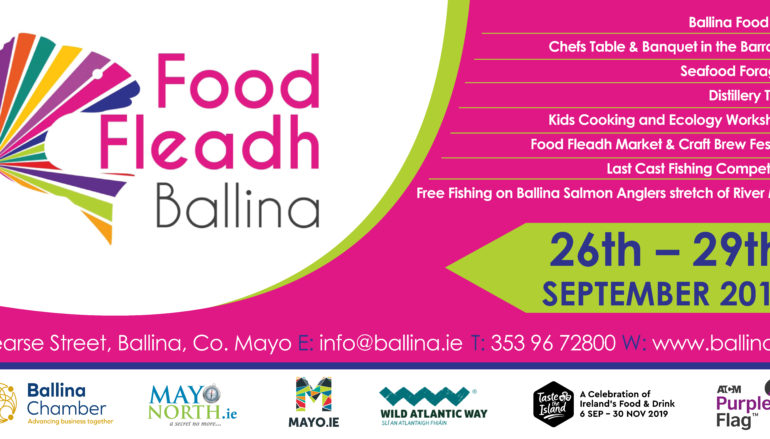 Food Fleadh Ballina brings a Taste the Island Experience to Co Mayo this September!
Food Fleadh Ballina, Co Mayo makes a welcome return for its sixth year this September 26th – 29th 2019.
With a four day holiday programme planned for the end of September, visitors can enjoy a weekend long family-friendly food festival in Ballina and North Mayo, showcasing the best of Mayo and the best of the West, coinciding with Failte Irelands recently launched Taste the Island Experience, a celebration of Ireland's food and drink culture, this autumn.
HIghlights so far…
Thursday 26th September
'Food Fleadh Ballina Dining Adventure-Courtyard Trilogy' Food trail hosted by three local Restaurants (Featuring Dillons Bar & Restaurant, Luskins Bistro and The Everest restaurant) Cost €25 pp; 3 Restaurants, 3 Course Menu. 3 Trail Routes. Details: Enjoy a night of fine foods, creative menus in 3 beautiful locations, centred around Dillons Courtyard, Ballina. Luskins Bistro & Wine Bar, Dillons Bar and Restaurant and The Everest Nepalese & Indian Restaurant join forces to present a culinary adventure; we plan the route and you enjoy the experience. Kicking off @ 6.30pm on Thursday evening, this unique festival event celebrates an Irish, Indian & Nepalese fusion of food. €25pp. **Booking essential on: 096 72800**

Also on Thursday 26th September
Connacht Distillery Discovery Tasting Tour,
Daily 12:30 and 15.30
Learn about the distilling process and local ingredients used to create the award winning spirits; €12.50pp (Receive a 10% Food Fleadh Discount)
**Pre booking is necessary**
For scheduled tours, private tours and large groups, please email at [email protected] to make arrangements or call +353 (0)96 74902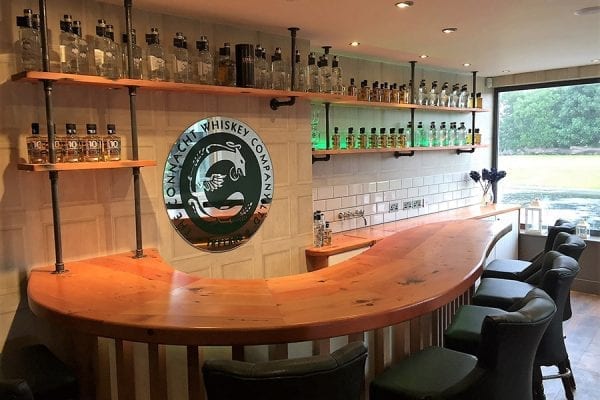 Friday 27th September 2019
Chefs Table Banquet in the Barracks
Food Fleadh Ballina will host a unique gathering of Chefs and local drink and food producers.
Commencing at 6.30pm, Join us as we share a meal in the unique setting of Ballina's Military Barracks, as Chefs from the town and county, unite to produce a specially composed menu of Mayo's finest wild atlantic seafood, meats from around the county, and desserts to test your senses..
Enjoy an aperitief on arrival and take your seat, enjoy the conversations across the table, meet the makers and growers and creators.
Ask questions and watch the food be prepared in front of you. Locally produced drinks will be served throughout the night. Chefs Table celebrates our local produce but also acts as a fundrasier for Food Fleadh Ballina.
Book your chair at the Chefs Table, Limited Seats available-€50 per ticket.
Our menu will be announced in the coming weeks.
Further details Contact Ballina Tourist Office 096 72800
***Pre booking is Necessary***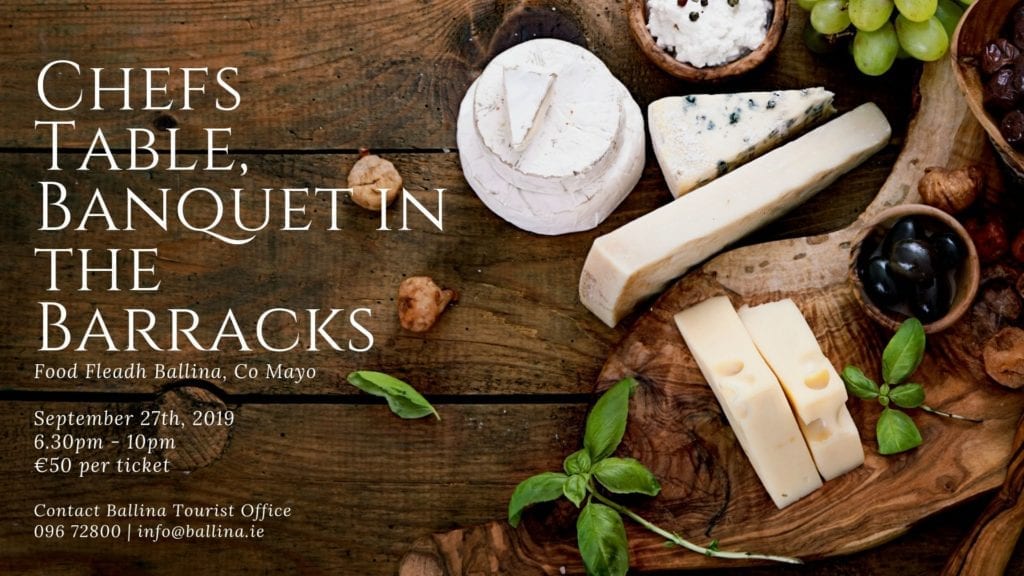 Connacht Distillery Discovery Tour 12.30pm 3.30pm (Receive a 10% Food Fleadh Discount) Contact Connacht Whiskey Distillery 096 74902 ***Pre booking is Necessary***
Clarke's Salmon Fish Shop Smokery Tour With over 70 Years of experience, the Clarke family have created a wonderful range of Smoked Salmon starting with their award winning Oak Smoked Irish Wild Salmon, using the original recipe handed down from Jackie Clarke. His sons have since expanded the range to include organics and flavoured salmon. Clarkes Salmon Fish Shop Invites you to a very special tour of its salmon smokery.
Rarely does this happen and Food Fleadh Ballina are delighted to offer you the opportunity to take a peek into where the magic of organic smoked salmon is created.
Food Fleadh Ballina also celebrates the unique Clarkes Salmon Smokery story, coinciding with Discover Irelands recently launched Taste the Island Experience, a celebration of Ireland's food and drink culture, this autumn.
Tour Time: 12 (Tour last 30 mins approx.)
Call Ballina Tourist office 096 72800, Tour is Free ***Pre booking is Necessary***
Saturday 29th September
Food Fleadh Ballina Market from 11am – 6pm
Food Fleadh's flagship event, the Food Fleadh Market, will take place on Saturday, 29th September, once again under the fabulous canopy cover in the historic Military Barracks, so whatever the weather, a great day is in store. Food Fleadh Ballina is known for its intimate, friendly atmosphere, great food and fun events for adults and children alike. Visitors can expect the best that Mayo has to offer with locally produced artisan foods, cookery demonstrations, cocktail tasting and live music on Ballina's Local Voices Stage.
With many food businesses in attendance including some of the fine dining businesses in the region such as Belleek castle, Ice House, Dillons Bar & Restaurant, Twin Trees Hotel, Mount Falcon, Luskin's Bistro and Wine Bar as well as local foragers, artisan producers and many craft stalls Yeast Meets West Craft Brew Fest returns for its third year to the Food Fleadh market, after a very succcessful appearance at this years National Heritage Day at Ballina Street Festival; Irelands largest heritage day event, introducing the best of local craft beers, lagers, and ciders to Ballina.
As well as a number of stalls offering a variety of food dishes and showcasing artisan produce, the event will feature a number of cookery demonstrations by local chefs, Cocktail Demos by local mixologists, featuring surprise guests for the Ready Steady Cook Off – watch this space! And Childrens cooking sessions for children.
Highlights include:
40 Food and Craft stalls using the best of local produce County Mayo has to offer
Ballina Farmers Market
Yeast Meets West Craft Brew Fest
Local Voices Stage featuring Stewy and the Vegans, In Tune and Centre Stage Vocal Academy
Kids Cooking Classes (Must be booked in advance) Live Cooking & Cocktail Demonstrations with local Chefs and Mixologists
Ready Steady Cook Off with well known local Celebs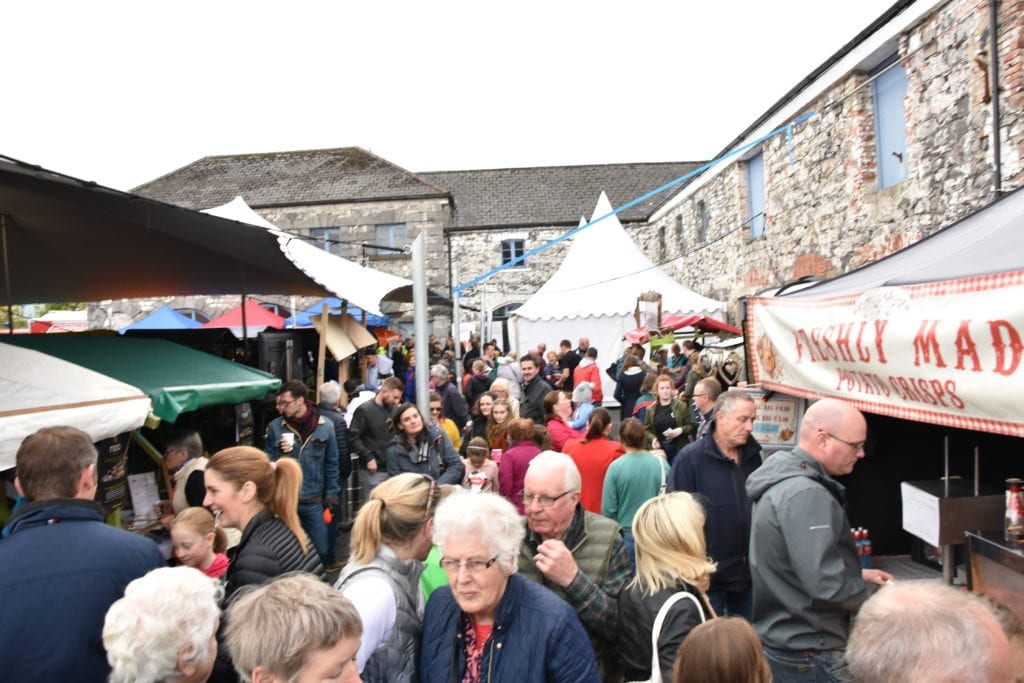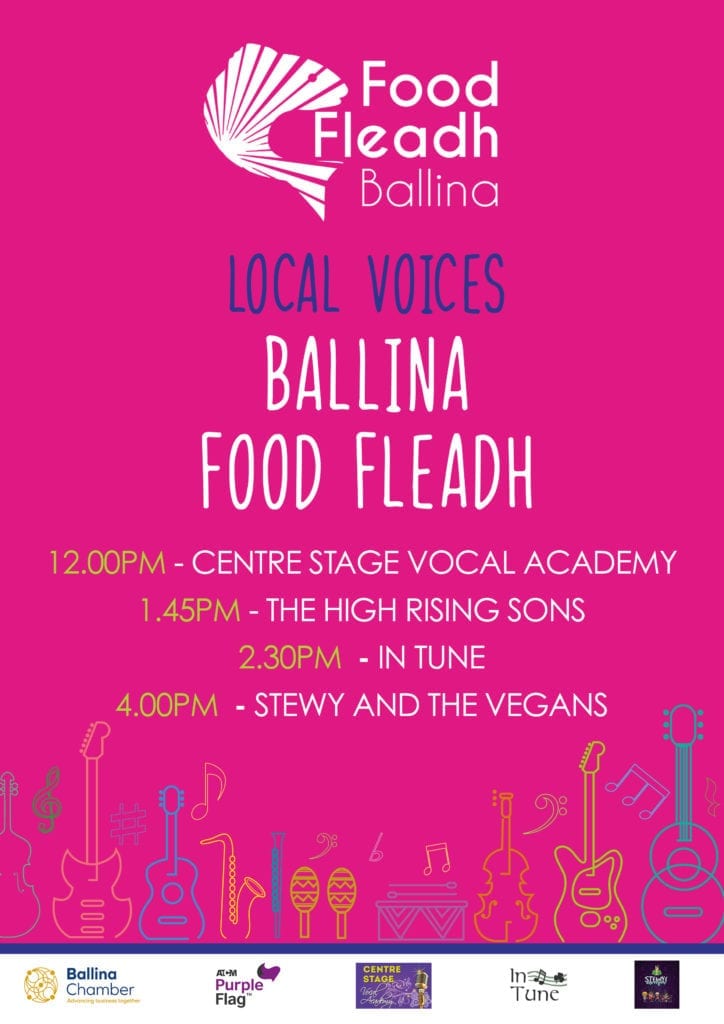 Seafood Foraging with Wild Atlantic Cultural Tours
Taste the Island Wild Atlantic Cultural Tours Seafood Foraging Trip and Killala historical tour with Denis Quinn (suitable for all ages)
Meet at Killala Round Tower Saturday @ 10.30am; Enjoy a short Historical walking Tour of Killala including a view of Killala Round Tower, (1170-1238). Located adjacent to the Round Tower, visit to St. Patrick's Cathedral, dating back to early Christian era.
Depart Killala, for the North Mayo Coastline and begin your foraging adventure!
Enjoy the beautiful surroundings of Killala Bay with a guided walk and forage of the coastline. Denis will take you over the vast strand to the isolated Bartra Island, walking through the crystal clear streams with tiny fish and shrimp darting for cover, keeping an eye out for sleeping seals or noisy herons among other wildlife.
Forage for cockles and mussels and samphire while learning a little about the local environment, history and archaeology from certified Failte Ireland approved local marine and countryside guide Denis Quinn. Not only does Denis have a great interest in the culture and heritage of the unspoilt Mayo North environment, he also has a BA (Hons) in Heritage Studies.
Return to Food Fleadh Market in Ballina and meet with our Food Fleadh Chef who will clean and cook what you have caught, giving you one to one cooking demonstrations with your foraged seafood. Enjoy a complimentary drink from our craft brew stall and enjoy the evening session of live music in the Military Barracks Local Vouces Stage.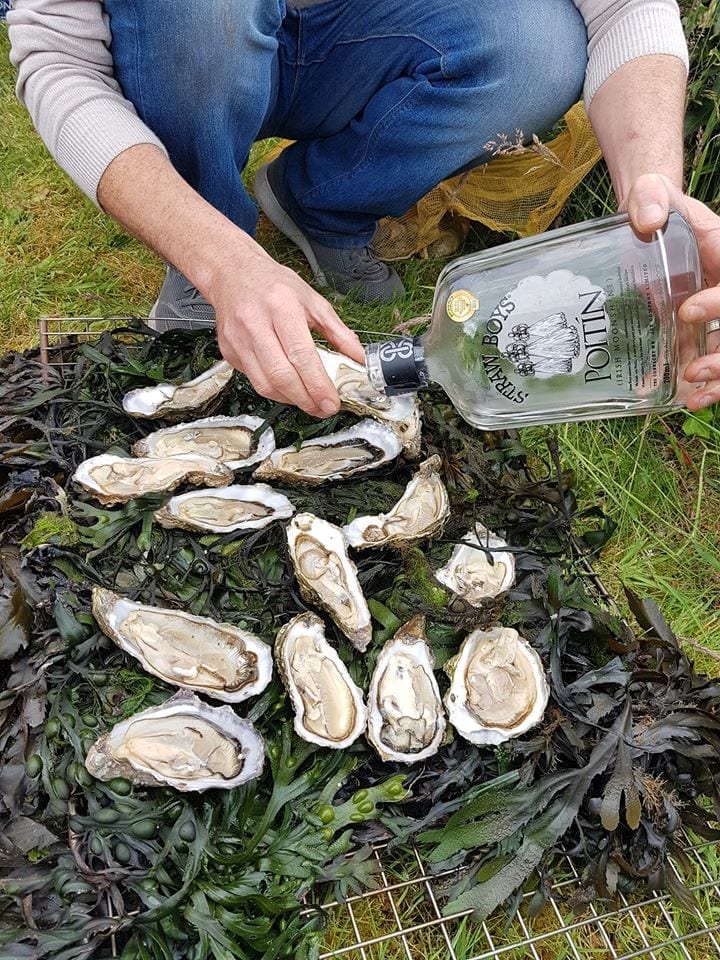 Lasting three hours (approx) this venture into the North Mayo coastline will leave you in awe of the beautiful scenery along the Wild Atlantic Way of North Mayo.
About
Wild Atlantic Cultural Tours is the brainchild of Denis Quinn, and operates out of beautiful Killala Bay. Denis is a certified Failte Ireland Local Marine and Countryside Guide, as well as having a BA (Hons) in Heritage Studies. He is one of only 15 Signature Discovery Points on the Wild Atlantic Way…
**Pre Booking is essential as places are limited and expected to sell out quickly**
– Suits all ages, ideal for families.
– Approx 3-4 hours at leisurely pace.
– Outdoor clothing required, wear wellies!
Cost:
Adults: €30per person to include 3 hour tour time with Denis Quinn, keep what you catch and cook what you catch at the Food Fleadh Market in Ballina in the military barracks by Food Fleadh Chefs with an exclusive seafood cooking demonstion.
(Enjoy a complimentary drink at this years Yeast Meets West Craft Brew Fest stall)
Child: €10 per child
Families: 2 Adult, & 2/3/4 Children €70 per family group, (discounts for additional members)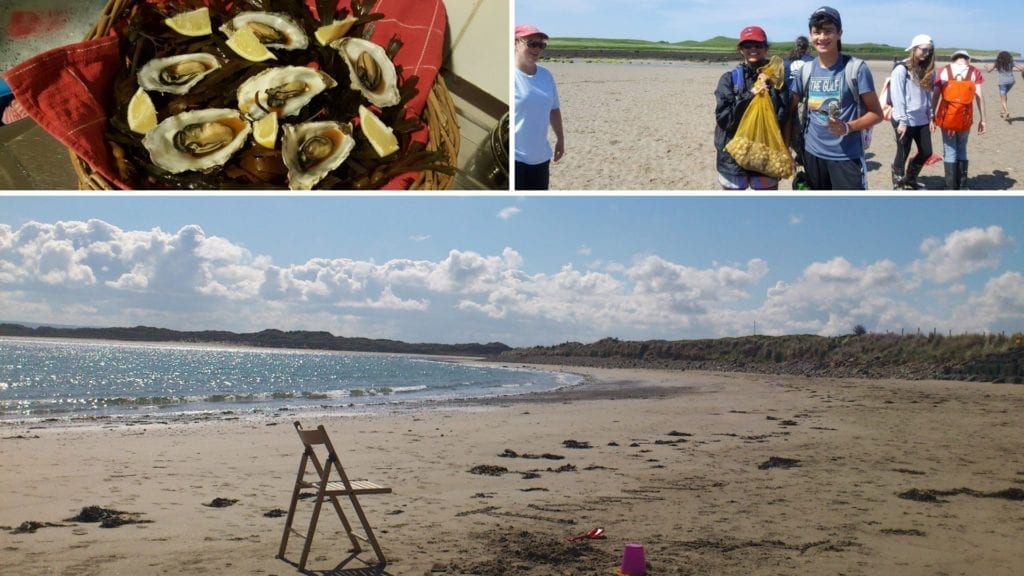 Connacht Distillery Discovery Tour 12.30pm / 3.30pm Receive a 10% Food Fleadh Discount) Contact Connacht Whiskey Distillery 096 74902 ***Pre booking is Necessary***
Sunday 29th September
Children's River Moy Ecology Workshop With River Moy Trust @ 12 oclock – 2pm A fun interactive workshop to explore the Biodiversity and Ecology along the River Moy and the crucial role the river plays in our food cycle. Plus, Gardening 4 Kids: Learn to grow your own food with some autumn seed planting
Where: Cathedral Beat Ballina
With thanks to: Inland Fisheries Ireland, Mayo County Council, The Water & Communities Office, National parks & Wildlife Service, Food Fleadh Ballina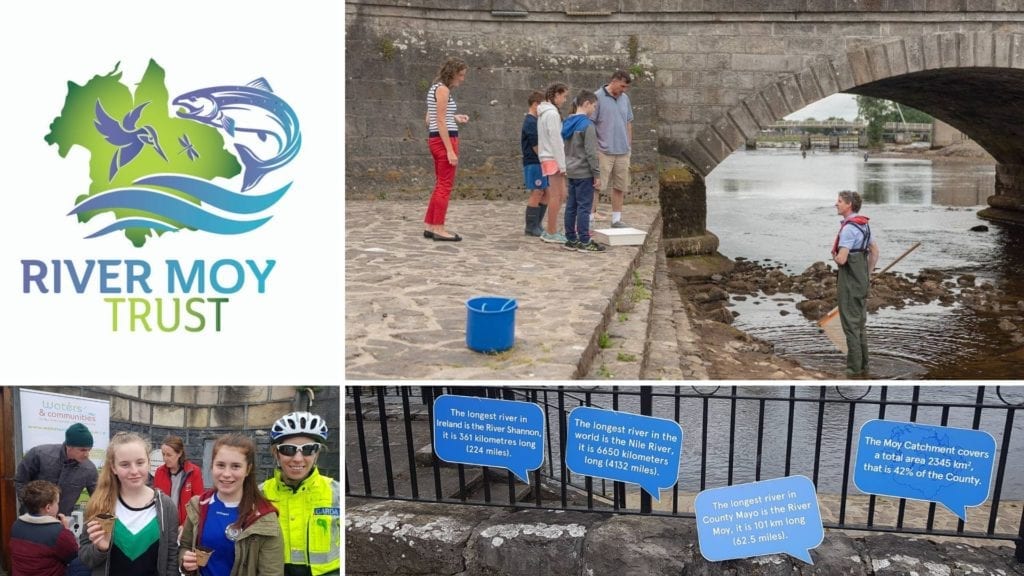 Last Cast Fishing Competition and FREE fishing on Ballina Salmon Anglers Stretch of River Moy
On Sunday 29th September, Food Fleadh Ballina's final event of the festival celebrates Ballina's priceless asset and jewel in the crown of Co Mayo, the world famous fishing River Moy as Ballina Salmon Anglers and Food Fleadh Ballina hosts the Last Cast Fishing Competition and FREE fishing on the Ballina Salmon Anglers stretch of water all day.
Serving up complimentary tea and coffee throughout the day and plenty of craic and chats, Ballina style, Competition registration commences at 10am and finishing at 4pm with a fisherman's party, live music, presentation of prizes and the biggest treat of all, a taste of River Moy Salmon.
We'll give a toast to the fishermen and women who fish the river.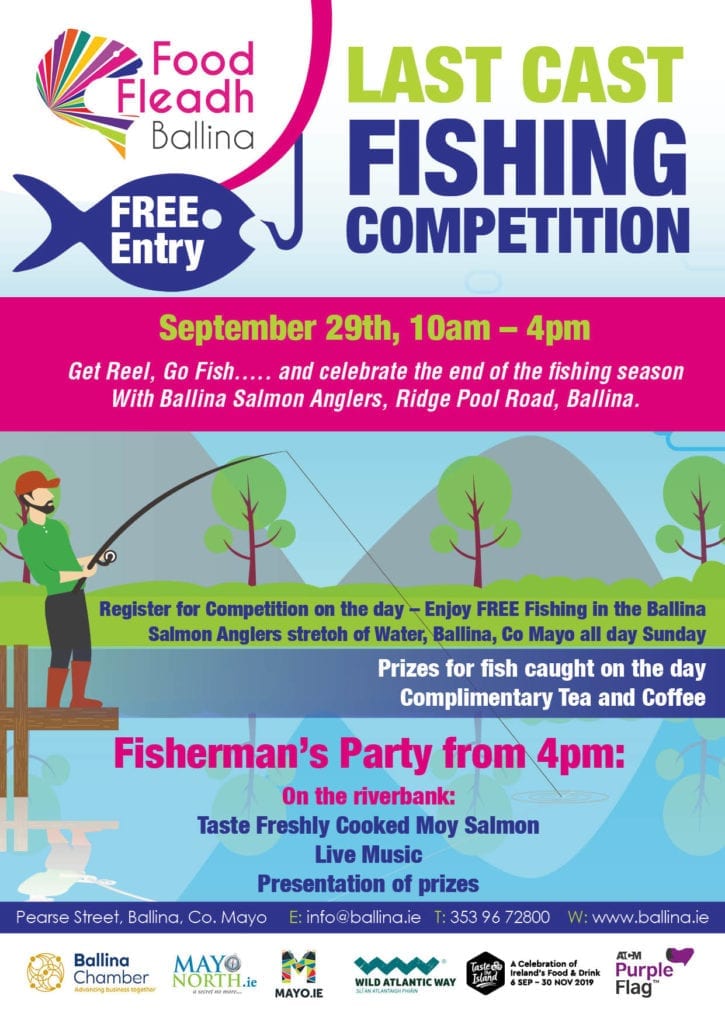 With many more events planned over the weekend, keep an eye on our facebook page
https://www.facebook.com/foodfleadhballina/
and contact Ballina Tourist Office, Pearse St, Ballina
096 72800 [email protected] for further information
Related Articles
Read more from Uncategorised