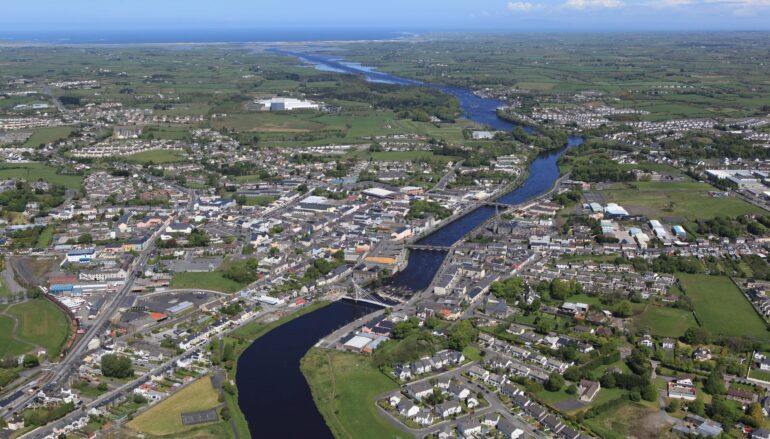 Ballina, Irelands Greenest Town
What was one of the very last big events in Co Mayo hosted by the Mary Robinson Centre; the 5th International Human Rights Lecture held in Ballina on March 6th resulted in Ballina Chamber of Commerce pledging to make Ballina Irelands Greenest Town.
Covid 19 delayed the project plans but that has not dampened the enthusiasm or desire to make this a reality while also remembering those who have lost their lives to the Pandemic.
The Agenda for Ballina, Ireland's Greenest Town project will be based in the United Nations Sustainable Development Goals and will be guided by those principles as they apply to our town and region, as well as working alongside the Mary Robinson Centre and other stakeholders. Not all of the Goals will be as relevant for us as they may be for other parts of the world but there are aspects of each goal that we can apply to our town and region tailoring to the specific needs as we find them.
Already, there is a unanimous agreement that the people of the town want to enhance the presentation, cleanliness and biodiversity of Ballina, and the town has committed to working toward becoming Ireland's Greenest Town. It is envisaged that this project will not have a completion date but will be a continual process over the next 20 years with continuous review and reassessment of the goals and deliverables.
Gerry Luskin, President of Ballina Chamber states;
"Amidst the hard work and achievements of business and community groups during Covid, we have identified this project as a key objective for Ballina going forward. This project as well as the recent launch of Ballina 2023; A year-long celebration to mark 300 years of the formal establishment of Ballina, will create a vision and legacy for the town. There is a significant amount of work to be done both in education and engagement within the community to achieve this; a challenge the town is excited to rise to, in collaboration across the public, private and voluntary sector. We are especially delighted and honoured to be working alongside the Mary Robinson Centre on this project. "
Susan Heffernan, Project Manager with Mary Robinson Centre added;
"Ballina's Green Town initiative is ambitious and far reaching. In seeking to enhance Ballina's environmental credentials, we are all making an invaluable investment in the town for those who come after us. Building a sustainable, environmentally conscious Ballina for those who live and visit the area is very much in the ethos of The Mary Robinson Centre, and follows in the footsteps of Mary Robinson's campaign for climate justice. We are delighted to work alongside the many parties involved in this initiative and look forward to this project being a force for positive change in Ballina."
How do we achieve this?
By forming a cross community consensus within businesses, the local authority, schools and education providers and community groups, working alongside the Mary Robinsons Centre, using the United Nations Sustainable Development Goals as a foundation for the project, all contributes to providing an opportunity to enact changes that can have a broad and deep impact on Ballina and the county.
By having an ambitious, well defined goals from the start with regular reporting of progress, promoting electricity generation using renewable resources, investment and support for green transportation, building quality public realm and getting the right people in from the start, to train and educate our towns folk, will go a long way in securing the success of this project.
As well as national buy in from Central Government, public and private sector, this project and Ballina's ambitions is not just about saving the planet, going green can drive revenue for Ballina, there is money to be made (and saved) in sustainable manufacturing and services
For example, Ballina is a town that hosts up to twenty festivals a year and festival organisers can look for opportunities to green community events that the town runs, sponsors, and permits.
With final words by Mary Robinson, during the 5th International Human Rights Lecture on 6th March 2020 stated;
"What would happen if we all cut our meat consumption just by fifty percent? Or if we got our electricity down by twenty percent? Or bought fifty percent less 'stuff'? If somebody just does it on their own, you think, what difference will it make? But if whole communities do it—if the entire population lived differently—it changes the system. There is so much power in actions like lifestyle change because not only does it cut pollution, it also helps you to find your voice."
Related Articles
Read more from News