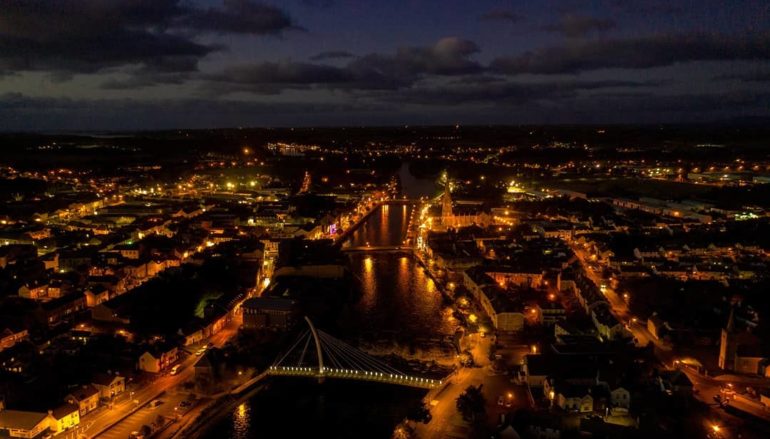 Ballina Town Centre's Pulse taken in first Town Centre Health Check
The findings of a major new consumer survey on the strengths and opportunities for Ballina Town Centre have been released this week by the Ballina Collaborative Town Centre Health Check Team (CTCHC). Funded by the Heritage Council, in collaboration with Mayo County Council, the consumer survey reveals people's impressions and perceptions of Ballina's shopping and eating options, along with leisure and entertainment facilities.
The Consumer Survey, carried out by Red C Research and Marketing, focuses on a number of key indicators of the overall health of the town centre, including consumers' perceptions of the overall quality of the environment of the historic town centre and level of town centre activities. The report is part of the much wider initiative of the Ballina Town Centre Health Check Team.
Minister Ring T.D., Minister for Rural and Community Development who launched the survey stressed the importance of the survey findings, "I warmly welcome this comprehensive piece of research on Ballina Town Centre, which will assist in building a common vision for the future sustainability of Ballina. Our towns, now more than ever, need all stakeholders working together to plan for the future. Thank you to everyone involved in delivering this survey, including the Ballina Town Centre Health Check Team and Mayo County Council for all their hard work on the ground."
Deirdre Cunningham, Mayo Heritage Officer, who co-ordinated the Ballina CTCHC emphasised that "the Consumer Survey Report is a positive and constructive basis on which Ballina Town Centre can be further enhanced and promoted. The survey gives us a very good baseline for taking stock of Ballina's unique commercial and cultural assets. Ballina is a bustling, vibrant market town with so much to offer and this survey will help us to enhance and maximise the quality of life for everyone in the town".
Some of the points taken from the Research includes:
Shopping is the highest driver of visits to Ballina Town Centre – this is highest amongst the age group 55+ and lowest for the age group -18-34 year olds;
The people of Ballina are mentioned by respondents as the most likeable feature of the town (28%);
87% of those surveyed visit Ballina at least once a week and do not visit other towns very often;
Cafes, restaurant and food appear high on the list of reasons to visit Ballina. 81% are happy with the food and restaurant offering and quality in town;
People surveyed felt safe or very safe in Ballina Town Centre – both during the day and evening time – the perception is that it is a peaceful town;
42% of Ballina Town Centre users would prefer late opening on a Friday evening;
Of the 408 no. consumers/visitors surveyed, 68% never shop online, indicating that people still use bricks and mortar as primary shopping (National average is 52%). Top 4 items purchased online include clothing, concert tickets, sports equipment and technology devices;
A key feature of the historic town centre is that it is compact and easy to get around, with 67% of consumers in Ballina town rating ease of access and getting around the town as good or very good;
The Ballina Salmon Festival is a very popular festival – awareness is highest among 18-34 year olds;
Christmas and music-themed events are the most popular choices for the potential future events, with just over 50% of respondents wanting to see more of these types of events.
Mags Downey Martin, Manager of Ballina Chamber of Commerce and Ballina Tourist Office states;
"Ballina, along with nine other towns were chosen in 2016, to participate in the Heritage Council's Collaborative Pilot Town Centre Health Check Training (CTCHC) Programme with partners – the Department of Rural and Community Development, Department of Culture, Heritage and the Gaeltacht, the Department of Housing, Planning and Local Government, Local Authorities. The project team which completed the comprehensive CTCHC survey of Ballina Town Centre, included support from Mayo County Council's Planning and Heritage Offices, Ballina Chamber of Commerce, Galway Mayo Institute of Technology (GMIT) and Ballina Tidy Towns, with support provided by the Heritage Council.
We want to thank all partners who colloborated in this pilot project for Ballina, in particlar Ballina Chamber Retail Committee and Ballina Tidy Towns. It is expected the research results will further support Mayo County Councils expected public realm plan for Ballina, providing essential data for the future developemnt of our town centre and we look forward to reading the contents of the Plan."
Read the Report Here Ballina Town Centre Consumer Survey
Front Page Photo Credit Mr David Beattie.
Related Articles
Read more from News