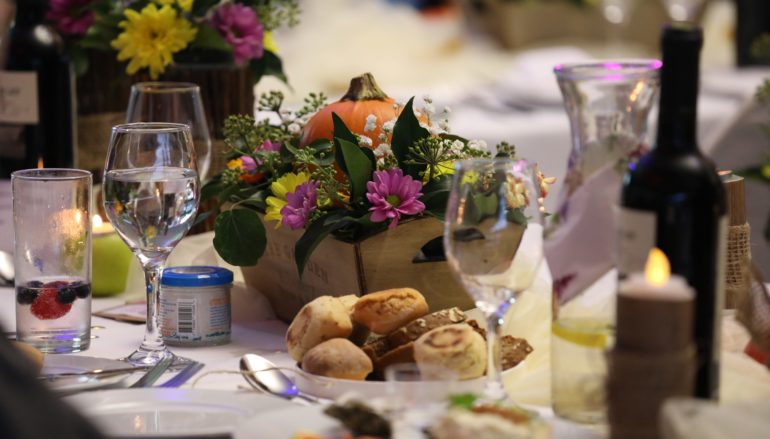 Banquet in the Barracks brings a Taste the Island Experience to Ballina.
Ballina's Military Barracks hosted a one of a kind dining experience over the weekend of the Food Fleadh, welcoming local and visiting Chefs to create a menu using ingredients and drinks from County Mayo entitled Chefs Table, coinciding with Failte Irelands 'Taste the Island Experience' a celebration of Irelands Unique Food and Drink Culture.
Gerry Luskin, Chairman of Food Fleadh Ballina spoke about the Chefs Table;
"We are extremely proud of the local wealth of talent in catering, food production and hospitality in North Mayo and in particular Ballina, boosting award winning Chefs and leading professionals who are teaching the craft of cookery in further education and supporting Food Fleadh Ballina by hosting the Chefs Table, Banquet in the Barracks. Each year the Food Fleadh committee likes to go a little bit further and this year, we suggested an out door dining experience in the historical surroundings of Ballina Military Barracks (built in 1742) creating an authentic, rustic Wild Atlantic feeling, a true taste the Island Experience."
Chef Ronan Fox, acted as Master of Ceremonies on the night, having received the wonderful news last Tuesday (24th Sept) that Mayo University Hospital and Aramark had won a Hotal and Catering Gold Medal Award for Irelands Health Care. Ronan disected each course and gave insight into the source of each ingredient that create the Chefs Table menu.
Supported by Connacht Whiskey Distillery, each course illustrated the rich food heritage in our region. Clarkes Oak Smoked Salmon and Clew Bay Osyers accompanied by Strawboys poitin offered a refreshing starter, with an alternative of Ballina's Quinns butchers home made Venison sausages, cured lamb from James Mcgeough of Oughterard served with Ballyhaunis based Dozio Zing Cream and Ella Cheese and Crossmolona based Reel Deel brewery Recon Craft Beer, rounded off the starter menu.
Main course offered a very special taste of North Mayo, as Heverins Irish Moil Beef, one of Irelands oldest and rarest breeds of Cattle, originating in the North West of Ireland was the headline main course.
History refers many times to the "red, white backed cattle" and pollied (they don't grow horns) remains have been found dating back to 640AD. The only other similar cattle in the world are in Finland and Norway, where the Vikings, when raiding the West of Ireland, liked the moils so much, they brought some back home with them.
The word MOIL comes from the old Irish word "Maol", which means round headed or bald as are pollied. Being of medium size (an adult is approx. 600kg) and docile nature, the Irish Moil is a hardy breed, a great forager and easily maintained, making them suitable to the smaller farms, rough terrain and weather conditions in the West of Ireland. Moil cattle forage on a wide range of shrubs and plants, adding to the distinctive taste of their meat. This also makes them a much more sustainable breed of cattle.
Family owned Wine supplier ENO Wine sourced two delicious wines to accompany courses Te Pa Sauvignon Blanc (Marlborough, New Zealand) a multi-layered wine, light in body, pale in colour but very intense in aromatics and flavour. It comes from the award winning Te Pa winery which is famous for its sauvignon blancs, and Baron de Ley Reserva (Rioja, Spain) This Reserva is made mostly from the Tempranillo grape and aged in American oak barrels for 20 months. It is a complex and elegant wine with dark fruit flavours, aromas of coffee and cream and a nice winter-warming spici-ness. This is followed by ageing for another 24 months in bottle.
Ballina born Django Getsee, of Farnham Estate & Resort created a dessert masterpiece of Chocolate Gold Tart, Achill Sea Salt Caramel foam, washed down by Connacht Whiskey. Leontin Ciprian Munteanu, mixologist and owner of T2 Coffee Van made Irish Coffees and Mary Corrigan of award winning Noo Chocolates spoke about her locally produced food, giving everyone in the audience a Noo Chololate.
Chefs Table, Banquet in the Barracks featured Chef Gerry Luskin Lukins Bistro and Athlone IT, Chef Rory Culkin Sligo IT, Chef Ronan Fox Executive Chef Mayo University Hospital, Chef Marcin Tomaszewski Mayo University Hospital, Chef Daniel Willimon Executive Chef Farnham Estate and Resort Chef Django Getsee Farnham Estate and Resort.
Banqiuet Manager Noel De Jesus, created the spectacular banquet setting, and service was supported by Cara, Eva and Erin. Mags Downey Martin was Event Coordinator, Food Fleadh Ballina and Ballina Chamber of Commerce.
Watch this space as we plan on hosting another Chef tables in the not too distant future.
Related Articles
Read more from Uncategorised