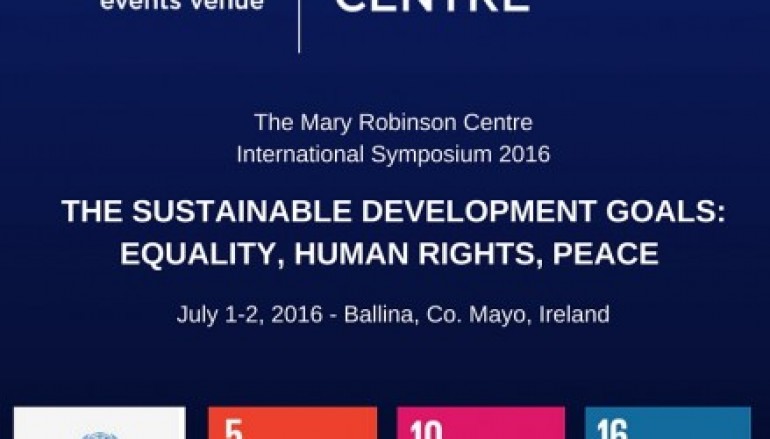 Mary Robinson Centre promotes Sustainable Development Goals this July in Ballina
International Symposium
Hotel Ballina, 1-2 JulyThe Sustainable Development Goals: Equality, Human Rights, Peace
Join key stakeholders, policy makers and those committed to the implementation of the SDGs
In 2016, a new global framework of seventeen universal and inter-linked Sustainable Development Goals (SDGs) came into effect. The SDGs build on the achievements of the eight Millennium Development Goals (2000-2015). The SDGs encompass a range of ambitious commitments to be realised by 2030 on ending poverty and hunger worldwide and ensuring minimum global standards in relation to health, education, decent work, clean water and energy, sustainable communities, consumption and industry, climate action and environmental protection.
In this important first year of the implementation period of the SDGs (2016-2030), The Mary Robinson Centre International Symposium 2016 brings together key stakeholders who have interests in promoting equality, human rights and women's participation and leadership in the implementation of the seventeen SDGs.
Introduced by Mary Robinson, this International Symposium will foster action-oriented links among policy decision makers, influencers and implementers; academic and policy researchers; practitioners in development, humanitarian and human rights NGOs; and others committed to the implementation of the Sustainable Development Goals.
This event is held in partnership with the Centre for Global Women's Studies at NUI Galway.  For more information or to book your place at this Symposium, visit www.conference.ie or email [email protected].
Related Articles
Read more from Uncategorised